Return to Headlines
York Elementary Ribbon Cutting Ceremony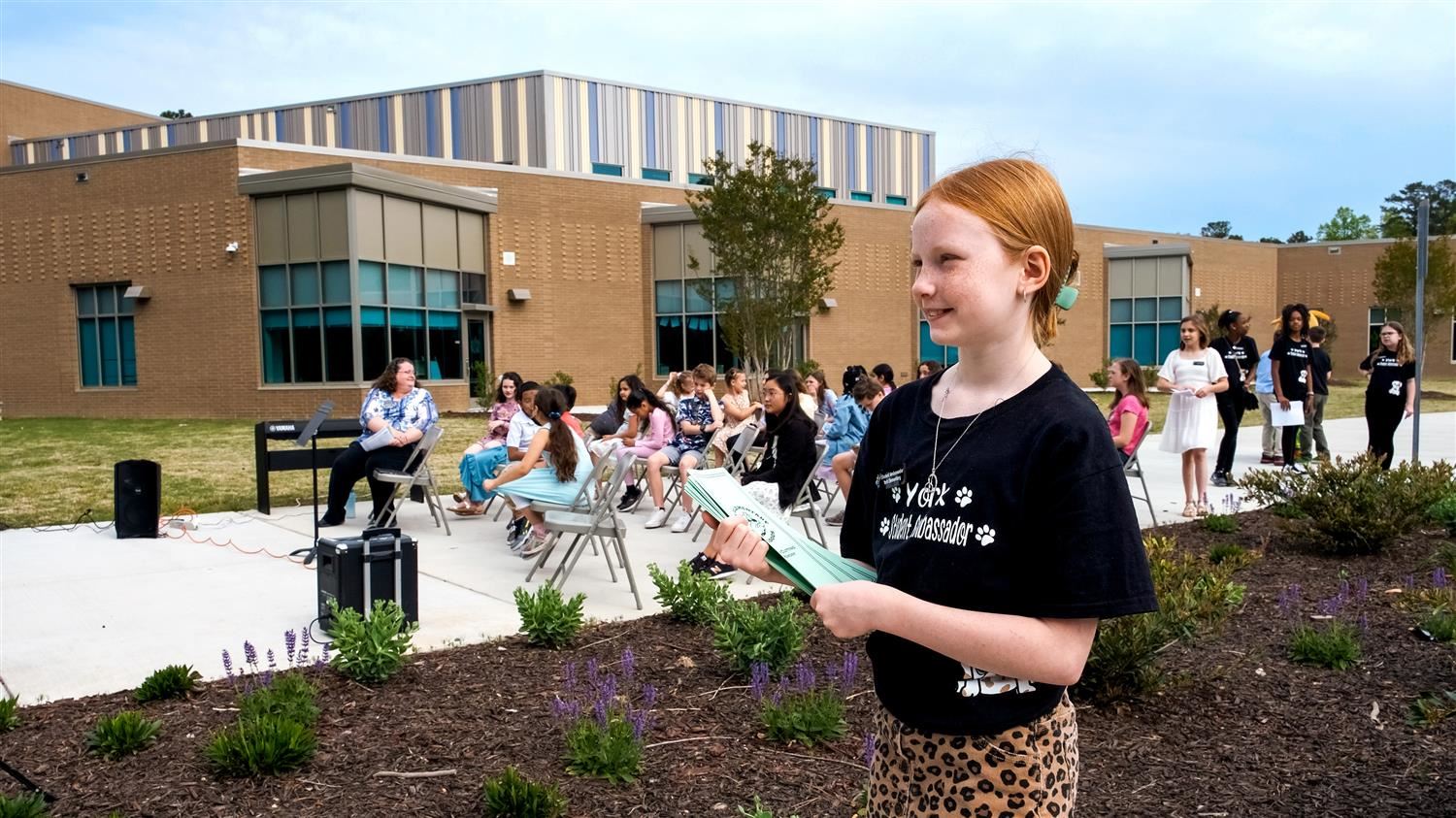 April 21, 2022
York Elementary held the official ribbon cutting ceremony for its new building at 10 a.m. on Thursday, April 21. The event began with a formal presentation. Speakers included Principal Katherine Williams, WCPSS Superintendent Cathy Moore, Wake County Board of Education Vice-Chair Chris Heagarty, PTA President Christina Thompson, and student speakers Addisyn Wilder Swain, Keegan Cook, and Anna Blake Wallace.
The 4th/5th grade chorus performed two songs - Magic Happens and Sing Out A Joyful Song.
York Elementary School is a neighborhood school nestled in the beautiful wooded Brookhaven community near Crabtree Valley Mall and adjacent to Brookhaven Nature Park.
The new school replaced the previous 1965 building. The revamped campus is a celebrated addition to the neighborhood and the legacy of York Elementary. Staff and students returned to their new school in December 2021.
"The looks on staff and students' faces when they took in the majesty of this new building, exploring all of the learning and nooks was something I will never forget", said Principal Kate Williams. "I heard students remark 'I can't believe this is our school, it's so beautiful!'"
About York Elementary and the STEM Schools Collaborative Network
Part of the STEM Schools Collaborative Network, York Elementary has earned the designation of NC STEM School of Distinction. The NC STEM Schools of Distinction recognition program was developed to identify and recognize exemplary STEM Schools and STEM Programs.
York incorporates STEM daily into the classroom curriculum, in addition to providing dedicated time for students in the beautiful new STEM lab. STEM is an acronym that stands for Science, Technology, Engineering, and Math.