Return to Headlines
Office of Magnet Programs secures $13.5 million federal grant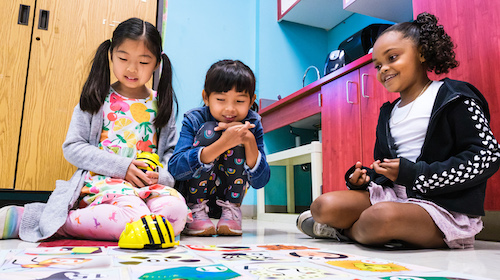 October 4, 2022

The WCPSS Office of Magnet and Curriculum Enhancement Programs and the Office of Grants have secured a $13.5 million grant from the U.S. Department of Education that will support the addition of design thinking and innovation at four schools.
WCPSS is one of a small number of school districts in the nation to receive a Magnet Schools Assistance Program (MSAP) grant as part of this five-year grant cycle, from 2022-2027. This is the first time in district history to have three concurrent MSAP grants – Cornerstone (2017-2023), Nexus (2021-2026), and the newly awarded Synergy (2022-2027).
The district will receive $3.4 million this year, with additional funding anticipated over the next four years, to establish four whole-school magnet programs: adding two new programs and significantly revising two existing magnet programs. They include the following:
Centennial Campus Center for Innovation Magnet Middle School
East Millbrook Magnet Middle School Academy of Arts & Design
Wake Forest iSTEM Magnet Elementary School
Wildwood Forest Magnet Elementary School Academy of Arts & Design
"Project Synergy is a fitting name for this initiative, as it embodies the district's conviction that transformative learning happens when children from diverse backgrounds come together around an innovative curriculum," said Superintendent Catty Moore. "In these four new magnet themes, we will see the value of our students working together in integrated learning environments. This synergy will produce creative thinkers and problem solvers, ready to take on the challenges of tomorrow."
Centennial Campus Magnet Middle will significantly revise its existing University Connections and Leadership Magnet theme to become the first and only Center for Innovation in our district, where students will use design thinking to spark innovative ideas and creative problem-solving.
Wake Forest Magnet Elementary will establish a new iSTEM program where students will engage in discovery to solve emergent problems.
Wildwood Forest Magnet Elementary will establish a new Academy of Arts & Design program and East Millbrook Magnet Middle will significantly revise the existing Academy of Visual & Performing Arts. Together they will create a unique K-8 Arts & Design pathway of academic and creative excellence. As students move through iterations of prototyping and testing, they will make their thinking visible through imaginative problem solving and artistic expression.

"We have always valued our partners on NC State's campus, and this grant will allow us to deepen that partnership while bringing innovation in as our magnet theme," said Centennial Campus Magnet Middle School Principal Kathryn Hutchinson. "With this funding, we will create a space for our middle school students to design and create, look at challenges and consider possible solutions, and make connections to the real world around them. Our staff is energized to teach our students how to think deeper and innovate through the design process. We are grateful to be a part of the Project Synergy grant and look forward to working with our Magnet Office to make all things possible for our students and staff."
About the MSAP grant
Magnet Schools Assistance Program Grants are federal grants designed to:
Support innovative education methods that provide students with the opportunity to meet challenging academic content and high academic standards, and to develop marketable job skills;
Promote diversity and increase the choices of various educational programs available to students.