Return to Headlines
Dress a Girl Around the World Project at Dillard Drive Magnet Middle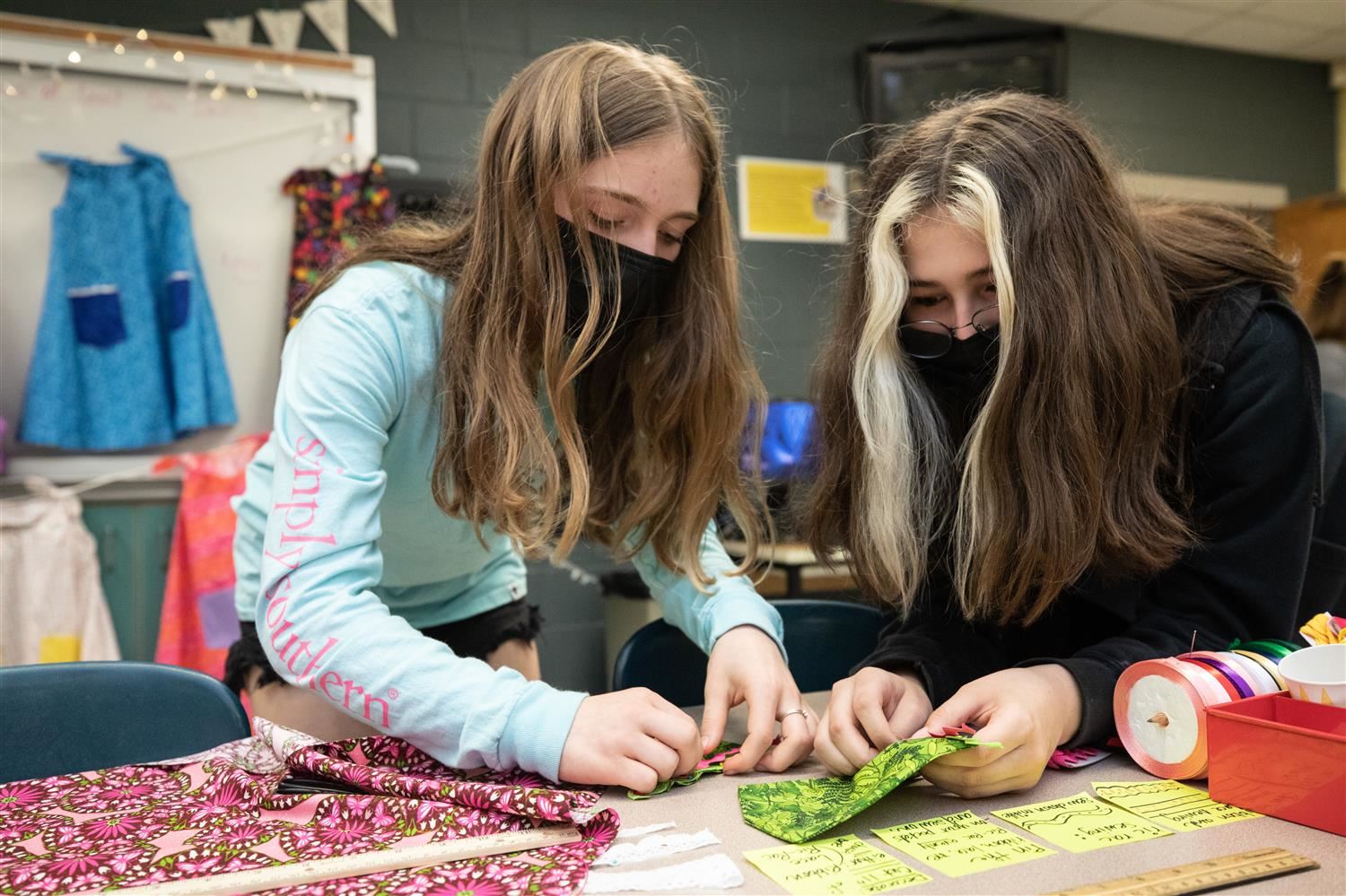 April 8, 2022
Students in Shannon Adcock's Family and Consumer Sciences classes are making dresses to send to an all-girl orphanage in Mexico. This is part of an international initiative called Dress a Girl Around the World that sends new dresses to girls living in extreme poverty. Last year, over one million handmade dresses were sent to more than 82 different countries, and this year Dillard Drive Magnet Middle students are joining the cause.
Learning to sew
Shannon Adcock teaches two sections of Family and Consumer Sciences class at each grade level with an average class size of 20 students. Students are working in pairs to make at least 60 dresses for this project.
When asked about the project, student Lucy Whorton said, "I think it's great, honestly. It's important to me, and I know it's important to Ms. Adcock too. It's a great thing for us to be doing. Giving these clothes to people is a great way for us to learn and give at the same time." Lucy's partner Ayan Rahman shared "At first it was a very interesting concept to me, like, a sewing class? I've never heard of that before. And then I got here and it was a whole different experience."
The school's media specialist, Erica Morgan, was an instrumental resource for the project. Erica learned how to sew and create clothing from her grandmother. Lori-Ann Foister, the school bookkeeper, also joined in with her sewing knowledge. Erica and Lori-Ann made sample dresses and helped to support students with sewing skills during class. Teacher Laura Simmons helped by cutting and sewing almost 100 dress pockets and with many other tasks behind the scenes.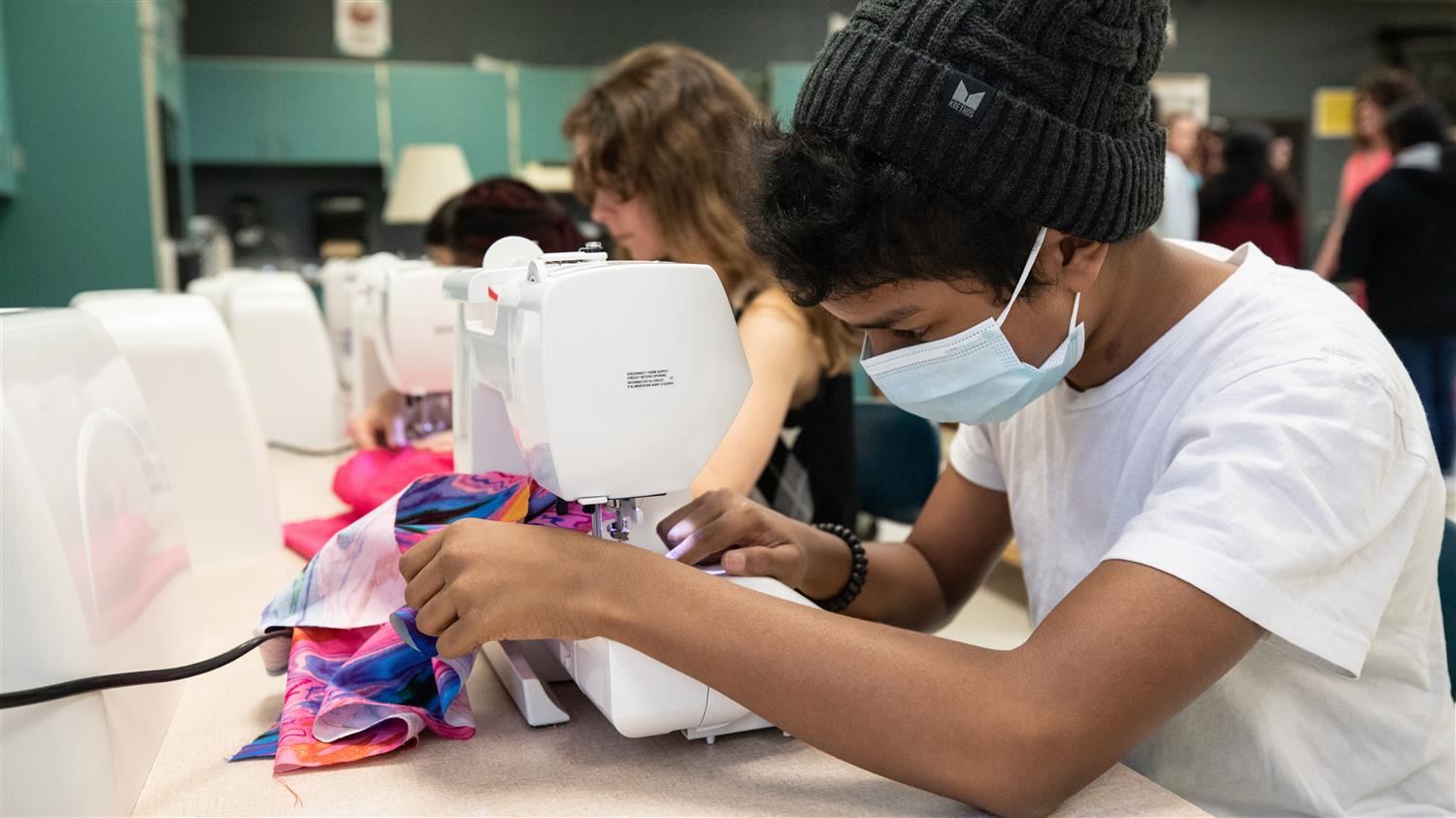 Take Action
As a Global Studies and Spanish Immersion magnet school, Dillard Drive Magnet Middle has the mission to teach students how to be active participants within our community both locally and globally. There are four competencies of global learning, and this project aligns with the "Take Action" competency: "Globally competent students have the skills and knowledge to not just learn about the world, but also to make a difference in the world." By personally sewing these dresses, students show young girls living in poverty that someone loves them enough to have made a beautiful new dress especially for them.
Project funding
The purchase of fabric and supplies to make the dresses was made possible through funding of the 2021 Project Nexus Grant awarded to the WCPSS Office of Magnet and Curriculum Enhancement Programs.
Get involved
Dillard Drive Magnet Middle School appreciates donations for this project and they can be delivered to the school at 5200 Dillard Drive, Raleigh NC 27606.
Suggested donations include JoAnn gift cards or the following list of supplies:
Fabric - 3 yds 100% cotton fabric for 1 dress (fabric suitable for girls - and not see through)
Spools of All Purpose thread
Ball headed straight pins
Magnetic pincushions
Seam Rippers with large handles
Quilting Clips
Organ Brand Sewing Machine Needles (Size 14)
Shears for cutting fabric
Pinking shears
Seam gauge
Iron-on interfacing
Donate to Dress A Girl Around the World Foundation