Return to Headlines
Reedy Creek Middle School's Girls Who Code Club Creates Test Prep Chatbot
May 9, 2019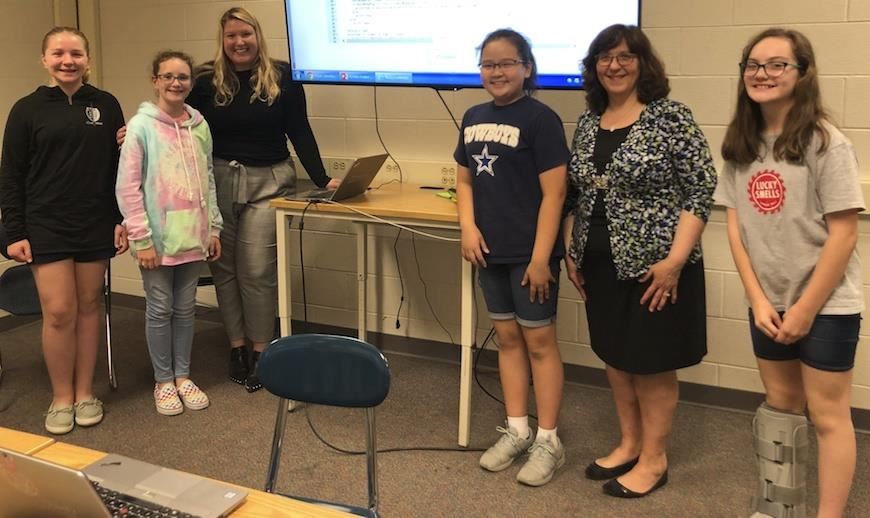 The Reedy Creek Magnet Middle School Center for the Digital Sciences' Girls Who Code Club successfully published a Test Prep Chatbot with the help of club mentors from IBM.
During a recent launch celebration with teachers, parents, and school administration, the club's four members – sixth graders Julia Dott, Katelyn Lee, Vivian Overton, and Logan Steinbeck – presented their completed chatbot.

The bot is a digital and interactive way for any and all students – not just Reedy Creek students – to learn helpful tips to prepare for exams. The chatbot addresses the following test preparation topics: Food, sleep, planning, studying, and concentration. Have questions about any of these topics? Just ask the bot!
Launching the bot just a few weeks before End-of-Grade (EOG) testing was something the girls had planned from the start.
For more than seven weeks, the students conceptualized the project, then coded, tested, and debugged the bot. They researched study tips to gather content, then they used the Trinket platform and Python coding to create the bot. Each girl took ownership of different portions of the code.
"My favorite part was getting to interact and learn how to code," Logan Steinbeck said. This sentiment was shared by the other students, as was an agreement that the most challenging aspect of the project was the need to make sure their code was perfect. Any mistakes affected the performance of the bot. The students tested their bot numerous times and tried as many answer and response combinations as they could. Their goal was to fix all spelling and coding errors before the product went live.
The students are excited about their bot and its functionality across grade levels. "Anyone could use this information, even 4th and 5th graders and high schoolers," Katelyn Lee said.
Parents who attended the launch event were impressed. "This is a great way to see how technology can be applied in different ways," parent Lauron Dott said. "Given our emphasis on computers these days, this is a fabulous way to introduce this to the students. It's an area that is needed, and the younger generation is coding earlier and earlier. [Projects like this] help them down the road and with career choices."
Olivia Davis, a UX designer at IBM and one of Reedy Creek's Girls Who Code club advisors agreed, adding, "It's important that we teach [coding] to younger and younger kids, because it's important for kids to know they like it."
Possibly the most valuable aspect of creating the Test Prep Chatbot was the teamwork. Working with others was a key element of the club. Learning from IBM employees such as Olivia Davis and Janine Gerber, IBM's EdTech program manager, the students were introduced to concepts such as Minimum Viable Product, and they were taught how best to collaborate in a product-creation environment.
The students also gained time beyond the classroom with Reedy Creek's 8th grade math teacher Diane McGrath, who started the club and applied her background in engineering to guide and encourage the girls during weekly meetings. Beyond their relationships with club leaders, the girls loved working with each other. They learned that technology can go hand-in-hand with teamwork, but it's not a substitute for it. "Google cannot always help you," Dott said. "You need each other."
Access the Reedy Creek Magnet Middle School Center for the Digital Sciences Girls Who Code Test Prep Chatbot.