Return to Headlines
'I have wanted to be a teacher my entire life'
The district is currently recruiting our fifth cohort of Future Teachers! To join the 80+ college students currently enrolled in this valuable program, high school seniors must be accepted for admittance to a college or university for the 2019 fall semester, and intend to pursue a K-12 teaching career in our district upon completion of a teacher preparation program. Please let interested students know that they must apply by April 5, 2019 at wcpss.net/future teachers.
March 19, 2019
Devin Plants started his job as a 10th grade honors English teacher at Panther Creek High School just two months ago, but he already feels right at home.
This is thanks in part to the Future Teachers program, a recruitment initiative launched in 2015 to develop the district's internal student talent. Participants are WCPSS high school graduates who intend to pursue careers in education and commit to teaching in the district upon completion of their teacher preparation programs. Future Teachers participants are guaranteed a teaching position upon completion of an approved four year Education program leading to a North Carolina license to teach.
And although the program is not a scholarship, it still caught Plants' attention during his senior year at Fuquay-Varina High.
"I have wanted to be a teacher my entire life. I have a brother with severe special needs so I have spent a lot of time teaching him, helping him and explaining things to him in different ways," Plants said. "I knew I wanted a career in education in Wake County. Plus school was a place where I have always felt happy, so I guess you can say I never really wanted to leave."
So he didn't.
Though he attended Appalachian State University, Plants returned home often for Future Teachers events. He participated in online and face-to-face sessions lead by current staff members and designed to help members of his Future Teachers cohort learn more about curriculum, programs and other processes unique to our district. He also received annual professional development stipends beginning the summer after his freshman year.
Since Plants completed his teacher preparation program early (in December 2018), he is the first member of the inaugural class of Future Teachers to begin working in our district. And he says that the experience is already paying off.
"The most valuable part of the program for me was the context it provided me about the district. Teachers can sometimes be really disconnected from what is happening higher up at the district level, with policies or with other big initiatives. Future Teachers helped me realize how important it is to tune in to what is happening beyond the walls of my classroom and school."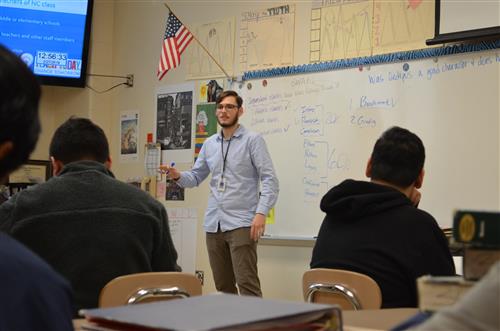 Panther Creek High School Principal Camille Hedrick said that she knew right away that Plants would bring something special to her school.
"It's not just about loyalty to me, it's about his connection to Wake, it's his understanding of how we do things in Wake County and that is what is so important. After I interviewed him, I said to myself, 'This is a teacher. You know it when you talk to him. You know it when you see him work. He is the real deal."
This spring, the remaining 12 members of the first Future Teachers cohort will benefit from a final session focused on preparing for that first year in the classroom. Then they will land their very first teaching jobs in one of our schools. And the best part is that they already have a strong network of colleagues and mentors in the district who are ready and willing to support them throughout their careers.
"The most meaningful part of this experience has really been the other people I have met during my time with Future Teachers. They have shaped the way I teach and the way I develop relationships with my students-which is the most important thing. They have shown me how important it is to put your heart into teaching."