Return to Headlines
Future Teachers grads enter classroom with network of support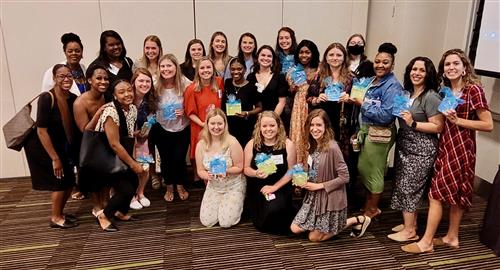 For the 23 graduates honored on May 20 at the Wake County Public School System Future Teachers Program graduation, their school days are far from over. Four years ago, they committed to careers as WCPSS teachers before they even graduated from high school. Today they celebrated the completion of the Future Teachers Program and the promise of a new beginning as WCPSS teachers.

"The Future Teachers who are graduating today have shown themselves to be mature, empathetic and reflective beginning educators," said Sherri Morris, WCPSS administrator for Teacher Talent and Retention. "They are passionate about students and committed to making a positive difference for the students they teach and the WCPSS community as a whole. There is something special about giving back to the district that helped to "raise" you."

The Future Teachers Program recruits WCPSS high school students who plan to pursue a teaching career to become the next generation of WCPSS teachers. Students apply to the program in their senior year of high school. While enrolled in a college or university K-12 education program, participants attend an annual WCPSS summer professional development conference and engage in networking opportunities, aimed to help them become exemplary educators who are committed to the vision, mission and values of WCPSS. Future Teachers participants also agree to teach at a WCPSS school for at least three years following the completion of their teacher preparation programs. In return, students receive an annual stipend and a WCPSS job offer for a teaching position.

Graduates exit the program with much more than a job offer. Members of this year's graduating cohort credited the Future Teachers Program with giving them a support system of connections and contacts before they ever stepped behind the teacher's desk.

"I feel like I'm not alone," said Parker Burrows, a recent Elementary Education graduate of North Carolina State University. "No matter how hard teaching gets, I'll always have someone cheering me on."

Tashaima Person, who recently graduated from UNC Greensboro, found the training she received at the Future Teachers Professional Learning Conference each summer to be a valuable extension of her classroom learning. This fall she plans to take the practical strategies she learned through Future Teachers and use them as a first-year history teacher at Knightdale High School.

"I learned how to make connections with families, accommodate all students and differentiate in my teaching, so that I make sure I'm giving every child what they need," Person said. "Future Teachers provided me with a shoulder to lean on, and now I can reach out my hand and help others."

Of the 23 graduates from this year's cohort, 16 are seeking teaching positions for the fall and more than half of those have already secured offers with WCPSS schools. The remainder of the program participants will either graduate in December or pursue a master's degree prior to seeking employment.

Learn more about the WCPSS Future Teachers Program.