Return to Headlines
Weatherstone Elementary named 2022 National Blue Ribbon School
Sept. 16, 2022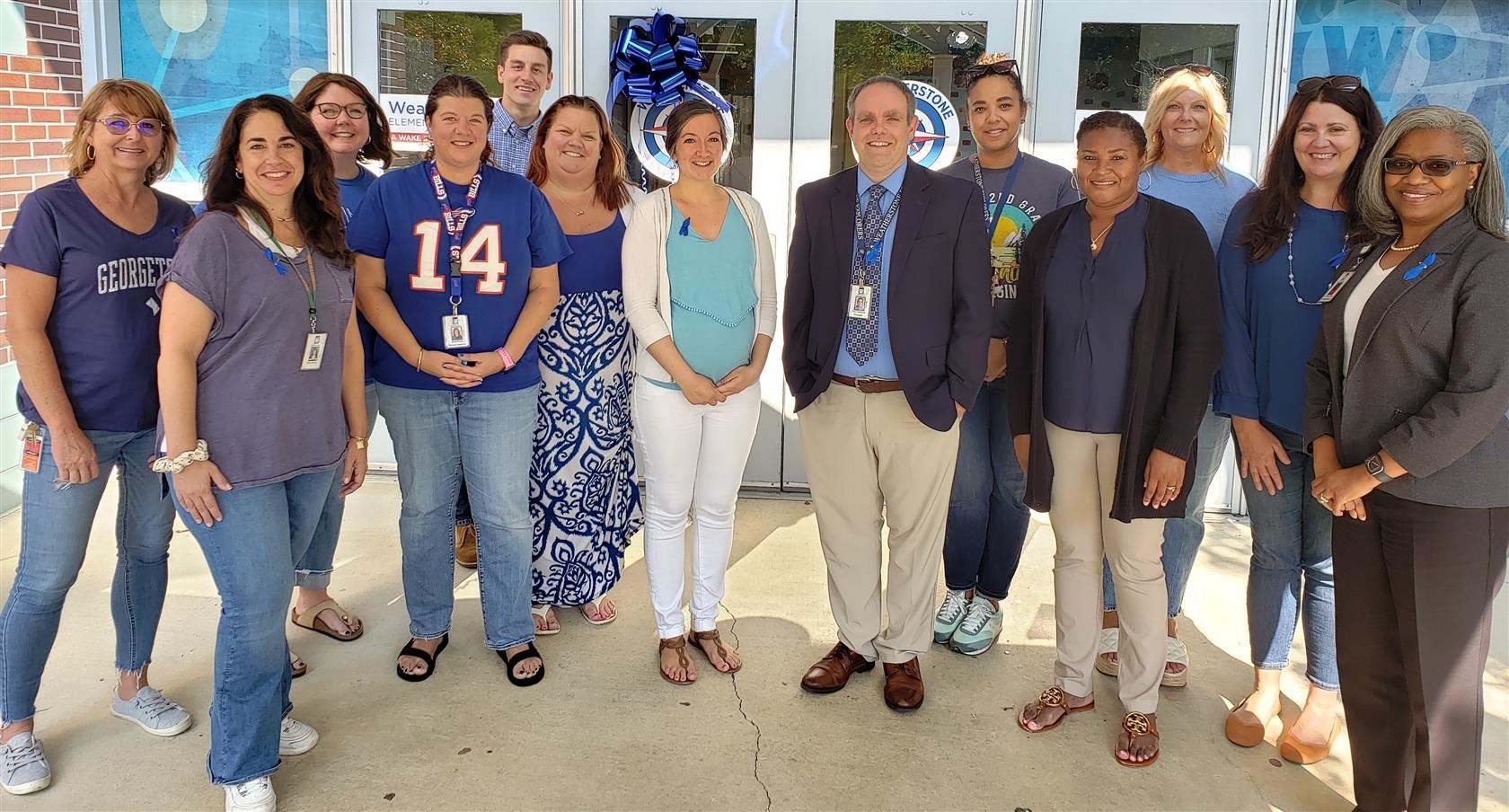 Weatherstone Elementary on Friday was named a 2022 National Blue Ribbon School by the U.S. Department of Education, marking it as a national model of effective school practices. It was one of 297 public and private schools honored nationally, and one of five from North Carolina.
Weatherstone received this prestigious award for the many ways it facilitates high student achievement, including STEM-focused project-based learning, effective partnerships with parents and community members, and supporting the physical, social and emotional needs of all students.
The school qualified to be nominated for the award by achieving test scores within the top 15 percent of the state in 2021. School and district officials then worked together on a 26-page application. In addition, the school had to continue its high test scores in 2022 to qualify as a winner.
"It's a proud day for Weatherstone Elementary," says Principal Tim Chadwick. "This national award recognizes the hard work and dedication of every single student, staff member and family at this amazing school. I am particularly proud that we were able to maintain high academic achievement even amid the disruption of the pandemic. Our entire school community demonstrated resilience, commitment and ingenuity to continue effective teaching and learning under unprecedented circumstances. It took all of us, working together, to make this award possible."
Weatherstone becomes the 12th WCPSS school to attain this high honor. School officials will travel to Washington in November to officially accept the award.
"I applaud all the honorees for the 2022 National Blue Ribbon Schools Award for creating vibrant, welcoming, and affirming school communities where students can learn, grow, reach their potential, and achieve their dreams," said U.S. Secretary of Education Miguel Cardona. "As our country continues to recover from the pandemic, we know that our future will only be as strong as the education we provide to all of our children. Blue Ribbon Schools have gone above and beyond to keep students healthy and safe while meeting their academic, social, emotional, and mental health needs. These schools show what is possible to make an enduring, positive difference in students' lives."
Weatherstone Blue Ribbon profile statement
As a North Carolina STEM School of Distinction at the Model Level, STEM is a defining quality and philosophy throughout Weatherstone Elementary School. The school incorporates STEM practices into every classroom by having students engage in Project Based Learning and using the Engineering Design Process. Weatherstone also has a STEM special that all students attend every week, which focuses on digital citizenship, the Engineering Design Process, technology, and innovation. Through STEM, Weatherstone prepares all students to be global citizens who are equipped to problem-solve, create, and collaborate.
Weatherstone is a family and community-oriented school, with close partnerships with the PTA (Parent Teacher Association) and local businesses. These partnerships enhance the school's access to resources and opportunities for all students. Each year, the school holds family engagement events like a Multicultural Night, Night of the Arts, Community Helper Day, and STEM Expo.
The Weatherstone staff believe that students learn best when their physical, social, and emotional needs are met. Therefore, the school prioritizes Social/Emotional learning as part of the development of every child. Through programs like Second Step, Zones of Regulation, and the Positivity Project, the school helps students develop their communication, self-regulation, teamwork, and coping skills so that they can have the tools they need to interact with others and the world around them.
Through the STEM program, family and community partnerships, and a focus on social/emotional learning, Weatherstone develops students as leaders, teammates, and problem-solvers so they can become responsible citizens and successful in a global society.
More about the National Blue Ribbon Schools Program
With its 39th cohort, the National Blue Ribbon Schools Program has bestowed approximately 10,000 awards to more than 9,000 schools. The National Blue Ribbon School award affirms and validates the hard work of students, educators, families, and communities in striving for – and attaining – exemplary achievement.
National Blue Ribbon Schools serve as models of effective school practices for state and district educators and other schools throughout the nation. A National Blue Ribbon School flag gracing a school's entryway or on a flagpole is a widely recognized symbol of exemplary teaching and learning.
The Department recognizes all schools in one of two performance categories, based on all student scores, subgroup student scores and graduation rates:
Exemplary High-Performing Schools are among their state's highest performing schools as measured by state assessments or nationally normed tests.

Exemplary Achievement Gap-Closing Schools are among their state's highest performing schools in closing achievement gaps between a school's student groups and all students.
Up to 420 schools may be nominated each year. The Department invites nominations for the National Blue Ribbon Schools award from the top education official in all states, the District of Columbia, U.S. territories, the Department of Defense Education Activity, and the Bureau of Indian Education. Private schools are nominated by the Council for American Private Education.