Return to Headlines
2021-22 Instructional Assistant of the Year, Richard Jones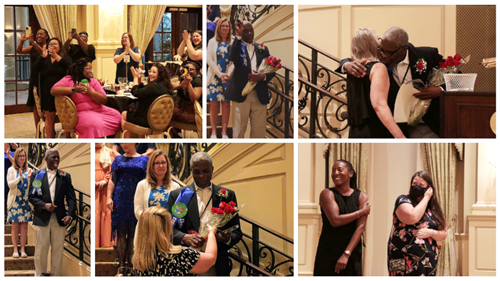 Richard Jones, a Special Education Instructional Assistant (IA) at River Bend Elementary School, has been awarded the WCTAA IA of the Year!
In his recommendation letter, River Bend Elementary Principal Gary Major, said:
"Mr. Jones has an outstanding passion for supporting our students' learning and building relationships with students both in and outside of his classroom. He is dedicated to seeing all students become successful. Mr. Jones works well with his classroom teacher to provide a safe and nurturing environment for all students. Mr. Jones is highly respected by his peers and has served as a member of our military branch early in his career. Mr. Jones would serve as an excellent candidate for Wake County Teacher Assistant of the Year based on his qualities of being a caring, friendly, and flexible staff member."
The WCTAA awarded Mr. Jones $200, a $50 to CATO, and a crystal trophy. Each finalist will also receive $50 and a crystal trophy.
WCPSS employs approximately 2500 IAs. Each of our over 190 schools voted for their IA of the Year. The winners that were interested in being considered for the district wide award turned in a portfolio with the following content: professional background, continuing education, community involvement, explaining their education philosophy, the needs of a child, and recommendation letters. The WCTAA IA of the Year Committee then reviewed the portfolios and narrowed the list to ten finalists. The candidates were then interviewed virtually by the committee. The process usually includes visits to each school to observe the nominee in action, but, due to COVID, that was cancelled for this year. The winner was then selected based upon the quality of their portfolio, as well as their responses and poise during the interview.
Congratulations again to Richard Jones and the other nine finalists! We appreciate the hard work that you and every Instructional Assistant do each and every day!
Finalists
Bhavana Katti - Alston Ridge Middle
Montez Bates - Carnage Magnet Middle
Lourdu Savariyar - Davis Drive Elementary
Barbara Leak-Worth - East Garner Magnet Middle
Linda Elder - Fuller Magnet Elementary
Melissa Hinkel - Joyner Magnet Elementary
Kimberly Crisp - Oberlin Magnet Middle
Sherry Collins-Spencer - Pleasant Grove Elementary
Meryem Teke - Smith Magnet Elementary
Richard Jones - River Bend Elementary