Return to Headlines
Millbrook Magnet Elementary Teacher Wins $25K Milken Educator Award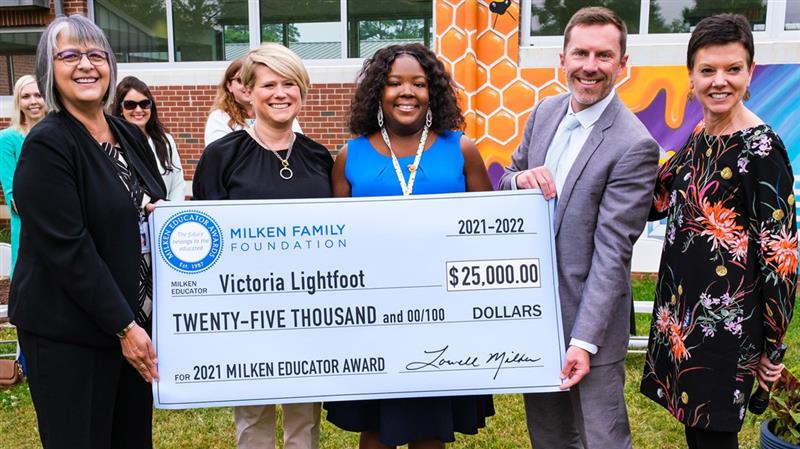 Millbrook Magnet Elementary School math coach Victoria Lightfoot received the surprise of a lifetime this morning when she received the national Milken Educator Award, which comes with an unrestricted $25,000 prize. She is one of just 60 recipients nationwide this year and the second winner from WCPSS since 2010.
"For nearly 12 years, Victoria has demonstrated excellence as an elementary school teacher in our district," Superintendent Cathy Moore said. "She is positive, thoughtful, resourceful and makes meaningful and lasting connections with our young learners. Her students and colleagues know how incredible she is, and we are grateful to the Milken Foundation for recognizing her with this prestigious award."
Before moving to her current position, Lightfoot taught for six years at Cedar Fork Elementary and five years at Bugg Magnet Elementary. She was recognized as one of 10 finalists for the district's Teacher of the Year award in 2020-21.
Lightfoot is known for her creative and culturally relevant approaches for connecting with and motivating her students, whether by integrating arts and music education into her classes or providing effective feedback to students, both in-person and during recent remote learning.
One parent told her school that during remote learning, Lightfoot was so engaging that she often wanted to just sit and listen to her reading during her interactive read-alouds.
Her colleagues have shared that Lightfoot inspires her students. Students know who she is and what she stands for. They know they can depend on her. And they know she is proud of them when they speak up for themselves and when they show empathy to others.
Lightfoot also takes an active role supporting other teachers in her school and at the district level, where she's been tapped to lead professional development and to create literacy and math lessons.
At Cedar Fork Elementary, Lightfoot took on the role of coordinator for the Beginning Teacher Mentor Program, collaborated with educators across the county and invited guest speakers for sessions that focused on practical topics such as classroom management, building relationships with students, equity, and social-emotional learning in the classroom. She also initiated a teacher "Buddy Program," which included staff who were not necessarily beginning teachers, encouraging staff to partner together for improved outcomes for students.
She earned a Bachelor of Science degree in elementary education in 2010 and a master's degree in K-8 math and science in 2014, both from Slippery Rock University in Pennsylvania.
The Milken Family Foundation bestows the award annually – except for last year because of the pandemic – to recognize exceptional early-to-mid career education professionals. Lightfoot is one of only two honorees from North Carolina during the 2021-22 school year.
Along with the $25,000 financial prize, recipients join the national Milken Educator Network, a group of more than 2,800 top teachers, principals and specialists. In June, the honorees will attend an all-expenses-paid Milken Educator Awards Forum in Los Angeles, where they will network with their new colleagues as well as veteran Milken Educators and other education leaders about how to increase their impact on K-12 education.