Return to Headlines
Abbotts Creek Elementary Wins National Sustainability Award
May 22, 2019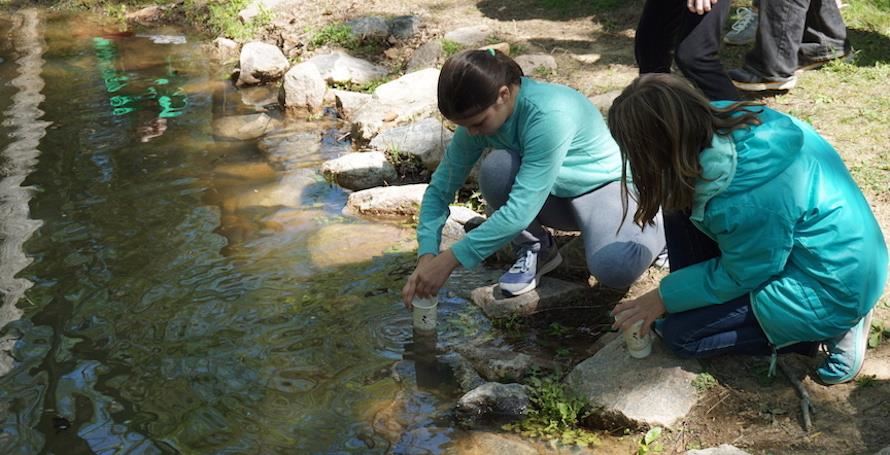 The U.S. Department of Education announced today that Abbotts Creek Elementary is among the 35 schools nationwide to be named a 2019 Green Ribbon School.

The award honors schools and school districts for their innovative efforts to reduce environmental impact and utility costs, improve health and wellness, and ensure effective sustainability education.
Abbotts Creek has introduced many programs to improve sustainability and promote health and wellness.
The science special curriculum for kindergarten through fifth grade has been developed with an environmental literacy and green STEM focus. The science specialist leading the charge, Krista Brinchek, is a former environmental engineer. Each of the school's more than 800 students keeps a science notebook they use to collect data for various citizen science projects such as:

CoCoRaHS rain gauge;
NestWatch on four bluebird boxes;
MonarchWatch, tagging wild butterflies;
Tomatosphere, growing and collecting data on seeds that have been on the international space station;
Shad in the Classroom to learn water quality analysis;
And tri-motion sensor cameras to document wildlife found on school grounds.

Students and staff worked to get the Abbotts Creek campus certified as a National Wildlife Federation habitat, by demonstrating the campus had food and water availability, wildlife cover, places to raise young, and sustainable practices.
Working with the Environmental Research and Education Foundation to perform a waste stream analysis to determine how much and what type of waste was generated in the school cafeteria. This led to a series of changes aimed at reducing food waste, including an educational campaign, the formation of a "parent green team" that collects 10 gallons of food waste each week to be recycled, and switching to compostable food trays.
The school looked beyond the cafeteria to launch other waste reduction initiatives, include participation in Crayola ColorCycle, a "These Come From Trees"educational campaign about paper waste, and a partnership with Wake County Recycling on a classroom Feed The Bin program.
The school is a proud partner in DonateSport.org, a charity started and operated by an Abbotts Creek family to collect donations of used sports clothing.
To promote wellness, the school's P.E. teacher created a run club that meets twice a week, and all students receive guidance counseling at least once a month.
"We are extremely honored to receive the Green Ribbon School distinction from the US Department of Education," says Abbotts Creek Principal Paula Trantham. "This award symbolizes the dedication and ingenuity of the Abbotts Creek students, staff and families in supporting sustainability efforts and environmental literacy. Krista Brinchek, our science specialist, has put an amazing amount of effort into teaching our students about environmental issues and sustainability education."
School representatives will travel to Washington D.C. in September to officially claim their award. A school-wide celebration will be held after that trip.
Find more information about Abbotts Creek and all of this year's winners.