Return to Headlines
Public Safety Student Reunites His Father With The Flight Nurse Who Saved His Life Six Years Ago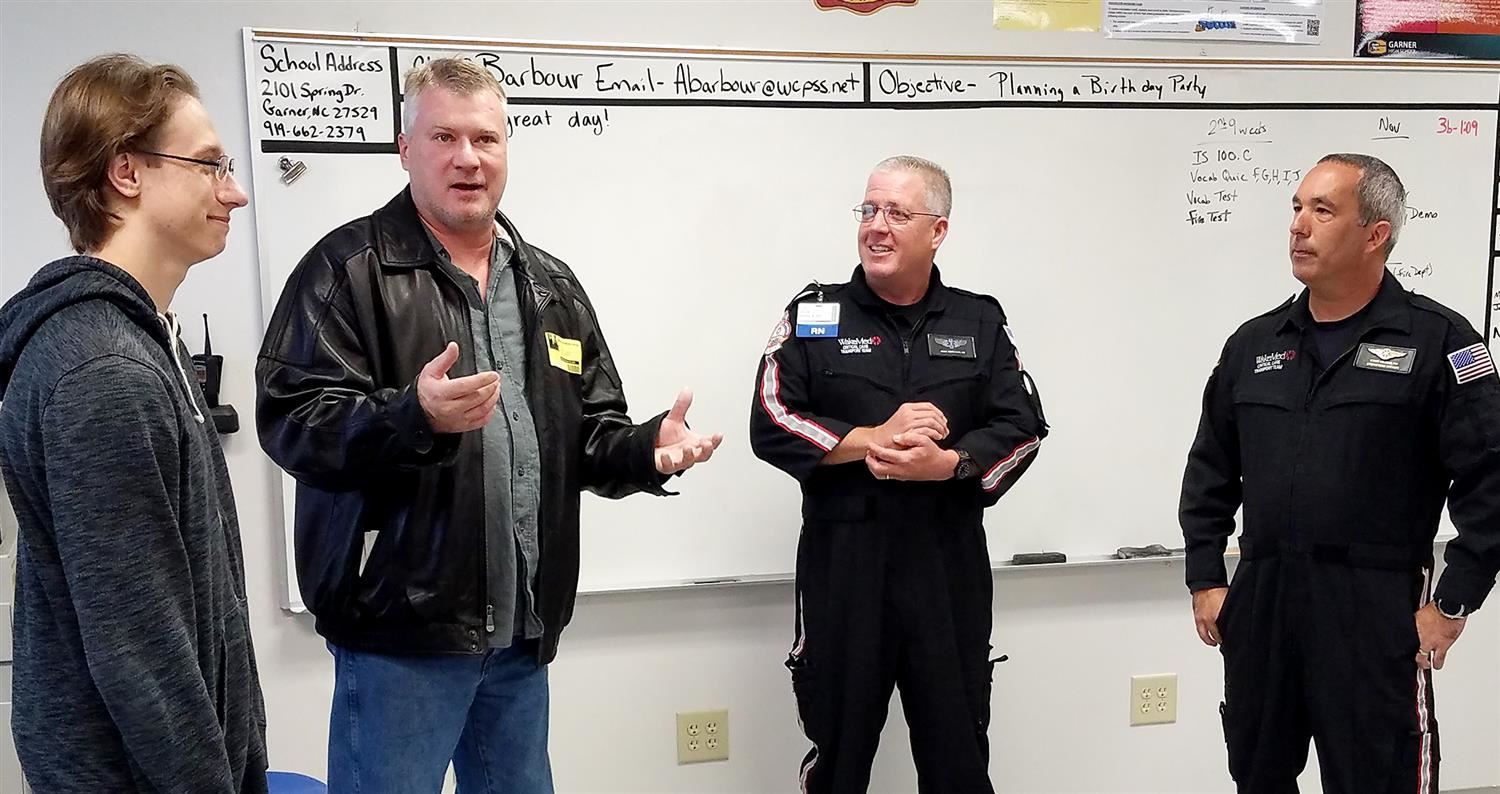 November 15, 2018
Most parents don't go with their high school students to class. But for Garner Magnet High School eleventh grader Anthony Wasilewski Jr. and his dad, Anthony Wasilewski Sr., first period Tuesday morning was a day they had been waiting for and wanting for the past six years.
It was the day the elder Wasilewski was finally going to meet the helicopter flight nurse who saved his life - and it was all thanks to his son taking a public safety class in the magnet school's Public Safety Academy.
Life Flight
In February of 2012, Mr. Wasilewski was a passenger in a car crash. Despite wearing a seatbelt and the vehicle having working airbags, Mr. Wasilewski was critically injured, requiring emergency crews to call for a medical helicopter to come to the crash site to take him to the nearest hospital as quickly as possible.
Longtime flight nurses Jimmy Barefoot and Vince Miliano were working with WakeMed's Mobile Critical Care team that night and were part of the crew who flew to transport Mr. Wasilewski to the hospital. They remember it was supposed to be a quick pick-up, just land the helicopter, load the patient, and go. But as Barefoot recalls, once they landed, they discovered it was taking longer than expected for firefighters and first responders to cut Mr. Wasilewski free from the badly damaged vehicle. So Barefoot and Miliano had to wait, outside in the freezing cold night air.
When emergency crews were finally able to free Mr. Wasilewski from the wreckage, they rushed him to the closest ambulance, warm and ready to provide critical care, in order to stabilize him enough so he hopefully would survive the short helicopter trip to the hospital. Mr. Wasilewski had suffered extensive head, neck, and spinal injuries, making it difficult for emergency crews to intubate him, so he could breathe. Without it, they knew he wouldn't survive long.
Barefoot and Miliano took over Mr. Wasilewski's care once emergency crews got him into the ambulance. With a little bit of luck and a lot of skill, Barefoot was finally able to place a tube down Mr. Wasilewski's throat, allowing him to breathe.
'I'm still here for a reason'
It was a long road to recovery for Mr. Wasilewski, one he didn't know if he was strong enough to endure. He was in a coma for more than two months and stayed in the hospital for six months, fighting his way back from the brink of death. His son, Anthony Jr., who was 12-years-old at the time of accident, remembers it was a difficult time for the whole family.
"I'm still here for a reason," Mr. Wasilewski said. "I'm here for my son."
Mr. Wasilewski doesn't remember anything about the accident or the heroes who saved his life that night. But he's been able to piece things together from news articles, insurance reports, and his family and friends.
'Super hero'
Since the accident, Mr. Wasilewski has wanted to find the flight nurse who likely saved his life. Anthony Jr. was finally able to make that happen, after talking with his public safety instructor, Reggie Hocutt at Garner Magnet High School's Public Safety Academy.
"I took the public safety class because I wanted to learn all the pieces that came together to save my Dad's life," Anthony Jr. said. So one day, he told Hocutt about his father's accident and the flight nurse who saved his life. Hocutt consulted with Kim Miller, the Academy's EMT Instructor, who was able to track down Barefoot and Miliano.
Tuesday morning, the Wasilewskis finally got their chance to meet Barefoot and Miliano, in front of a class of EMT students. Mr. Wasilewski hugged them and thanked them for saving his life that night. Then he introduced them to Anthony Jr., standing by his side.
"I'm looking at a super hero," Mr. Wasilewski said of Barefoot after meeting him. "I can't believe he's actually here. I'm just grateful."
"I believe everybody here can be somebody's angel," Mr. Wasilewski said to the EMT students in the class.
"This is overwhelming," said Anthony Jr. "I'm speechless."
Paying it forward
Anthony Jr. says he's now considering a career in law enforcement, so he can help people in need, like emergency crews came together to help his father.
Humbled by the experience, Barefoot told the class of future public safety professionals, "Each time you do something, it could have a major impact years down the road. I'm just glad we were there to be able to help."