Return to Headlines
'Bridges' to the White House for great counseling
They are her "little buddies." They keep her on her toes. And they are a big part of the reason she got to meet Michelle Obama.
"They" are the eighth-graders of Salem Middle School. "She" happens to be Kerri Bridges, their school counselor, and one of three semi-finalists for National School Counselor of the Year from WCPSS (there were only 16 total!).
Chat with Bridges a few minutes and you'll see why Wake County represented in such large fashion.
"I feel called to do this. I feel like it's a gift I've been given to work with kids," said Bridges. "I can't think of a better job in the world for me."
From left: National School Counselor of the Year semi-finalists Lisbeth Fillard (Middle Creek Elementary), Kerri Bridges (Salem Middle) and Laura Inscoe (Wakefield High).
Bridges wears many "hats" during a typical day doing the job she loves so much. Making sure students have the support they need to focus on studies; offering guidance around course selection and career choices; supporting colleagues throughout the school, whether they be teachers or administrators; talking with parents about how to better support their children; and, of course, lunch duty.
It's listening to students, however, that lies at the core of her work. Middle-schoolers bring very real issues to school with them every day, and Bridges sees it as her job to help them figure out how to focus on learning in spite of it all.
"What you do in the (school) building can set the tone for the whole day, and some of our kids have not experienced great mornings," said Bridges, who's in her 15th year of counseling. "But what I tell them is that when you have an issue, it doesn't mean you're alone – it actually means that you're part of the human race. Everyone struggles with something, and it's up to us to find the resources we need to move past that struggle."
One resource Bridges brought to Salem was a partnership with Wake Technical Community College's Pathways program. Minority male Wake Tech students visit some of her students each month to serve as mentors and role models. They talk with the kids about setting goals, developing strong leadership skills and all kinds of qualities they must develop on the road to college.
"(Pathways) inspires them in the day-to-day moments of decision making: It makes them think, 'How do I make sure that what I'm about to do is going to promote my goal of attending college? Even though learning might be difficult I'm not going to give up,''' said Bridges.
Bridges, along with Lisbeth Fillard of Middle Creek Elementary School and Laura Inscoe of Wakefield High School, were named NC Counselors of the Year for their grade levels in 2014. This year, they were three of 16 semi-finalists for the national title.
In fact, WCPSS was the only school district in the nation to send semi-finalists for all three grade levels (elementary, middle and high) to the White House, where the national awards program was hosted for the first time.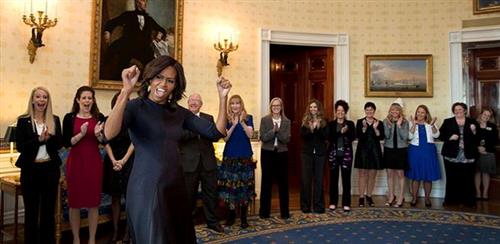 First Lady Michelle Obama tweeted this photo of her celebrating with the semi-finalists. Bridges and Fillard can be seen in the background, third and fourth from right, respectively.
That's where First Lady Obama comes in. The White House honored the semi-finalists at an event on Jan. 30, in advance of National School Counseling Week, Feb. 2-7. Mrs. Obama spoke at the event and spent a few minutes with Bridges and her colleagues.
"My kids asked, what is Michelle Obama like? I told them, 'It's so evident how invested she is in kids. You can tell she truly believes that with the right support anyone can achieve beyond high school. And she's talking about you!'" said Bridges.
Bridges credits the high level of support offered by WCPSS for school counselors for the successes she and her colleagues have realized.
"They really do provide a great deal of professional development and support for us in our work," she said.
It shows – all the way from Salem Middle School to the White House.
WCPSS School Counselors by the Numbers:
140 Elementary School Counselors
102 Middle School Counselors
127 High School Counselors
23 SAP Counselors
5 Transition Counselors
52 RAMP Schools (Recognized American School Counselor Association Model Program for School Counseling)
130 National Board Certified Counselors
2014 NC School Counselor of the Year for Elementary, Middle and High School
2015 NC School Counselor of the Year for Middle School (Durenda Johnson Ward, Centennial Middle Magnet)
2015 NC School Counselor Association Ruth McSwain Award Recipient (Audrey Thomasson, Olive Chapel Elementary)