Return to Headlines
Macleod is 2016-17 Teacher of the Year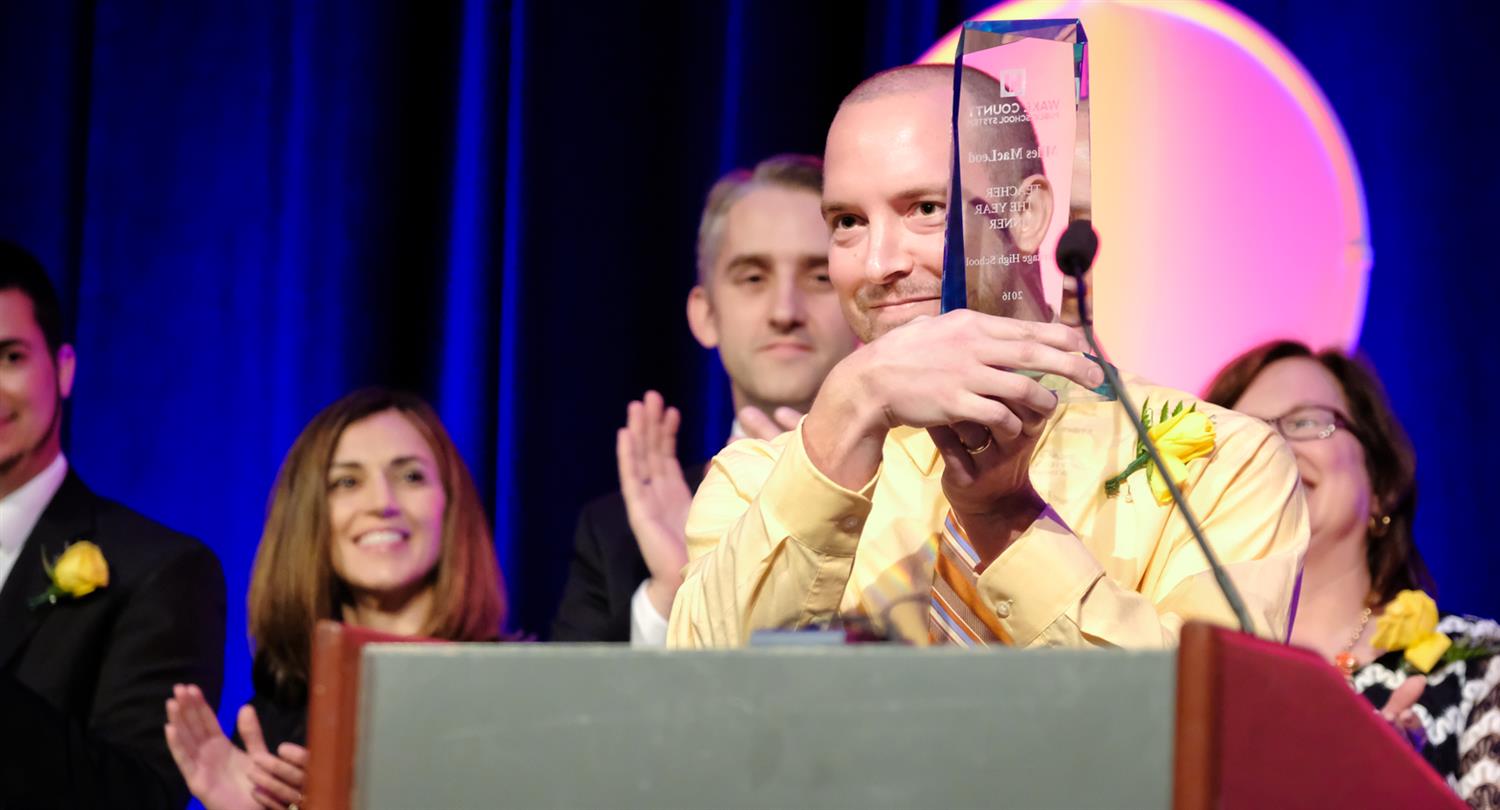 Miles Macleod, Heritage HS teacher, accepting the Teacher of the Year award on May 11.
Heritage High School English/Global Studies teacher Miles Macleod is the 2016-17 Wake County Public School System Teacher of the Year.

Macleod received this honor at the annual Teacher of the Year banquet held on Wednesday, May 11 at the Raleigh Convention Center. The banquet honored 171 teachers from across the district. Each had been selected to represent their respective school as its Teacher of the Year.
'Remarkable at what he does'
"It takes a very special kind of person to be a teacher. To be considered the best at what you do in one of the nation's largest school districts is quite a distinction," said Superintendent Jim Merrill. "Miles Macleod is that kind of teacher. He spends each and every day dedicated to ensuring that his students are inspired to prepare themselves well for graduation and to succeed in their life goals. And his peers – as well as his students – recognize that he is remarkable at what he does."

Macleod teaches English and Global Studies to students in grades 9 through 12 at Heritage High. He has taught at the school for six years. Before coming to Heritage, he taught English as a Foreign Language (EFL) and test preparation for EFL to middle school students in South Korea. He also trained new teachers in these areas.

Macleod has served as English department chair at Heritage, and also has presented at professional learning sessions for new and veteran teachers. He develops and refines the school's English Academy curriculum.

Project Wisdom, an international service-learning program, is one of Macleod's many projects at Heritage and in the surrounding community. It has grown into a registered non-profit organization headed by a board of directors comprising mostly students. Macleod also has been instrumental in participation in speech and debate programs at Heritage and throughout the district.

Macleod holds a bachelor's degree in English and secondary education from Salisbury University and is completing a master's degree in 21st Century Teaching and Learning from Wilkes University.

See Teacher of the Year Miles Macleod at work in the classroom at Heritage High
Macleod's philosophy for teaching, growing
"Want students to get excited about learning? Drink your coffee and get excited, too!" said Macleod in his TOY application, submitted for districtwide consideration after his peers selected him as the Heritage representative. "It takes sacrifice and constant reflection to set a good example – the same two qualities, not coincidentally, necessary to be an exceptional teacher."

The above statement reflects Macleod's philosophy that the best way to teach classroom management is to model it. He also outlines these components of good teaching:


Teach skills, not just facts: In the age of Google, facts are easily attainable. But students must learn how to utilize, synthesize and refine content.
Differentiate teaching methods; never expectations: In creating an honors-only curriculum, Macleod and his team added untraditional methods rather than change the level of expectations for students.
Every student has a way to be motivated: The best teachers embrace their role as motivator, especially if they ascribe to the belief that every student is capable of effort and every student is different.
Don't stop reflecting: Teachers should constantly ask themselves how they could be better at what they do.

Gifts for Teacher of the Year

As the Wake County Teacher of the Year, Macleod will represent Wake County in the North Carolina Teacher of the Year competition. He succeeds 2015-16 Teacher of the Year Matthew Scialdone, a Middle Creek High School teacher.

As Wake County's Teacher of the Year, Macleod receives:
an engraved acrylic award;
a three-day stay in a Myrtle Beach condominium, compliments of the Dwell Realty Group;
a check for $1,000 compliments of our corporate sponsors;
a travel cart filled with various classroom and office supplies from Office Depot;
a $50 gift certificate to The Angus Barn, compliments of The Angus Barn and our corporate sponsors; and
a $2,500 award toward participation in the Center for International Understanding's global study program compliments of The Center for International Understanding, a Dan Royster memorial. The award will provide support for Macleod to participate in the Center for International Understanding's June 2016 Study Program to South Africa. The Dan Royster Teacher Award was established as a tribute and memorial to Dan Royster, a Wake County science teacher and enthusiastic international exchange participant. The award is funded through contributions from his family and friends.
Candidates for Teacher of the Year are nominated and elected by their peers. The teacher candidates develop portfolios that describe their careers and philosophy on teaching. The selection committees review the portfolios and narrow the field to 26 semi-finalists. The selection committees then observe the semi-finalists in their classrooms and each committee chooses one teacher to be among the 13 finalists.

The finalists are interviewed by the Teacher of the Year Interview Committee. Based upon the interview, the committee then chooses the Teacher of the Year by secret ballot.

Finalists for Teacher of the Year

Macleod's 12 fellow finalists for the 2016-17 Teacher of the Year are:

Kelly Fink, East Wake Middle School
Anthony Fitzpatrick, Enloe High School
Lauren Genesky, Millbrook High School
Jesse Gore, Dillard Drive Middle School
Melissa Jankowski, Highcroft Elementary School
Mark Mash, Leesville Road High School
Leigh Ann Massengill, Fuquay-Varina Elementary School
Brittany Packer, Smith Magnet Elementary School
Elizabeth Shaver, Holly Springs High School
Tanya Swanson, Richland Creek Elementary School
Jennifer Tymkin, Hunter Elementary School
Kim Zeugner, Kingswood Elementary School
Wells Fargo is the primary sponsor of the WCPSS Teacher of the Year Award and banquet.