Return to Headlines
National School Psychologist of the Year 2019
March 5, 2019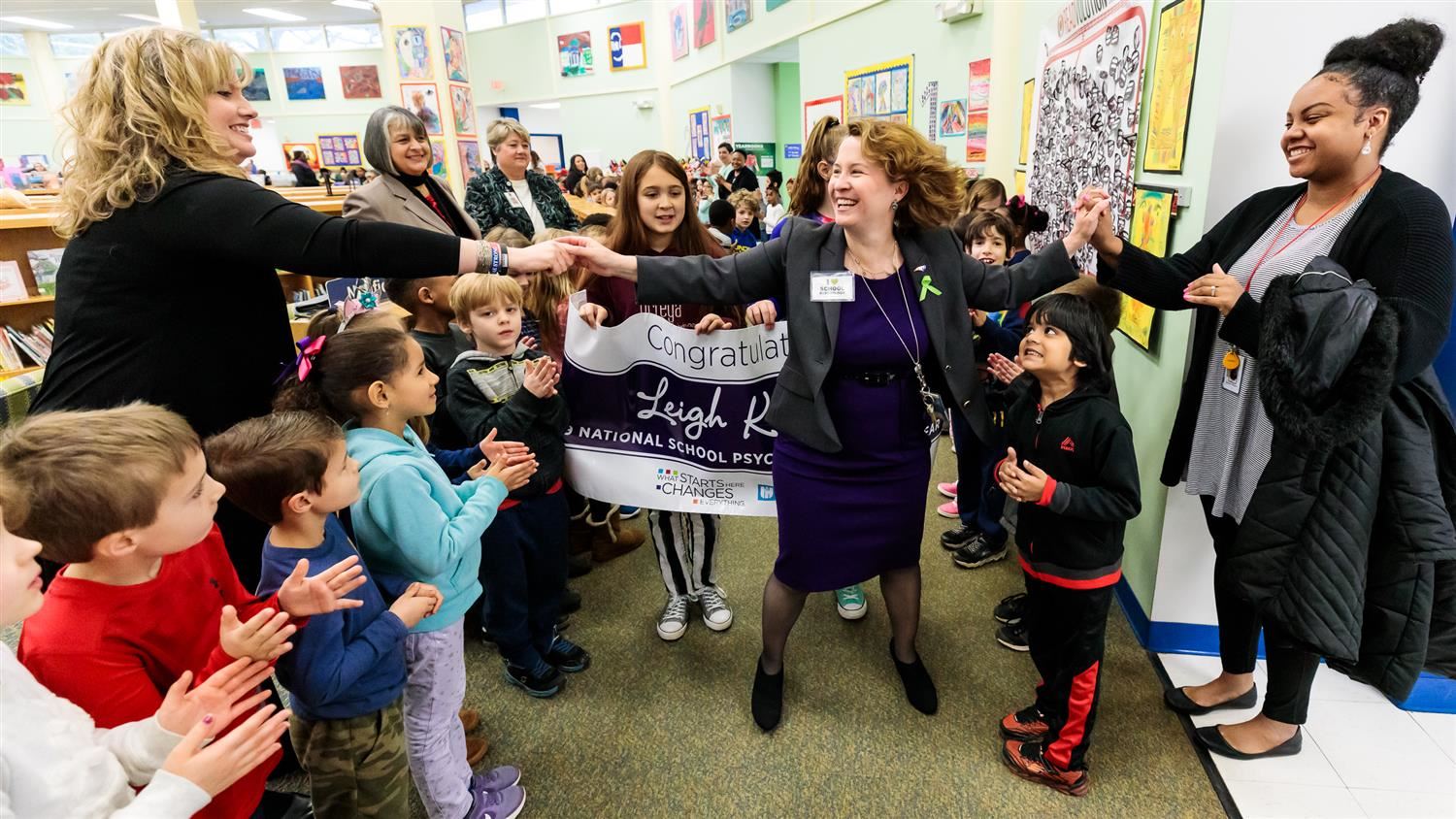 Students, staff and Superintendent Cathy Moore celebrate the 2019 National School Psychologist of the Year, Leigh Kokenes, with a clapout at Lynn Road Elementary, one of two schools Kokenes serves.
Last week, the National Association of School Psychologists (NASP) named Leigh Kokenes, M. Ed., NCSP the 2019 School Psychologist of the Year at its annual convention in Atlanta, GA. Kokenes provides comprehensive school psychological services for students in grades K-8 at Lynn Road Elementary School and West Millbrook Middle School. In addition, she also provides training and leadership for colleagues throughout our district and at the state level. She advocates for comprehensive services, increased access to mental health services, proportionate staffing, and efforts to support recruitment and retention of school psychologists - all to help improve outcomes for children, families, and schools.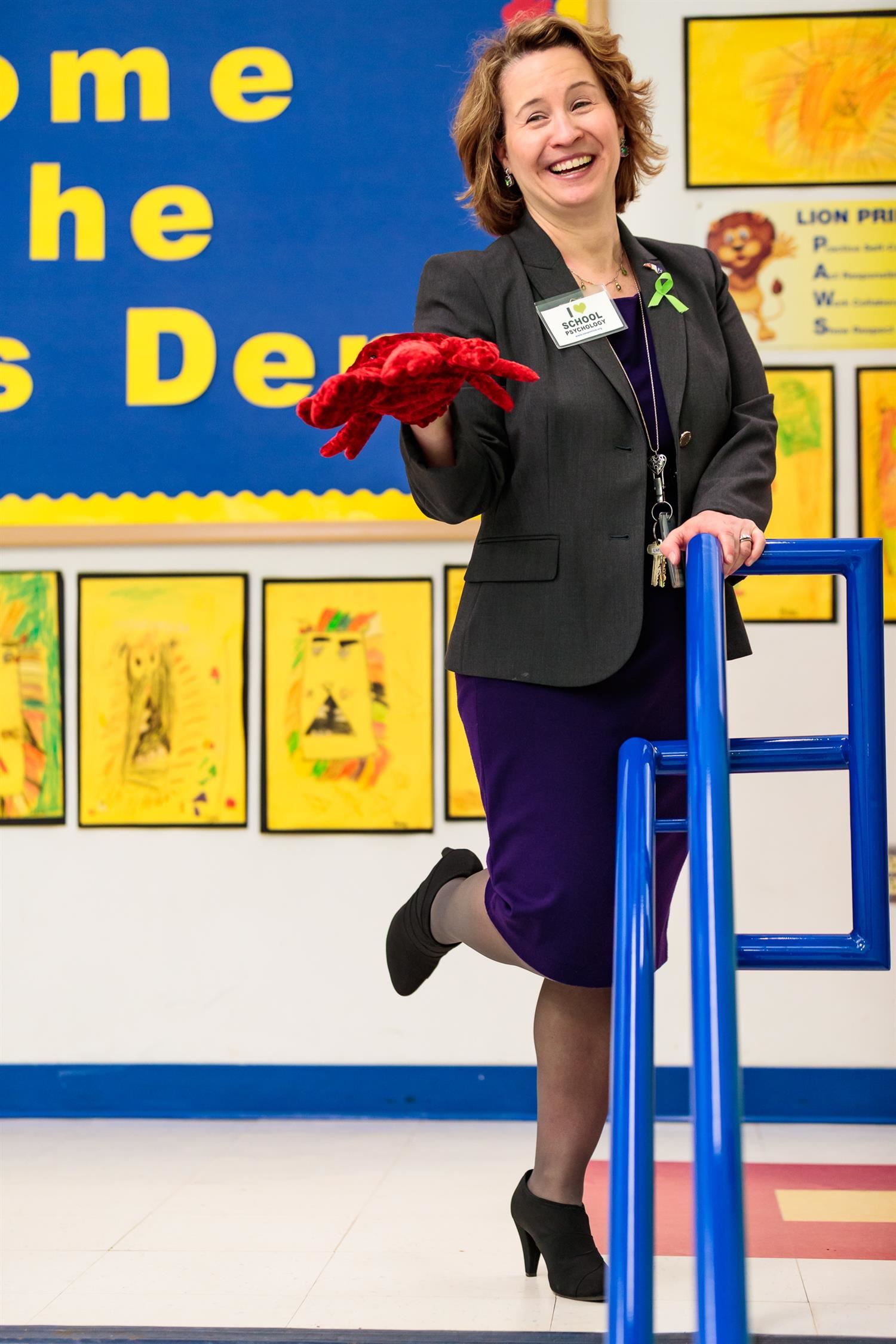 Kokenes has worked for the district since 2006. She was selected as the the WCPSS School Psychologist of the Year in 2016, the NC School Psychologist of the Year in 2017, and she serves as a commissioner on Governor Roy Cooper's Commission on Access to Sound Basic Education. She has a background in special education and early intervention with experience working in public schools, early intervention, and community mental health settings.
Kokenes is an advocate for school psychology and the Multi-tiered System of Support (MTSS). At the building level, she serves on multiple problem-solving teams, including her schools' intervention and Instructional Leadership Teams. Kokenes also provides support to students and families by working with small groups of students to build leadership skills and reduce in-school suspensions, and participating in "downtown parent conferences" for families with limited transportation and resources.
At the state level, Kokenes serves as co-chair of the North Carolina School Psychology Association (NCSPA) Legislative & Public Policy committee. Her contributions have been instrumental in leading the networking and partnerships that resulted in the organization having several NC General Assembly bills drafted and supported during the last legislative session. She also serves as the NASP School Psychology Action Network (SPAN) and Government and Professional Relations (GPR) contact for the state of North Carolina, working with the NCSPA board and lobbyist to follow bills of importance to the profession.
"School psychologists like Leigh are integral members of our school communities," said Heather Boling, WCPSS Director of School Psychology. "The wide range of expertise that school psychologists have in the areas of mental health, learning, and behavior help our students succeed academically, socially, behaviorally, and emotionally."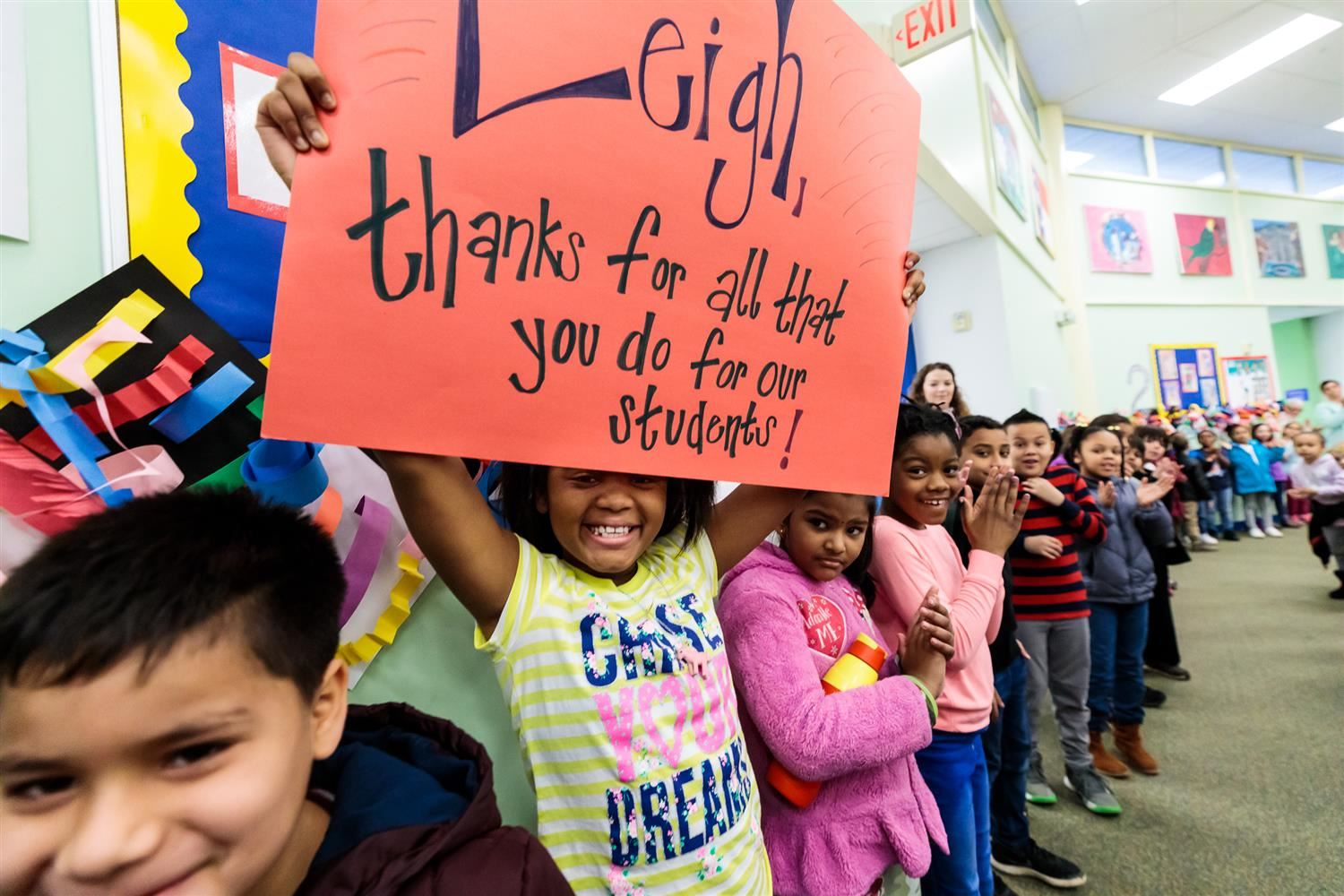 "I am extremely proud of Mrs. Kokenes and her dedication to our children and their success," said Superintendent Cathy Moore. "School psychologists, school counselors, and school social workers help establish positive relationships with students and their families, connecting them with wraparound support and community services, which allows students to better focus on their academic performance and growth. These critical support services are essential for our district to work towards increasing proficiency and eliminating achievement gaps based on demographics."