Return to Headlines
Mentors and students discuss making good choices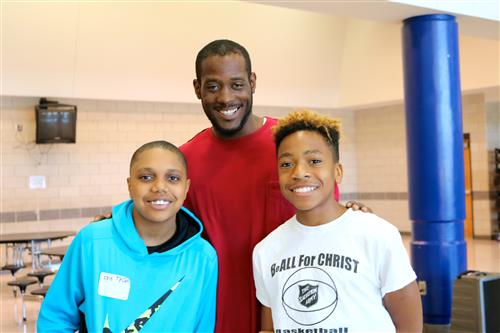 Families confronted the difficult issues facing young black men at a conference sponsored by the Wake County Public School System, the Helping Hands Mentoring Program and the producers of the Choice, Not Chance documentary.
Mindy Fuller and Angela Morrow, co-producers of the documentary, shared 30 minutes of their movie describing the importance of education and mentoring, while navigating broken families and peer pressure. The local activists found young African-American males who shared their stories and another panel of older African-American males to discuss the life lessons they heard in these stories.
"There's a disproportionate number of African-American males dropping out of high school and in prison," said Andrew Moody, one of the young panel members in the documentary. "These are very complex issues that can't be solved with one answer. The documentary tries to find out why these African-American males make the decisions they make."
The school system invited students, their families and mentors who take part in the Helping Hands Mentoring program. Former Superintendent Bob Bridges established the program in the 1980s pairing African-American men with elementary school students. Participants talked about the issues they saw in the documentary, enjoyed a meal together and then had in-depth, small group discussions.
Tony Daniels has been a mentor for 25 years in the program. "We target the boys who just need an additional push," Daniels said. "If the student has a problem, often the teacher will come to me. Because I have the relationship with him, I can deal with it."
"Mr. Daniels, he's a really chill guy," said Safwan, a student mentored by Daniels. "If you do the right things, he'll do the right things for you."
Fuller congratulated the young men and had the audience applaud them for being on the right track listening to their mentors, finding success in school and preparing for the future.
"We don't want to leave their lives up to chance. We want them to make the right choices," Fuller said. "And we all have to make the right choices for them so they can make right choices."
The conference gave away a number of computers to students who took part in the day's activities. The event was held at Southeast Raleigh Magnet High on April 15.