Return to Headlines
WCPSS Captures 2 National Magnet Awards
April 30, 2018
The Magnet Schools of America (MSA) has cited Farmington Woods International Baccalaureate Magnet Elementary School as the best magnet elementary school in the nation, and Brooks Museums Magnet Elementary School teacher April Guenzler was named the nation's top magnet school teacher.
The awards were announced at the MSA national conference on April 28.
Farmington Woods is an International Baccaluareate Primary Years Programme School. The award was based on the school's Academic Excellence, Diversity, Family and Community Partnerships, High Quality Instructional Systems and Innovative Curriculum and Professional Development.
Farmington Woods had been one of five finalists. The national award came after an MSA team visited the school and interviewed teachers, parents and community partners. The award includes $2,500 for the school.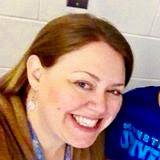 April Guenzler is a kindergarten teacher at Brooks Museums Magnet Elementary. She also has taught first grade there. This is her 16th year at the school. The MSA National Teacher of the Year is awarded to a successful teacher-candidate who is acknowledged by peers, parents and students for exemplary contributions made to the profession. The award honors a PreK through K-12 Magnet School Teacher who has demonstrated excellence in the teaching profession, community, and parental involvement.
WCPSS was the only school district to claim two top national awards this year. This is the first time one of our teachers has won National Teacher of the Year.
Douglas Magnet Elementary School was named top magnet school for all grade levels in 2016, and Wiley Magnet Elementary School was named top elementary magnet that same year. Brentwood Magnet Elementary was named second best of all magnet schools in the nation in 2015, with Wendell Magnet Elementary taking top honors for elementary schools that same year. Combs Magnet Elementary School was named top magnet school in the nation for all grade levels in 2014.