Southeast Raleigh Magnet High School
University Connections: School of Design, Arts, and Engineering
At Southeast Raleigh Magnet High School (SRMHS), we offer the unique theme of University Connections. University Connections leverages college-level expertise to inform the development of magnet course offerings and strengthens overall program rigor. Strong and visible partnerships with local colleges and universities as well as businesses provide invaluable resources.

Theme-supported curricula and specialized classes allow students to select and explore one or more of our College and Career Pathways of Design, Arts, Engineering, Science & Math, and Humanities & Social Sciences.

Students have opportunities to take specialized courses, interact with field experts, and participate in both on and off-site visits.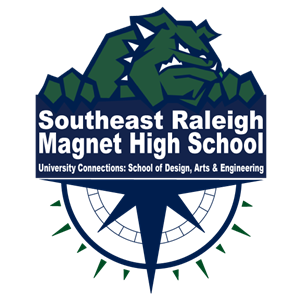 "Excellence is the standard.
I'm ALL IN!"

Image: Pathway Schools
Southeast Raleigh Magnet High School's pathway schools are Centennial Campus Magnet Middle School,
Reedy Creek Magnet Middle School, and Carroll Magnet Middle School.
As a magnet school, we have students from over thirty different schools.
Learn More About Southeast Raleigh Magnet High School

Interested in Southeast Raleigh Magnet High School? Please contact our Magnet Coordinator, Lauren Johnson, at (919) 856-2800, ext. 24985.
She may also be reached via email at ljohnson5@wcpss.net for further information or to schedule a tour of our campus.

Our school is a member of the WCPSS STEM Consortium, meaning that we are a STEM-focused Magnet school.