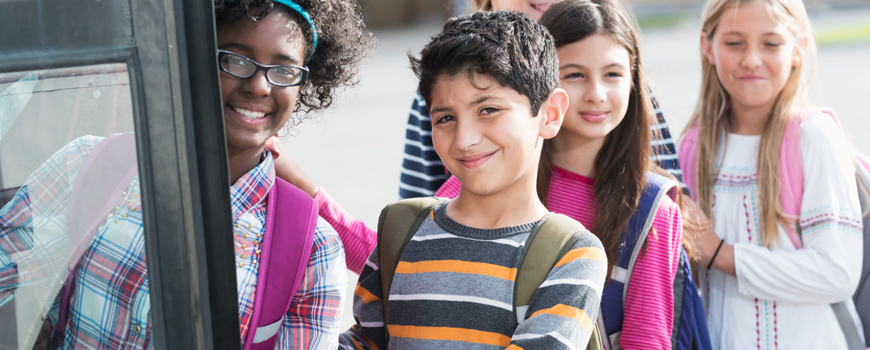 Bus boarding process

Crossing the Street to Board the School Bus in the Morning

STAY: on your side of the road,12 feet away from traffic
WAIT: for the bus to stop and the stop arm to extend. The Driver will be holding his left palm up for you to wait for traffic to stop
STOP: and look for traffic both ways, then check again. When it is OK the driver will give you a "thumbs up" and then point in the direction you will walk to cross the street
LOOK: for moving traffic both ways as you walk directly across the road.
CROSS: 12 feet in front of the bus in full view of your driver. Be careful in the danger zone and board the bus without delay.

Crossing the Street when Exiting the Bus in the Afternoon

LOOK: for traffic in all directions, especially to your right, before you step off the bus. Cars sometimes pass on the right side. When OK…
WALK: away from the right front of the bus in full view of your driver, going past the extended bus crossing arm. Then stop and...
WAIT: Your Bus Driver will be holding his right palm up for you to wait until all traffic is stopped.
STOP: When it is OK to cross, the Driver will give you a "thumbs up" and then point in the direction you will walk to cross the street
LOOK: for moving traffic as you promptly cross and move 12 feet off the road.

WCPSS bus drivers use standard hand signals to help students cross the street to and from the bus.

Safety Tips

Remember that cars may not stop. Your life depends on the following:

You must look both ways for moving cars. If a car is moving, do not step into the road.
Pay attention! Take ear buds out! Don't talk or text!
If you hear the horn, look and find safety!
Parents, even if you are crossing with your child, please follow these same steps.
You and your children should memorize their bus run numbers and stops. You will need these in the event of an emergency.
Be present at your child's bus stop to ensure your child arrives and departs safely.
If children need to cross the street to board the bus, teach them to wait until the bus stop arm is completely out, to look and listen to make sure all vehicles are stopped, and to cross in front of the bus

Pick-up and drop-off

In the mornings, students should be ready for the bus at least 10 minutes before the bus is expected to arrive.
In the afternoon, drivers will discharge pre-K, kindergarten, and first-grade students only when a responsible person is present to pick them up. Drop-off times in the afternoon could vary depending on whether or not other students assigned to ride that vehicle may be absent that day. If no one is present, the child will be returned to the school or district office.
Items carried on the bus should fit on the student's lap. Band instruments, projects, or other objects cannot take up seating space or block the aisle.
Students may get on and off only at their assigned stops. They cannot ride home with friends.
For students needing assistance, it is your responsibility to help your child from your residence to the vehicle, or from the vehicle to your residence.

Route assignments

Transportation assigns students to ride specific buses according to state guidelines and within specific load limits.

Students living within their school's walk zone (1.5 miles) are not allowed to ride a bus unless it is an unsafe walking environment (for example, a multi-lane highway without a crossing).
Students who are assigned outside their geographical area due to a transfer request are not guaranteed transportation.
Regular students who are medically certified as temporarily incapacitated may be considered for special accommodations.

Neighborhood Busing

With neighborhood busing, students may walk to a location centrally located to students assigned to that stop. The bus travels to a number of neighborhood stops and then delivers students to their school. In the afternoon, students are returned to the neighborhood stop to make their way home. If a student lives in their school's walk zone, they will not receive bus service.

Express Transportation

Parent provides transportation to/from centrally located stop; District provides transportation from centrally located stop to school, then back to the centrally located stop in the afternoon With Express Transportation, parents accept responsibility for driving their student to a central location such as a school or a shopping center for pick up by the school bus. The school bus will travel to several express stops before it delivers students to their school. In the afternoon, students are returned to the express stop for pick up by parents. Parents should anticipate that it will take the bus driver longer to safely travel the bus route during peak traffic times than for the parent to drive from their home to the school.

No Transport / Walk Zone Families

In accordance with state law, WCPSS does not automatically provide school bus transportation to families that reside within 1.5 miles of the school their student is attending. School Board Policy directs the Transportation Department to evaluate whether to provide transportation within 1.5 miles based on walkability and cost factors. Based on these factors, no transport / walk zone boundaries are established. Some schools do not have these zones. For other schools, the boundaries can change based on infrastructure improvements, such as the addition of a sidewalk or the placement of a crossing guard. If your student resides in the no transport / walk zone, the parent or guardian is responsible for providing transportation to and from school.

Stop placement

Bus stops are established at safe locations. The recommended walking distances are three tenths of a mile for elementary students, and half a mile for middle and high students. Express bus stops will exceed these recommended distances. Stops are usually placed on corners and are placed no closer than two tenths of a mile apart unless safety hazards exist. Buses are routed on state-maintained roads only and are generally prohibited from traveling into cul-de-sacs. As per Board Policy 7125, safety criteria for stops include:

Adequate lighting
Safe pathway to the bus stop
Space for multiple students to wait
Approaching motorists view of the bus stop
Street traffic patterns, volume and speed
Available space for bus to safely stop or turn around.

Bus Conduct

The driver has complete authority and responsibility for operating the bus and maintaining good conduct. The driver shall report to the school administrator any misconduct or violation of the driver's instructions. Principals may discipline any bus misconduct as if the violation had occurred on school grounds. Penalties for violating board policy or the Student Code of Conduct apply to bus behavior. In addition, students are expected to:

Enter the bus in an orderly and quiet manner.
Sit in assigned seats without being reminded.
Remain seated and facing front at all times.
Keep hands, arms, heads or any other objects in the bus at all times.
Sit with feet on the floor and bookbag and hands in lap.
Abide by the request of the driver and follow all school and county rules and regulations.
Food and drink are not allowed on the bus at any time.
Be respectful to the driver and other students at all times.

Review the bus and cab rider code of conduct.

Ride time

Proximity Elementary Students: less than one hour
Proximity Secondary Students: less than one hour
Magnet Students, Application students, students attending school not on their choice list, and students attending non-proximate schools: 45 minutes in addition to the above times.

Bus service to childcare centers

Board Policy 7125 outlines that service to childcare centers may be provided when the following criteria are met:

There must be no additional cost to the state.
Centers must be located in the transportation area of the school served.
There must be ample seating space available on the bus.
The childcare center must be along an existing established school bus run on state-maintained roads. (This does not apply to students with special needs.)
The childcare center must be more than 1.5 miles from the school (outside the walk zone).
Childcare staff must be present to load/unload students.
The bus cannot enter private childcare property.