Return to Headlines
WCPSS Graduation Rate Continues to Improve
Sept. 7, 2017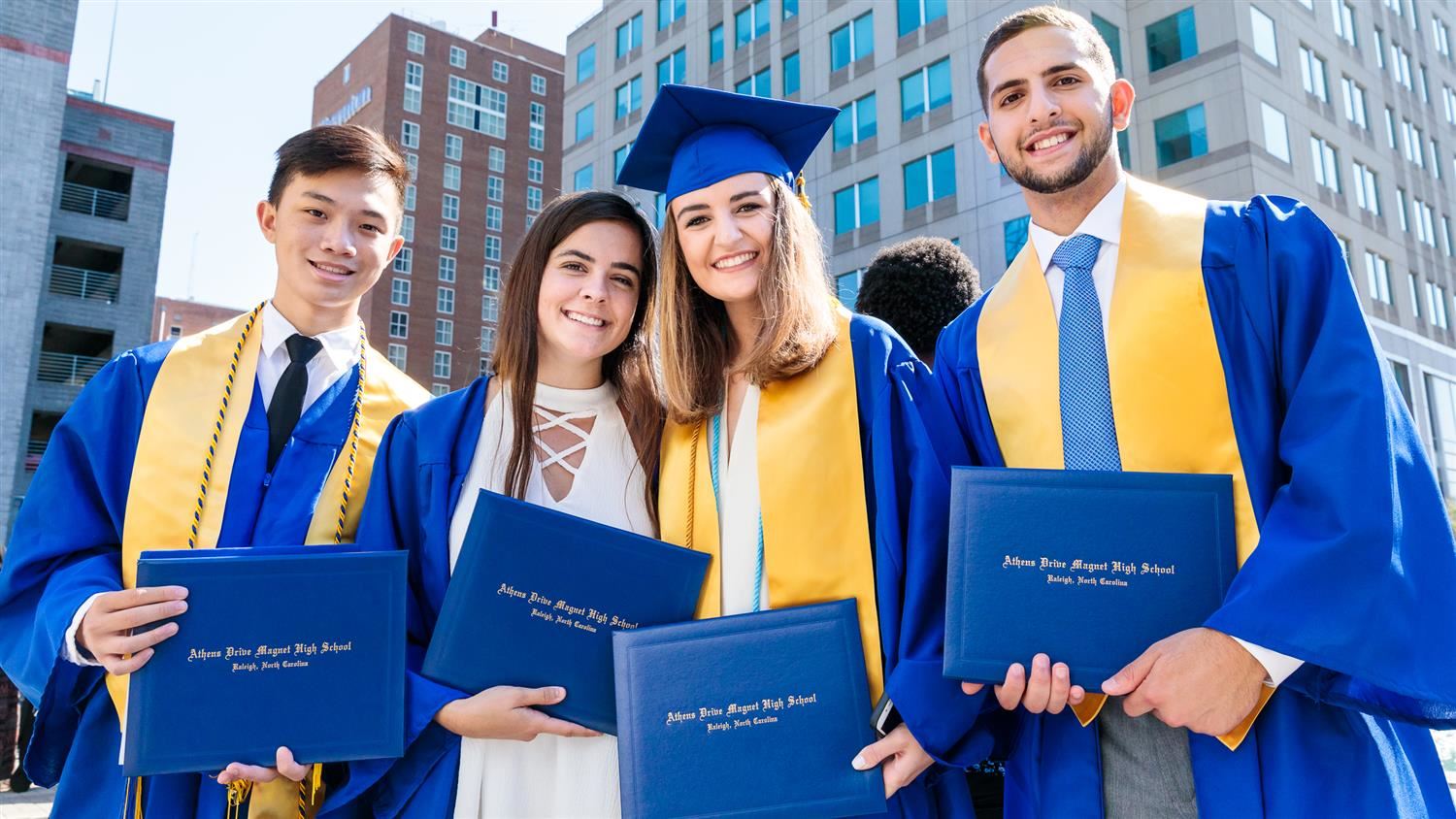 More than two-thirds of Wake County Public School System high schools have four–year graduation rates above 90%, according to statewide data released Thursday.
Overall, our graduation rate increased 1.4 percentage points in 2017, from 87.1% to 88.5%.
It is another positive step toward our
Strategic Plan
goal: By 2020, WCPSS will annually graduate at least 95% of its students ready for productive citizenship as well as higher education or a career. Since 2012, our graduation rate has increased every year, from 80.6% in 2012 to 88.5% this year.
'Pushing hard for every kid'
Leesville Road is just one of many of our high schools to show remarkable improvement in graduating students within four years. Its graduation rate was 82% in 2012. Its 2017 rate was 94%.

"What I'm most proud of is that our entire staff owned this," Principal Anthony Muttillo says. "We realized back in 2012 that every single staff member in the building has a role in improving graduation rates. We know every single kid, we know their challenges, and we support them in any way that we can. We're pushing hard for every kid."
Garner High School is one of our other major success stories. Its graduation rate went from 70% in 2012 to 89.8% this year.
Major strides
Twenty-one of our 30 high schools now have graduation rates of 90% or higher. Three early colleges had 100% graduation rates: Wake STEM Early College, Wake Early College of Health & Science, and Wake Young Women's Leadership Academy.
High schools with the largest one-year increases include:
Mary Phillips, up 17.6 percentage points to 90.9%
Knightdale, up 6.6 points to 93.6%
Fuquay-Varina, up 5.7 points to 92.0%
Wakefield, up 4.6 points to 94.5%
Graduation rates in WCPSS increased for all student subgroups, with the largest gains among the following subgroups:
American Indian students: up 6.0 percentage points
Students of two or more races: up 3.7 points
Economically disadvantaged students: up 3.6 points