Return to Headlines
Five Finalists Each Selected for Principal and Assistant Principal of the Year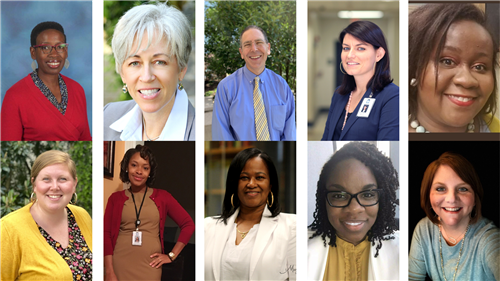 Leading a school is not child's play, and we would like you to meet 10 people who have mastered the art of doing just that.
We proudly announce the five finalists for Principal of the Year and five finalists for Assistant Principal of the Year for the 2019-20 school year!
The principal finalists are:
Elena Ashburn, Broughton Magnet High
Gretta Dula, Ligon Magnet Middle
Bob Grant, Washington Magnet Elementary
Ruth Steidinger, Olive Chapel Elementary
Annice Williams, Poe Magnet Elementary
Principals are not only the academic leaders of the school, they are ultimately responsible for all operations of the building. They supervise teaching and support staff that can run into the hundreds, not to mention being responsible for hundreds to thousands of children, their academic success and their safety.
The assistant principal finalists are:
Leslie Blake, Millbrook Magnet Elementary
Catie Burnette, Hilburn Academy
Kenya Moore-Kerr, Vandora Springs Elementary
Dena Nealy, East Millbrook Magnet Middle
Monica Sawyer, Enloe Magnet High
Assistant principals serve many roles, depending on the school's grade level. They often are curriculum leaders, and usually oversee such areas as transportation, safety and discipline. They also support their principals in many additional capacities.
The selection process for both the Principal and Assistant Principal of the Year awards is the same. Semi-finalists are selected by their peers. Semi-finalists are then invited to submit a short biography. Principals and Assistant Principals across the district then vote to select five finalists in each category.
Finalists will submit an e-portfolio and participate in an e-portfolio review, site visit and interview. The finalists with the highest scores on these measures will be selected as the Principal and Assistant Principal of the Year.
Congratulations to this amazing group of leaders! The Principal and Assistant Principal of the Year for 2019-20 will be named at a special celebration on Oct. 3.