Return to Headlines
Washington named top magnet elementary school in the nation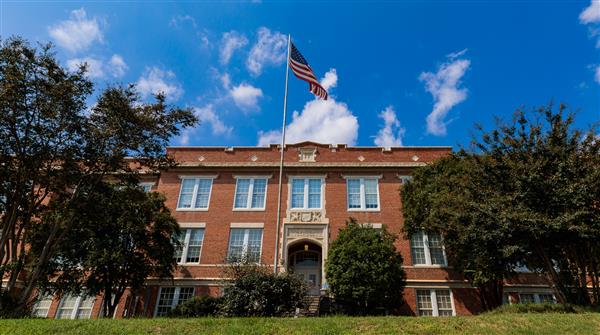 Washington Gifted and Talented Magnet Elementary School was named top magnet elementary school in the country by the Magnet Schools of America. They received the Elementary Magnet School Merit Award of Excellence on Saturday at the National Conference on Magnet Schools.
"Our district's magnet programs stand out – nationally and internationally – as models of excellence. As one of our earliest magnet schools, Washington has a long tradition of recognizing and cultivating the gifts and talents of our district's youngest learners," Superintendent Catty Moore said. "We are so proud of this award, as it reinforces the impact of the Washington community's dedication to engaging learners, embracing diversity and celebrating the efforts and achievements of all students every day."
In their award announcement, the Magnet Schools of America noted the following:
"Washington combines strong instructional practices in the core subjects with over 200 elective offerings that are designed to enrich and support while extending and enhancing the core curriculum. Washington is noteworthy for finding and nurturing the 'gifts and talents' of all students through a unique educational program that cares for the whole child."
"Washington is a truly special community," Principal Catie Burnette said. "We often say that you don't just see great things happening at Washington, you feel them too! We are truly honored to be recognized by Magnet Schools of America as the top magnet elementary school, not just in Raleigh, not in North Carolina, but in the nation! This award belongs to every single student, staff member and family, as they all play a role in making magic each day at our school."
About Washington Magnet Elementary
Washington, among the first gifted and talented magnet schools in our district, incorporates their magnet theme into the curriculum through an extensive selection of electives. Each student attends two elective courses per day, ranging from orchestra to aeronautics.
"Our program encourages every student to find their unique gifts and talents," Magnet coordinator Amy Wilkinson said. "The gifted and talented theme gives students the ability to craft their own schedule based on their interests, which allows them to discover new gifts throughout their elementary school experience. Giving students the ability to apply concepts they learn in their core classes in unique electives like band, robotics, or sewing is an avenue for greater understanding of the subject matter."
The school, a National Historic Landmark, was built in 1923 as the first public school for African-Americans in Raleigh, NC. Washington continues to thrive as a school with a rich history, a proud legacy, and a strong connection to their African American alumni. Since it became an elementary school in 1982, Washington has received numerous distinguished awards throughout the years, including: North Carolina School of Excellence, the Governor's Entrepreneurial School Award, Magnet Schools of America School of Distinction and Excellence designations, and the Dr. Ronald P. Simpson Award as best magnet school in America.
Earlier this year, 44 district schools were honored by Magnet Schools of America (MSA) with National Merit Awards. Three schools were named Top Schools of Excellence, eight named Schools of Excellence and 33 named Schools of Distinction.