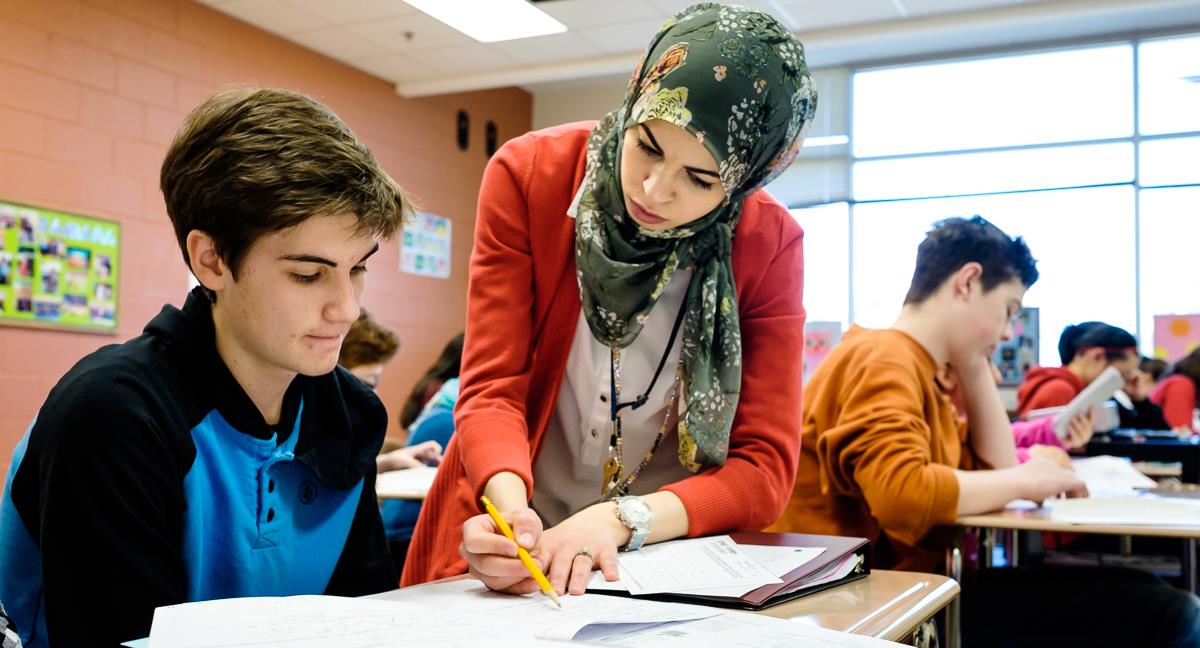 Teaching to Teach; Teaching to Learn

Learning and Teaching is the flagship component of the Wake County Public School System's Vision 2020 Strategic Plan. Everyone – from administrators to principals to teachers – wants to improve support for teachers and make learning more meaningful for students. What does good teaching look like? A WCPSS high school math teacher shows us.

"My philosophy is that when students feel respected and feel loved in a classroom, they're going to want to learn and want to listen to what you're saying. They're going to buy into you. I've found that to be true in whatever level I'm teaching."

-- Ranya Samara, Math II Honors Teacher, Panther Creek High School

March 24, 2016
The glove fits both ways

What does the First Gulf War have to do with Panther Creek High School students loving math?

We'll get to that in a minute. But first…

Good learning and teaching is a hand-in-glove concept. For Ranya Samara, the glove fits both ways.

Samara's high school math teachers inspired her to become one herself. Now she learns from her own students every day.

"What surprises me the most is how much I'm learning," said Samara, who teaches Math II Honors at Panther Creek High School. "You become a teacher to teach, but you don't know exactly how much you're going to learn as a teacher."

'Tell us why we need to know this'

What Samara's students teach her is this: Engage us. Let us know you care. Tell us why we need to know this. And we will learn.

She has heard her precious charges and she has heeded their call. Samara has successfully motivated her students to learn – and learn to love – math.

Not just any math. Math II Honors - modeling with geometry, quadratics, exponentials, advanced functions, trigonometry and probability – is nobody's picnic. But in Samara's classes, it can sometimes feel like one.

"It's a fun class," says freshman Brock Hattley. "I look forward to it every day. It's not hard; it's not stressful."

How can Math II Honors not be hard or stressful? Could it be that students take a real interest in what they're doing? And want to learn as much about the subject as possible?

"The good thing about this class is that we don't just sit there and take notes or stare at a screen," says freshman Karen Guo. "We actually interact with each other and ask each other questions."

Seeing how it applies to students' own lives also helps with the tough stuff. Concepts in Math II can support careers in engineering, architecture and information technology down the road.

Says Guo: "Our first unit was about parabolas. We applied what we learned to the real-life situations around us. It shows us that math is useful in life and that what we're learning now – someday, we're actually going to use it."

Teacher Ranya Samara shows us how she engages students and encourages collaboration

Figuring it all out via collaboration

Collaboration around projects is essential in Samara's class. Her students always work in groups. That's a given. But she also frequently changes seating charts to ensure that they switch up their groups often.

Says Samara: "When they get to the real world, and into their jobs, they're not going to always get to choose the people they're working with. You're always going to be on teams working with other people and collaborating."

Freshman Brock Hattley likes working in these "stations."

"If you don't get something, someone in your group might be able to help you understand it better," he says. "Stations help us get a better grasp of what we're trying to learn."

Samara knows that letting students figure out the answers for themselves is the key to good teaching. Although it can sometimes be a challenge for her to let them make mistakes, she knows that it's in their best interest.

"If we have a question, she won't just give us the answer," says freshman Ashley Tufts. "She'll help us understand why it's that answer and makes sure that we fully understand why and that we know what we're doing."

Holding back a bit – but not too much – letting students be in charge of their own learning. That's where it's at. But it isn't always easy.

"It's really hard to give up that control as a teacher," says Samara. "That's been a struggle for me. But when they move on from this class, nobody's going to be there every single step. It's nice when they realize the mistakes they've made on their own."

An early love for teaching

Ranya Samara's road to cultivating happy math students in Wake County started in Kuwait, where she was born. Her family fled to Jordan when the Gulf War broke out, and eventually made their way to the United States.

"It was really dangerous. It was not a good place to be," she says, adding that she remembers very little about her time in the Middle East.

Samara was four years old when her family arrived in Raleigh, where she would grow up attending schools in the Wake County Public School System. Her love for teaching was born right here, as a student at Athens Drive High School.

Sometimes pretending to be a teacher with her younger siblings as her "students," Samara didn't consider it seriously until her math teacher's influence deepened her interest in teaching – and in math.

"I was always stressed out in my math class, until I had Miss Frederick. She was just an amazing teacher," says Samara. "She not only made me want to teach, but she also made me love math. Believe it or not, I could not wait to go home and study. I actually learned to love the material."

"The reason I loved it so much is because of the way she respected us so much. Even when we were struggling, she was very supportive."

Samara applied to be a North Carolina Teaching Fellow and was accepted into the program at N.C. State University. She did her student teaching at Knightdale High, where she would go on to teach for three more years before arriving at Panther Creek in fall 2015, much to the delight of Principal Camille Hedrick.

"One of the many things I respect and admire most about Ranya is that she is mission-driven," says Principal Hedrick. "She is not teaching to fill time, and certainly not because she can't get another job. This is who she is. This is her heart."

Respect = engaged learning

In spite of being named "Most Likely to Be Mistaken for a Student" at Knightdale, Samara succeeded in earning her students' respect. Something she learned from her own teachers.

"My philosophy is that when students feel respected and feel loved in a classroom, they're going to want to learn and want to listen to what you're saying," she says. "They're going to buy into you. I've found that to be true in whatever level I'm teaching."

Not limiting students in their thinking or their own capacity to learn difficult and complex concepts also has to happen.

Says Samara: "One of my goals is to make kids not believe in, 'I'm not a math person or I am a math person.' I just want kids to believe that they can learn to do the math, and then I want them to be able to relate it to the real world, or their own lives. Because once they're able to relate to what we're doing in class, it's actually going to be important to them and they're going to be interested in what we're doing."

Even though Samara is still in a very early stage of what she hopes will be a lifetime career in teaching, she already can see the impact she has on young lives.

While at Knightdale, Samara underwent a heart procedure. One of her former students, now at the University of North Carolina at Chapel Hill, was inspired by her to study cardiology. Another recently told her that thanks to her influence he is now majoring in math, also at UNC.

"The best feeling in the world is when parents tell me that this is the first time their child has really liked a math class, or really learned something in a math class. I feel like I'm slowly changing the world. Very, very slowly, but I feel like I'm actually doing something for this generation."

Slowly but surely. Changing lives. For the better. That's good teaching.



What does good teaching look like?

What does good teaching look like? How does it happen?

The answer obviously varies depending on the subject area and the teacher's own style.

For Panther Creek High School Math II Honors teacher Ranya Samara, it's something like this:

Looking at the standards to be taught and mastered. In her case, the standards that relate to Math II.
Relating each standard to an engaging way for students to grasp it. More than simply lecturing and taking notes, it involves finding some kind of activity to get them to sit up and take notice – to become truly interested.
Ensuring that the activity requires them to work together in teams. After all, that's how most people work in the jobs of today and the future.

For example, Samara recently covered a geometry unit with her students that involved looking at the transformation of objects in a coordinate plane. She made sure that the lesson would be taught in a way that ensured students would think for themselves.

This involved coming up with their own answers, discussing their answers with each other and knowing and being okay with the fact that more than one answer could exist.

"It was really cool to see how kids figured out, 'Oh this triangle was rotated 180 degrees,' or, 'this triangle was only shifted left two, up one,'" says Samara. "That was a really cool lesson. It was (the students) thinking for themselves. I didn't say, 'Here's the rule.' It wasn't just memorizing. They actually saw the rotation and came up with the rule themselves and then applied the rule later on."