Return to Headlines
Leesville Road Middle School Turtle Club Earns Certification
Oct. 26, 2018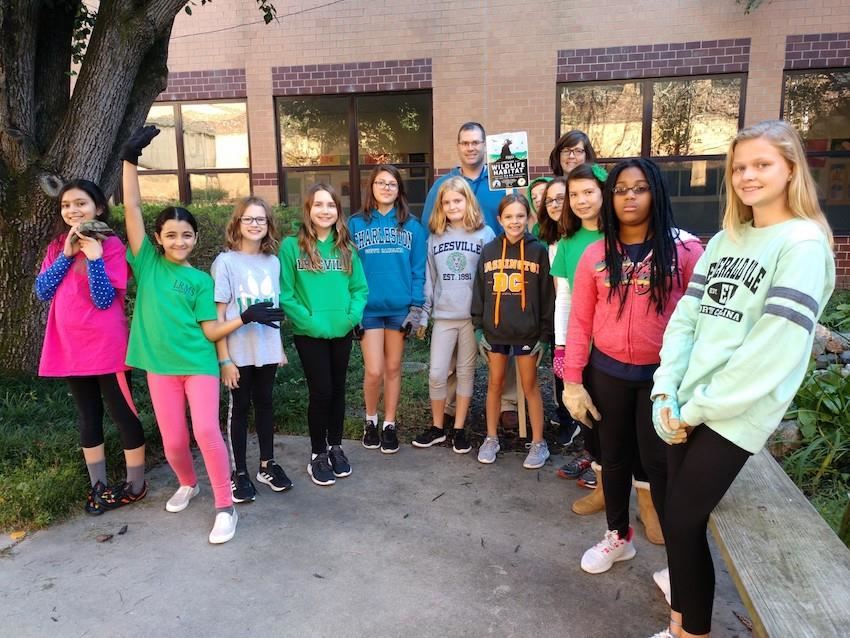 What started as a simple campus beautification project has now been recognized by the National Wildlife Federation as a Certified Schoolyard Habitat.
The courtyard at Leesville Road Middle School was populated with box turtles a number of years ago by a former teacher.
But the area had fallen into decline, says social studies teacher Andrew Fogelsonger, with overgrown vegetation and a leaking pond. "I started off last year with, 'What can I do to clean this area up?'" Fogelsonger says. "So it started small, with just the pond, and then expanded. At some point, we started coming out here with a group of kids, cleaning up weeds. We decided to rebuild the entire pond and put fish in it."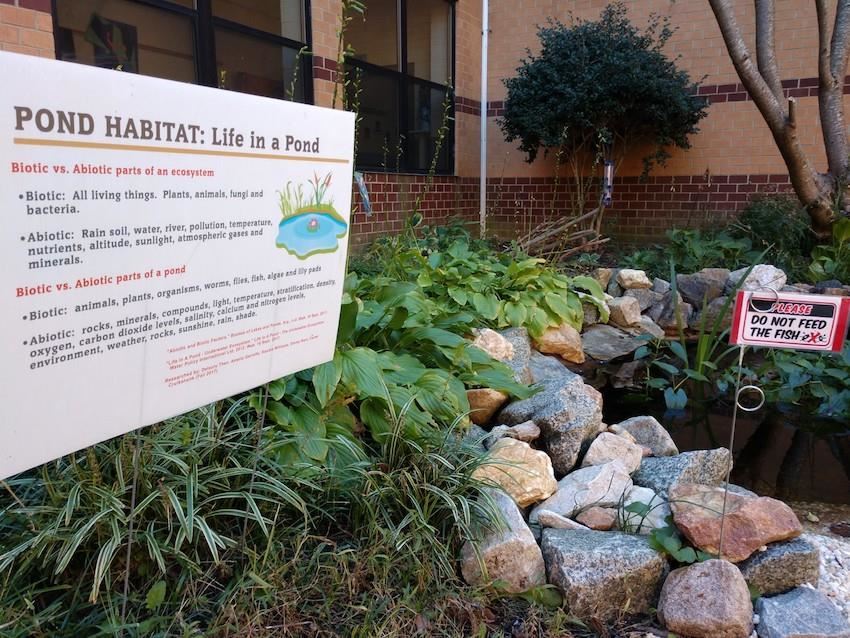 He then asked some students to do research for signs with information about the pond habitat.
That was followed by a student-produced video about courtyard etiquette, helping other students understand how to respect and preserve the environment.
Turtle Club
This year, Fogelsonger and School Librarian Lisa Nelson founded the Leesville Road Middle School Turtle Club, a group of about a dozen students that meets twice a month to improve the courtyard and learn more about the wildlife that calls it home.
Last month they weeded an area of the courtyard that contained memorial plaques to former Leesville Road Middle teachers who had passed away.
This week they did additional landscaping in other areas and placed inspirational painted stones in some of the plant beds. Many of the landscaping materials are donated by parents or funded by a Donors Choose grant the club recently received. "We choose a project and just kind of do one thing at a time," Fogelsonger says. "This is a great place, a quiet place for kids to work, or you can bring a whole class out here."
Certified Habitat
This week was extra special for the club, as they put up signs denoting their status as a Certified Schoolyard Habitat.
Nelson says students had to fill out a checklist of criteria and then submit it to the National Wildlife Federation. "They had to check off did we have two sources of water, two sources of food for the turtles, places for them to hatch their young, etc.," Nelson says. "We're very proud of the fact the kids worked together to protect these animals I think it just helps the students put value in nature and put life back into this courtyard."
Madison Bennerman, a sixth grader, says it feels good to do something for her school - and for the turtles as they settle in to hibernate for the winter. "We want to protect them and make sure they survive," Madison says.