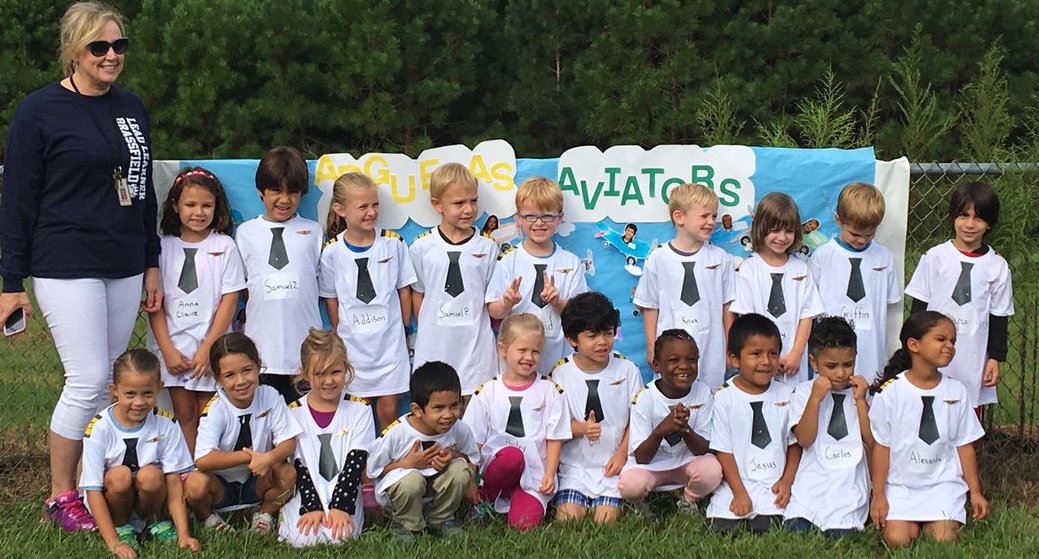 On the year-round instructional calendar, students still attend school 177 days but the calendar is divided into four 9-week quarters with a 3-week break between each quarter. If a school operates on the multi-track calendar, students are assigned to one of four tracks and attend school approximately 45 days when they are "tracked in" and are "tracked out" for 13 days. On the multi-track calendar, three of the four trackes are "tracked in" while one track is "tracked out". This gives schools extra capacity to serve more students in one school building. Year-round schools follow the same instructional program as an other non-magnet school.

All students grouped on the same track follow the same calendar and attend school at the same time.
Every attempt is made to ensure that all students in one family are placed on the same track K-8
Tracks rotate so that at any give time, three tracks are in school and one track is on break or "tracked out".
All students on the year-round calendar have the same holidays out of school as all other calendars. Vacation time differs according to the track a student is assigned to.

See the 2019-2020 Year Round Instructional calendar here

Track 1 - Major breaks occur during September, December, March, and June

Track 1 aligns closely with collegiate classes for family vacations
School starts for Track 1 at the beginning of the school year. It is nice to be a part of the opening of the school year activities.
The track-outs coincide with the end of the grading periods.
The school year ends before all other tracks.
Extra long breaks in June/beginning of July and December.

Track 2 - Major breaks occur during August, November, February, and May

February is an amazing time to explore the mountains and take ski vacations.
End of May/early June is a beautiful time of the year for trips to the beach, and the weather is beautiful for outdoor activities. Not crazy hot!
What an absolutely perfect time for beach trips, and we don't come back until the week after Labor Day!
My family is able to vacation during off times, which means our trips are less expensive and crowds are smaller.

Track 3 - Major breaks occur during August, October, January, and April

I like the off-season schedule but also like the 3-week chunks that the track tends to have for learning. These smaller time periods lend themselves to focused units. I think this is beneficial to the students as their focus is directed but short.
When we first moved here it was nice for our children to start school for 3 weeks and then have their first break so they could process the new school year.
Track 3 is wonderful in the fall. We have a track-out in October, followed quickly by Thanksgiving and winter break.
I LOVE being off for Halloween. I also enjoy skiing in the winter when the slopes aren't crowded.

Track 4 - Major breaks occur over July, October, January, April

I love the schedule of track 4. I like that we have more of a break between the end of school and the beginning of school, but it's still shorter than the traditional calendar, which means more info is retained! I also like the long winter holiday break.
Track 4 starts later than the other tracks, which means we have more of a summer break.
Having a few quiet weeks off after the holiday rush to get the house back in order, travel, or relax is important to my family.
We enjoy having July off for camps.
Year-Round School Listing
| School Name | School Level | Tracks | School Website |
| --- | --- | --- | --- |
| Adams Elementary | K-5 | 1,2,3,4 | https://www.wcpss.net/adamses |
| Alston Ridge Elementary | K-5 | 1,2,3,4 | https://www.wcpss.net/alstonridgees |
| Alston Ridge Middle | 6-8 | 1,2,3,4 | https://www.wcpss.net/alstonridgems |
| Ballentine Elementary | k-5 | 1,2,3,4 | https://www.wcpss.net/ballentinees |
| Banks Road Elementary | K-5 | 1,2,3,4 | https://www.wcpss.net/banksroades |
| Barwell Rd.Elementary | K-5 | 4 only | https://www.wcpss.net/barwellroades |
| Brassfield Elementary | K-5 | 1,2,3,4 | https://www.wcpss.net/brassfieldes |
| Brier Creek Elementary | K-5 | 1,2,3,4 | https://www.wcpss.net/briercreekes |
| Carpenter Elementary | K-5 | 1,2,3,4 | https://www.wcpss.net/carpenteres |
| Durant Rd. Elementary | K-5 | 4 only | https://www.wcpss.net/durantroades |
| Durant Rd.Middle | 6-8 | 4 only | https://www.wcpss.net/durantroadms |
| Harris Creek Elementary | K-5 | 1,2,3,4 | https://www.wcpss.net/harriscreekes |
| Herbert Akins Rd. Elementary | K-5 | 1,2,3,4 | https://www.wcpss.net/herbertakinsroades |
| Heritage Elementary | K-5 | 1,2,3,4 | https://www.wcpss.net/heritagees |
| Heritage Middle | 6-8 | 1,2,3,4 | https://www.wcpss.net/heritagems |
| Holly Grove Elementary | K-5 | 1,2,3,4 | https://www.wcpss.net/hollygrovees |
| Holly Grove Middle | 6-8 | 1,2,3,4 | https://www.wcpss.net/hollygrovems |
| Holly Springs Elementary | K-5 | 1,2,3,4 | https://www.wcpss.net/hollyspringses |
| Jones Dairy Elementary | K-5 | 1,2,3,4 | https://www.wcpss.net/jonesdairyes |
| Lake Myra Elementary | K-5 | 4 only | https://www.wcpss.net/lakemyraes |
| Laurel Park Elementary | K-5 | 1,2,3,4 | https://www.wcpss.net/laurelparkes |
| Lufkin Rd. Middle | 6-8 | 1,2,3,4 | https://www.wcpss.net/lufkinroadms |
| Middle Creek Elementary | K-5 | 1,2,3,4 | https://www.wcpss.net/middlecreekes |
| Morrisville Elementary | K-5 | 1,2,3,4 | https://www.wcpss.net/morrisvillees |
| North Forest Pines Elementary | K-5 | 1,2,3,4 | https://www.wcpss.net/northforestpineses |