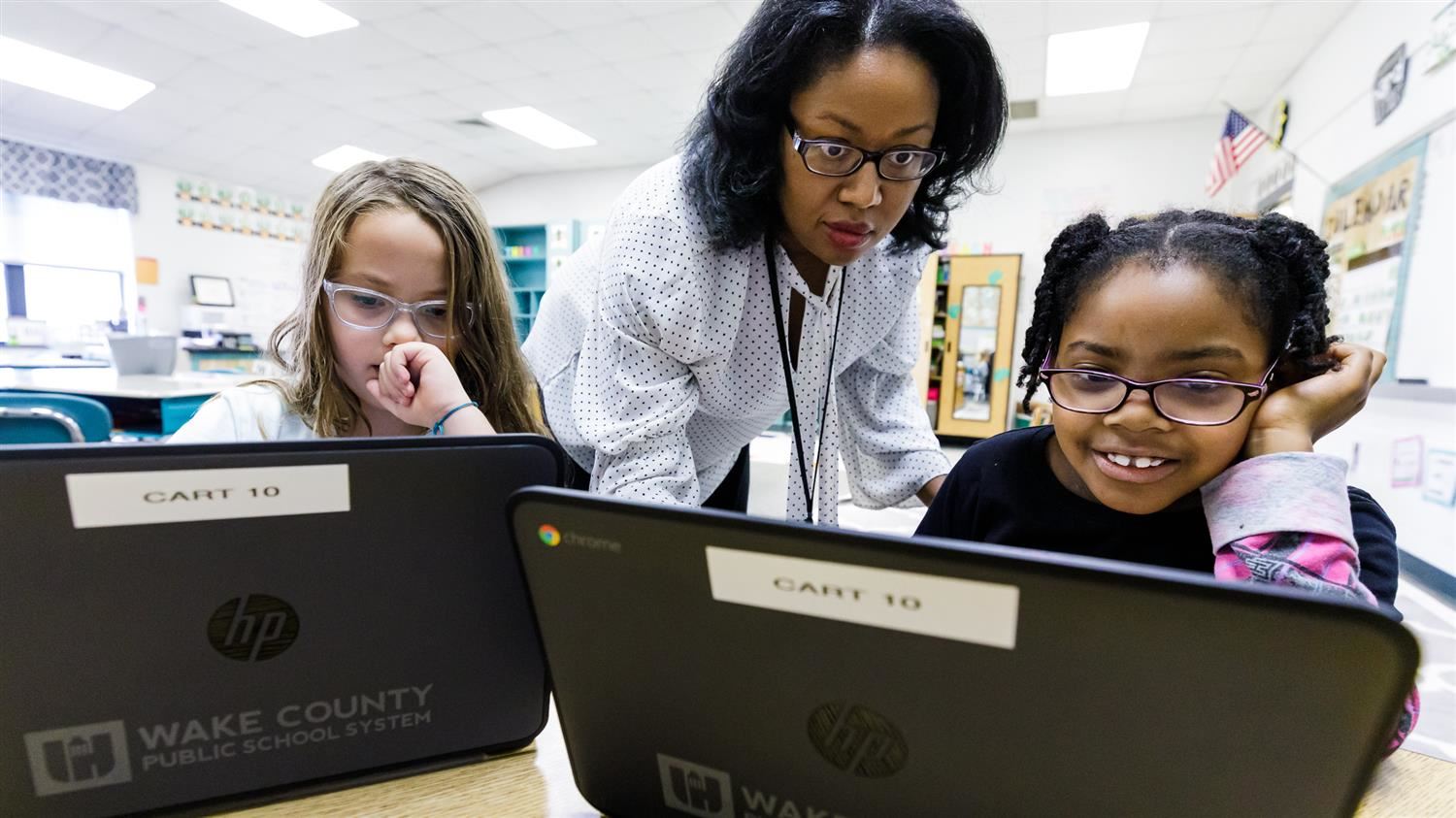 Students who attend year-round schools have a three-week break after each quarter instead of one long summer break.

Many parents say the more frequent breaks offer a number of benefits, including keeping students rested and refreshed and allowing families to take vacations at different times of year.

Multi-track year-round schools, because they can accommodate 25% more students, also help us maximize the use of our school facilities in highly populated areas of our district.

How do year-round schools work?

Students still attend school 177 days per school year, but the calendar is divided into four nine-week quarters, with a three-week break between each quarter. Most year-round schools are multi-track, meaning students are divided into four groups known as tracks and attend school on a staggered schedule:

The school year starts in July with tracks 1, 2 and 3 attending.

When Track 3 students "track out" for their three-week break, Track 4 students "track in."

A few weeks after that Track 2 tracks out and Track 3 tracks back in.

Finally, Track 1 tracks out when Track 2 tracks back in.

This pattern continues throughout the school year, which ends in late June.

All students on the year-round calendar have the same holidays as all other calendars. Vacation time differs according to track.

View the Year Round Instructional calendar.

How can I attend a year-round school?

Many families are assigned to a year-round school as their base school.

If you are assigned to a traditional calendar school, you can apply to your designated calendar application school during the magnet/year-round application period, which typically runs from mid-October to late January. You can apply for both magnet and year-round schools. To find your base assignment and your calendar application school, use our address locator.

We prioritize applications in this order:

Entering grade siblings requesting to join siblings who will be assigned to the requested school. (This priority is guaranteed.)
Matching calendars between elementary and middle school siblings.
Students who live in an area where the socioeconomic status is considered low.
Rising 6th students who attended a year-round elementary school and who wish to keep that calendar for middle school.
Students who are assigned to attend a crowded school. (Crowded is defined as 95% or greater projected utilization.)

Ten percent of seats are filled through lottery.

How are track assignments determined?

Track assignments are made by school administrators. They factor in parent preference as well as the size of the student population.

Applicants to year-round schools will be able to rank their track preferences in their application.

Students based at a year-round school should inquire at their base school to determine procedures for indicating track preference.
Year-Round School Listing
| School Name | School Level | Tracks | School Website |
| --- | --- | --- | --- |
| Adams Elementary | K-5 | 1,2,3,4 | https://www.wcpss.net/adamses |
| Alston Ridge Elementary | K-5 | 1,2,3,4 | https://www.wcpss.net/alstonridgees |
| Alston Ridge Middle | 6-8 | 1,2,3,4 | https://www.wcpss.net/alstonridgems |
| Ballentine Elementary | k-5 | 1,2,3,4 | https://www.wcpss.net/ballentinees |
| Banks Road Elementary | K-5 | 1,2,3,4 | https://www.wcpss.net/banksroades |
| Barwell Rd.Elementary | K-5 | 4 | https://www.wcpss.net/barwellroades |
| Brassfield Elementary | K-5 | 1,2,3,4 | https://www.wcpss.net/brassfieldes |
| Brier Creek Elementary | K-5 | 1,2,3,4 | https://www.wcpss.net/briercreekes |
| Carpenter Elementary | K-5 | 1,2,3,4 | https://www.wcpss.net/carpenteres |
| Durant Rd. Elementary | K-5 | 4 | https://www.wcpss.net/durantroades |
| Durant Rd.Middle | 6-8 | 4 | https://www.wcpss.net/durantroadms |
| Harris Creek Elementary | K-5 | 1,2,3,4 | https://www.wcpss.net/harriscreekes |
| Herbert Akins Rd. Elementary | K-5 | 1,2,3,4 | https://www.wcpss.net/herbertakinsroades |
| Heritage Elementary | K-5 | 1,2,3,4 | https://www.wcpss.net/heritagees |
| Heritage Middle | 6-8 | 1,2,3,4 | https://www.wcpss.net/heritagems |
| Holly Grove Elementary | K-5 | 1,2,3,4 | https://www.wcpss.net/hollygrovees |
| Holly Grove Middle | 6-8 | 1,2,3,4 | https://www.wcpss.net/hollygrovems |
| Holly Springs Elementary | K-5 | 1,2,3,4 | https://www.wcpss.net/hollyspringses |
| Jones Dairy Elementary | K-5 | 1,2,3,4 | https://www.wcpss.net/jonesdairyes |
| Lake Myra Elementary | K-5 | 4 | https://www.wcpss.net/lakemyraes |
| Laurel Park Elementary | K-5 | 1,2,3,4 | https://www.wcpss.net/laurelparkes |
| Lufkin Rd. Middle | 6-8 | 1,2,3,4 | https://www.wcpss.net/lufkinroadms |
| Middle Creek Elementary | K-5 | 1,2,3,4 | https://www.wcpss.net/middlecreekes |
| Morrisville Elementary | K-5 | 1,2,3,4 | https://www.wcpss.net/morrisvillees |
| North Forest Pines Elementary | K-5 | 1,2,3,4 | https://www.wcpss.net/northforestpineses |
| North Garner Middle | 6-8 | 4 | https://www.wcpss.net/northgarnerms |
| Oak Grove Elementary | K-5 | 1,2,3,4 | https://www.wcpss.net/oakgrovees |
| Olive Chapel Elementary | K-5 | 1,2,3,4 | https://www.wcpss.net/olivechapeles |
| Parkside Elementary | K-5 | 1,2,3,4 | https://www.wcpss.net/parksidees |
| Pine Hollow Middle | 6-8 | 1,2,3,4 | https://www.wcpss.net/pinehollowms |
| Pleasant Union Elementary | K-5 | 1,2,3,4 | https://www.wcpss.net/pleasantuniones |
| Rand Rd. Elementary | K-5 | 4 | https://www.wcpss.net/randroades |
| Rolesville Middle | 6-8 | 1,2,3,4 | https://www.wcpss.net/rolesvillems |
| Salem Elementary | K-5 | 1,2,3,4 | https://www.wcpss.net/salemes |
| Salem Middle | 6-8 | 1,2,3,4 | https://www.wcpss.net/salemms |
| Sanford Creek Elementary | K-5 | 1,2,3,4 | https://www.wcpss.net/sanfordcreekes |
| Sycamore Creek Elementary | K-5 | 1,2,3,4 | https://www.wcpss.net/sycamorecreekes |
| Timber Drive Elementary | K-5 | 4 | https://www.wcpss.net/timberdrivees |
| Turner Creek Elementary | K-5 | 1,2,3,4 | https://www.wcpss.net/turnercreekes |
| Vance Elementary | K-5 | 4 | https://www.wcpss.net/vancees |
| Walnut Creek Elementary | K-5 | 4 | https://www.wcpss.net/walnutcreekes |
| West Lake Elementary | K-5 | 1,2,3,4 | https://www.wcpss.net/westlakees |
| West Lake Middle | 6-8 | 1,2,3,4 | https://www.wcpss.net/westlakems |
| Wilburn Elementary | K-5 | 4 | https://www.wcpss.net/wilburnes |
| Willow Springs | K-5 | 1,2,3,4 | https://www.wcpss.net/willowspringses |
| Hodge Road Elementary | K-5 | 4 | https://www.wcpss.net/hodgerdes |
| Lockhart Elementary | K-5 | 4 | https://www.wcpss.net/lockhartes |