Return to Headlines
2021-22 Principal and Assistant Principal of the Year Named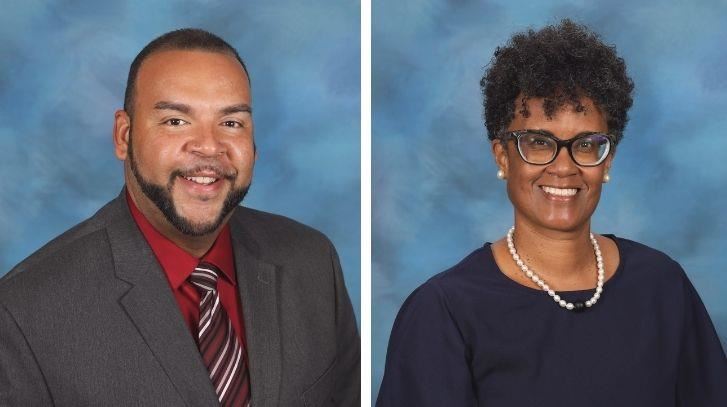 Two high school leaders were named the district's 2021-22 Principal and Assistant Principal of the year during a celebration on Oct. 7. Knightdale High Principal Keith Richardson was named Principal of the Year while Heritage High Assistant Principal Bonnie Mwanda took the Assistant Principal of the Year title.

Richardson has served as the principal of Knightdale High since 2019. Before that he served as principal of Crossroads FLEX and York Elementary, Assistant Principal of Sycamore Creek Elementary and Principal Intern at Leesville Road Middle. Prior to coming to Wake County, Richardson worked as an English teacher at Pasquotank High School in Pasquotank, NC.

Richardson has received praise from his colleagues and many others for his servant leadership, focus on building capacity, coaching and celebrating achievements among his staff and his commitment to strengthening the school's relationships with the community.

"During the pandemic, many schools understandably pulled inward. Mr. Richardson, however, continued to push out to the Town of Knightdale to increase the number of business partners needed to make Knightdale High School a true community school," said Eastern Area Superintendent Mark Savage. "He expanded partnership with Wake Tech in order to increase student participation in Career & College Promise opportunities. Through every aspect of COVID response, Knightdale High School has served as a model. His school hosted laptop distribution, vaccination clinics and was used as an exemplar at board meetings regarding communication and family engagement."

Mwanda has served as Assistant Principal of Instruction at Heritage High since 2017. Prior to this, she worked as an Intervention Coordinator and math teacher at the school.

She was cited by her students, staff and others for her ability to build a welcoming school environment for all students while also embracing differences. She also is also known for her commitment to doing whatever it takes to best meet the needs of every child, even in a school of 1800+ students.

"Bonnie is the most hardworking and dedicated influential woman I have ever known. She doesn't require external motivators for what she does; she is purely driven from her passion to allow others to grow in every aspect," said former Heritage High student Susann Rivera. "She uses her expertise to inspire others to take the initiative within their own lives. She is a patient and noble leader with pure intentions to enhance her community to flourish."

Richardson and Mwanda were selected from 10 Assistant Principal and Principal of the Year finalists named in August.