School and Community
Jesse O. Sanderson High School, established in 1968, is a part of one of the greatest systems in our State, Wake County Public School System. It is accredited by the Southern Association of Schools and Colleges and the North Carolina Department of Public Instruction. Located in a predominantly middle income community in the north central part of the capital city, the students have immediate access to a major land-grant university, five liberal arts colleges, and a community college. Also within a thirty-mile radius are two other major universities, other community colleges, and the Research Triangle Park.
Faculty and Staff
Our professional staff of 136 is committed to excellence, as they work to prepare our students to achieve their future educational and career goals. One hundred percent of our staff is certified in their subject areas. One hundred percent of our courses are taught by teachers who are certified in their subject area and 29 of our teachers are National Board Certified.
Curriculum and Grading
The academic program is organized on a 4x4 block schedule. Four credits per semester is the maximum course load. Every student has the opportunity to earn 8 credits in an academic school year. All students entering high school in North Carolina in 2009 or later are on the Future Ready Core Graduation track. Each of these students must earn 26 credits to graduate: 4 in English, 4 in Math, 4 in Social Studies, 3 in Science, 1 in Healthful Living, and 10 elective credits.

These AP® courses are offered: Biology, Calculus AB and BC, Chemistry, English Language and Composition, English Literature and Composition, Environmental Science, European History, Human Geography, Music Theory, Psychology, Spanish Language, Statistics, Studio Art-2D Design, United States History.

Over 60 Honors classes are offered in English, math, science, social studies, the arts, JROTC, career and technical education, and world languages.

Transcripts include both weighted and unweighted cumulative grade-point averages. Rank is determined by cumulative weighted grade-point average and is calculated at the end of each semester. To compute grade-point average, the total number of quality points earned is divided by the total number of units of credit attempted, and the results are rounded to the third decimal place.

Along with Wake County we utilize the 10 point grading scale: A = 90—100; B = 80—90; C = 70—80; D = 60—70; F = 0—59. Final grades are posted on student transcripts as letter grades. Each nine weeks, grades are issued to students in every class on their report cards.

Quality points are determined by the following scale:

A = 4 points in a 1.00 credit course

B = 3 points in a 1.00 credit course

C = 2 points in a 1.00 credit course

D = 1 points in a 1.00 credit course

F = 0 points in a 1.00 credit course

WP = Withdrawal Passing

WP = Withdrawal Passing

INC = Incomplete

AUD = Audited course

Please note: Advanced Placement and Honors courses are weighted: +1 quality point for Honors courses, and +2 quality points for AP courses.
Extracurricular Activities
Students are encouraged to participate in activities outside of the classroom. Sanderson offers an array of extracurricular activities in which students may become involved: JROTC, marching band, vocal music, theatre, student council, academic clubs and competitions, SHS Business Alliance, chess club, book club, speech and debate team, DECA, FCA, FBLA, International Club, Key Club, SADD, Odyssey of the Mind, National Honor Society, National Art Honor Society, Young Democrats, Young Republicans, and world languages clubs.

Athletics plays an important part in the life of Sanderson students by teaching life lessons in sportsmanship, teamwork, and competition. Sanderson is a member of the CAP 8 Conference. Both boys and girls have the opportunity to participate in cross-country, golf, lacrosse, soccer, swimming and diving, tennis, track and field. Boys may also participate in football, baseball, and wrestling. Additionally, girls have the opportunity to participate in cheerleading, stunt, softball, and volleyball.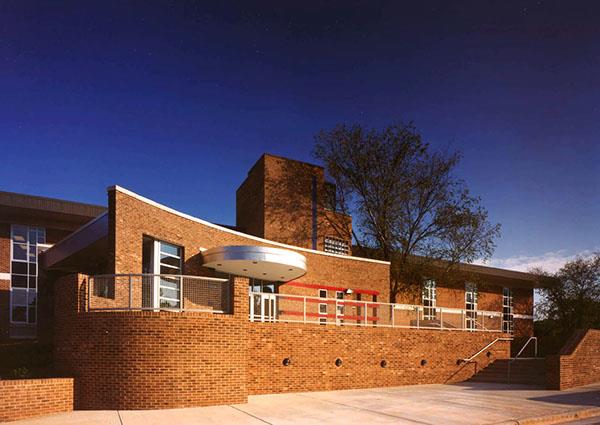 Mission
Sanderson High School will provide a relevant and engaging education and will graduate students who are collaborative, creative, effective communicators, and critical thinkers.
Vision
Sanderson High School students will be prepared to reach their full potential and lead productive lives in a complex and changing world.