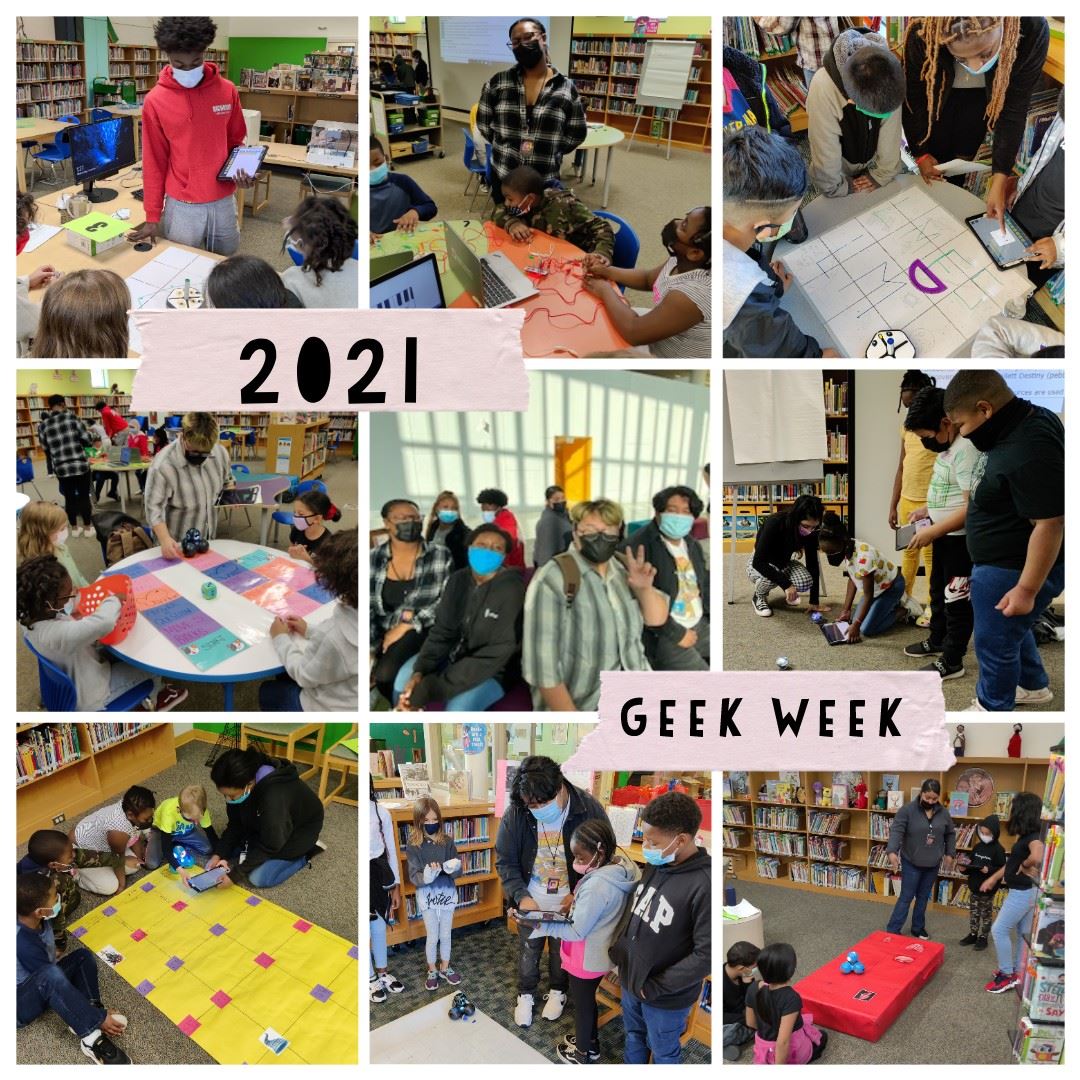 #GeekWeek 2021 Data

32 Digital Citizenship lessons taught to @800 students

18 teachers from 6 departments:

math, English, CTE, social studies, SPED, world languages

28 Classroom visits to @750 high school students with computer science activites created and led by LMS students
100 4th graders & 50 3rd graders experienced LMS student-led computer science activities at Lake Myra and Forestville Road Elementary Schools
Over 400 students attended the DCG Fest on Friday, where they visited with:

5 CTE teachers from KHS
7 college representatives (NC State, University of Charlotte, UNC Greensboro, University of Alabama, UA Birmingham, Wake Tech, NC A&T)
Professionals from Apple and Lenovo esports

3 students won VR headsets from Lenovo!
Hour of Code 2021: Computer science everywhere!
"Computer science has helped unlock mysteries in math and medicine. It's been used to create art, including your favorite games, movies, and TV shows. It helps us eradicate diseases and enables us to explore the depths of outer space. It allows us to imagine ancient civilizations, as well as build the cities of the future. And obviously, computer science is responsible for the very device you're reading this story on!
Computer science is everywhere, and we're discovering new uses for it every day" (Code.org 2021).
Geek Week 2021

#geekweek #CSEverywhere

11/15-11/19/2021

Computer science is everywhere and for EVERYONE! We had a great week learning about coding, computer science, and digital citizenship through fun activities and lessons in the Learning Commons.

DCG Fest was a huge success - thank you to everyone who came out!

---

Schedule of Events

Daily:

Trivia Q in the LC (or online)
Computer Science-Related Activities with LMS Students (schedule here)
Digital Citizenship Lesson with classes

Student Assignment Sheets

Tech-Life Balance Student-Paced Option

---

Click on the gold bar to open up each day's theme/schedule.
Monday

Tuesday

Wednesday

Thursday

Friday
Critical Thinking about Privacy

Our students are very aware that when their privacy is invaded in the name of safety, marginalized populations are the ones to suffer.

Where are our students spending their time online?

These are the top six winners!

Feedback from about 250 KHS students

Youtube/Netflix = 707 daily hours
TikTok 460 daily hours
Texting - 442 daily hours
Video Games = 415.5 daily hours
Instagram = 340 daily hours
Facetime = 357.5 daily hours
Email = 269 daily hours
Reddit = 205.5 daily hours
Schoolwork = 137 daily hours
Snapchat = 85.5 daily hours
Twitter = 37.5 daily hours
Pinterest = 35.5 daily hours
Google Searches = 35.5 daily hours
Facebook = 9.5 daily hours
Tumblr = 6 daily hours