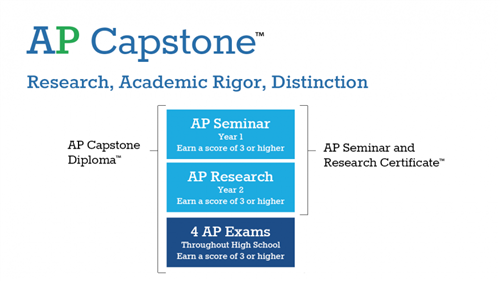 ---

"AP Capstone is a diploma program from the College Board. It's based on two yearlong AP courses: AP Seminar and AP Research.

Rather than teaching subject-specific content, these courses develop students' skills in research, analysis, evidence-based arguments, collaboration, writing, and presenting. Students who complete the two-year program can earn one of two different AP Capstone awards, which are valued by colleges across the United States and around the world." ~ College Board

Colleges are looking for students who are taking the most rigorous courses offered by their respective high schools. The AP Capstone Diploma is the most rigorous program offered by KHS. Students in this program applying for college or scholarships should apply as "AP Capstone Diploma Candidates" or "AP Research Certificate Candidates" as they will not know if they receive the diploma until the summer after their senior year.

For more information, see the College Board's AP Capstone website or speak to your counselor. You may also contact the KHS librarians who provide research support for all students, kbehrend@wcpss.net; jkoch@wcpss.net.

Capstone Diploma

Requirements

Courses

AP Seminar
AP Research
4 other AP courses of your choosing

Pass all 6 AP exams with a 3 or better

Research Certificate

Requirements
Pass both AP exams with a 3 or better

FAQs

Do I have to be recommended for these courses? Yes. You can talk to your English teacher for a recommendation, or your parents can request you to be in this program as well.
Can I take AP Seminar without doing the entire AP Capstone program? Yes. AP Seminar is an excellent introductory AP class that will help you in all of your high school/college classes.
What happens if I don't get the diploma? Nothing. As long as you have done well in the classes, colleges will know that you are better prepared.
Will I get college credit for this diploma? You will get college credit for all AP exams that you pass with a 3 or better. The diploma itself is an honor and a distinction, but it does not earn you additional credit.
"Imagination is the highest form of research." ~ Albert Einstein