Return to Headlines
Ms. Chidester's Weekly Message: 11/18/22
Dear Conn Magnet Elementary School Families,
WCPSS Magnet Mini Fair: Conn Magnet Elementary will host WCPSS Magnet Mini Fair on Tuesday, November 29 from 9:30 a.m. - 11:00 a.m. Please be mindful that traffic will be heavier than normal during arrival. We are excited to showcase our wonderful school and programming!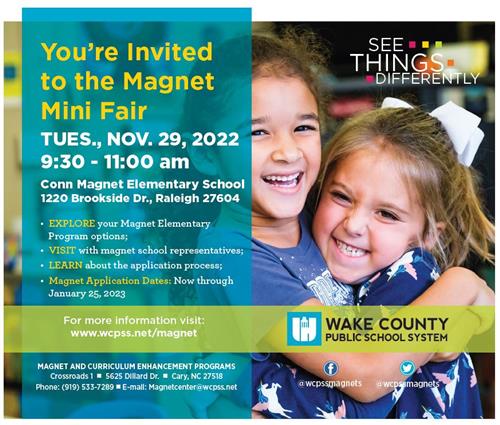 Magnet Monthly Magazine: Our November Magnet Monthly Magazine is now available! In this volume you will see how we work collaboratively with our community to enhance learning, explore Micro Design Challenges for Quarter 1, and listen to podcasts by our students and families!
National Entrepreneur Month: November is National Entrepreneur Month and we are reaching out to individuals who might be interested in creating a short podcast or video for YouTube capturing our Magnet Entrepreneurial Design theme of:
What inspired you to become an entrepreneur?

What was the problem you identified that mattered to you and inspired you to start your business?
Sounds fun, right?! Our goal is to capture as many audio messages for a podcast and video clips for a YouTube movie by Tuesday, November 22. Please email our Magnet Coordinator, Mr. Gridley, at dgridley@wcpss.net for details.
PTA Updates: Conn cold-weather gear is now available for pre-order until November 22. Choose from long-sleeve tees, crewneck sweatshirts, hoodies, and sweatpants, all available in both youth and adult sizes. Click here to order via our online spirit wear store. Purchases will be delivered to your child's homeroom teacher in mid-December (before winter break).
Gabriel Chidester, Principal
Important Dates to Remember
Wednesday, November 23- Vacation Day

Thursday, November 24- Holiday

Friday, November 25- Holiday

November 30- Volunteer Training

Monday, December 5- Early Release

Thursday, December 8- PTA Board Meeting

Wednesday, December 21- Early Release

Thursday, December 22 - Monday, January 2- No School