Return to Headlines
Ms. Chidester's Weekly Message: 10/14/22
Dear Conn Magnet Elementary School Families,
Book Character Day Parade: Mark your calendars for Friday, October 28 from 9:45 a.m. to 10:30 a.m. for Conn's first Book Character Day Parade! All Kindergarten through 5th grade students will be allowed to come dressed as their favorite storybook character. The book may be fictional or non-fictional and must be brought to school the day of the parade. Students will parade around the outside track dressed as their character. Parents/Guardians will enter campus through the side gate by the field. To ensure the safety of our staff and students, no access to the building will be allowed during that time. Additional information and details will be shared from classroom teachers. We are so excited for this event!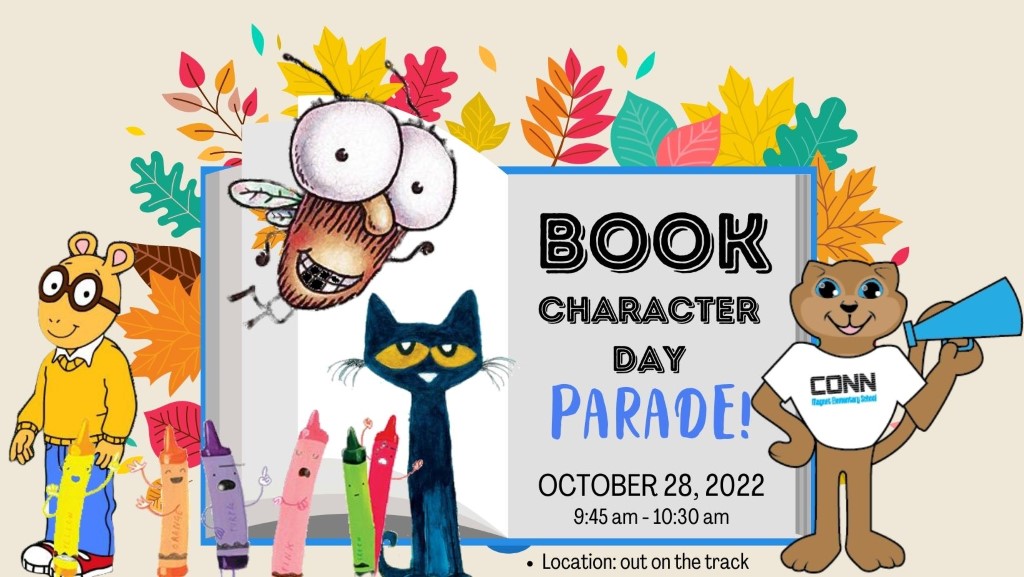 NC State Fair Artwork: If you are planning on visiting the state fair, be sure to stop by the Kerr Scott Building to view artwork by some of our amazing students! Select 2nd grade students have Sunset Paper Mosaics displayed, and select 3rd grade students have Fall Grid Paintings displayed. These pieces are part of a statewide art competition. Winners will be announced near the end of the fair. We are so proud of our Conn students!
Donations Needed: Our students participate in many hands-on learning experiences each day. As we continue to embed our Entrepreneurial Design IDEAS Cycle theme across all content areas, we need support with gathering the following supplies so our IDEAS can come to life! If you are interested in donating some of these items, please send them in with your child. Thank you for your support!
toy cars (small like Matchbox cars for force and motion activities)

paper towel rolls

toilet paper rolls

Kleenex boxes

small plastic tubs with tops (pint/quart size)

shoe boxes

plastic grocery bags

paper grocery bags
Community Partners: We are continuing to expand our community connections with individuals, families, and businesses to support our learning partnerships. If you or someone you know is interested in supporting learning across our Conn Magnet community, please take a few minutes to complete this form. If you have any questions, please email our Magnet Coordinator, Mr. Gridley, at dgridley@wcpss.net.
Classroom Volunteer Training Dates: We are excited to welcome back volunteers into our classrooms this year. If you are interested in volunteering in our classrooms, we invite you to join us for training on Wednesday, November 30 at 9:00 a.m. An additional training date is listed below for those who can't attend November 30. During training, we will review security procedures, designated times for classroom volunteers, and potential opportunities for assistance. The trainings will be held in the media center. Don't forget, we currently offer volunteer opportunities for lunch duty or media center assistance. Click here to sign up!
Additional Training Date: December 12- 4:00 p.m.
Military-Connected Families: Are you a military-connected family? In an effort to ensure that the unique needs of military-connected students are met, state law requires that schools collect information on military-connected students. The goal is to help accommodate these students by providing them with support and consistency when their parents are deployed, when they are transitioning between schools, and at other pivotal times during their academic career.
If you are a military-connected family, please:
Download

this

fillable form.

Complete one form for

each

of your children.

Return it to our Data Manager, Ms. Jones, at

sjones16@wcpss.net

.
The deadline is November 11. You may also print and return a hard copy of the form to your child's school if you prefer.
PTA Updates: Next week is a busy week as we continue our All For Conn fundraising campaign. Our goal this year is to reach $25,000 and because of the generosity of our families, we are almost halfway there! Please consider making a donation today. Click here for more information.
Wednesday, October 19 is "Walk, Roll & Crunch" to school day! Our plan is to meet at 8:15 a.m. in the Temple Baptist Church parking lot, then we will travel to school as a group! We will provide an apple snack for students. Grown-ups, plan to bring your reusable coffee mug!
On Thursday morning, all students will be transported to Australia as we get to experience an amazing Cultural Arts performance from Didgeridoo Down Under! Make sure to ask your child about this!
Rounding out the events of the week is our second Conn Community Night Out scheduled for Thursday, October 20 at Two Roosters Ice Cream. Stop by anytime from 2:00 p.m. - 9:00 p.m. to enjoy a sweet treat while our school earns 20% of the profits! Hope to see you there!
Gabriel Chidester, Principal
Important Dates to Remember
Wednesday, October 19- PTA Sponsored Walk, Roll, & Crunch to School Day &

Wear Orange for

Bullying Prevention Month

Thursday, October 20- PTA Community Night at Two Roosters

Friday, October 28- Book Character Day

Parade

Friday, November 4- Teacher Workday

Tuesday, November 8- Calendar Out/Teacher Workday

Thursday, November 10- Early Release

Friday, November 11- Holiday

Wednesday, November 23- Vacation Day

Thursday, November 24- Holiday

Friday, November 25- Holiday