Return to Headlines
Ms. Chidester's Weekly Message: 09/23/22
Dear Conn Magnet Elementary School Families,
Community Partners: We are continuing to expand our community connections of individuals, families, and businesses to support our learning partnerships. If you or someone you know is interested in supporting learning across our Conn Magnet community, please take a few minutes to complete this form. If you have any questions, please email our Magnet Coordinator, Mr. Gridley, at dgridley@wcpss.net.
Classroom Volunteer Training Dates: We are excited to welcome back volunteers into our classrooms this year. If you are interested in volunteering in our classrooms, we invite you to join us for training on Tuesday, October 4 at 9:00 a.m. or on Tuesday, October 11 at 4:00 p.m. During this time, we will review security procedures, designated times for classroom volunteers, and potential opportunities for assistance. The trainings will be held in the media center. Don't forget, we currently offer volunteer opportunities for lunch duty or media center assistance. Call the main office if you are interested.
Military-Connected Families: Are you a military-connected family? In an effort to ensure that the unique needs of military-connected students are met, state law requires that schools collect information on military-connected students. The goal is to help accommodate these students by providing them with support and consistency when their parents are deployed, when they are transitioning between schools, and at other pivotal times during their academic career.
If you are a military-connected family, please:
Download

this

fillable form.

Complete one form for

each

of your children.

Return it to our Data Manager, Ms. Jones, at sjones16@wcpss.net.
The deadline is November 11. You may also print and return a hard copy of the form to your child's school if you prefer.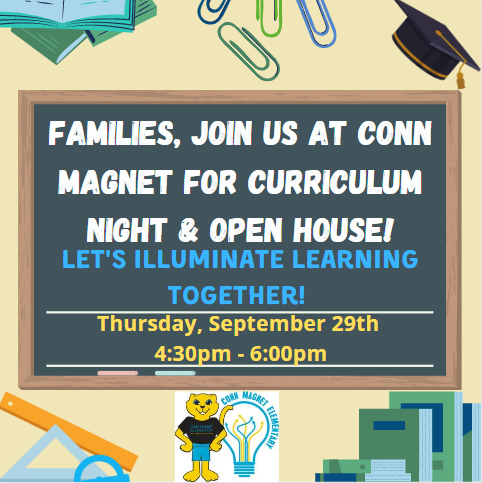 PTA Updates:
Show your CONN pride! We have new Conn shirts available for pre-order 9/21 - 9/30! Choose from 4 designs available in both youth and adult sizes. Order via our online spirit wear store now through 9/30. Shirts will be delivered to your child's homeroom teacher in mid-October. We've also added new Corey Cougar Croc Charms to our online store!
Families, please plan to join the Conn PTA on Wednesday, October 19 to "Walk, Roll, & Crunch!" our way to school! Please note this is a date change. We'll meet in the Temple Baptist Church parking lot-corner of Wake Forest Road and Watauga Street at 8:15 a.m. PTA will have NC apples and other giveaways to celebrate Crunch Day and NC's apple growers. We'll walk and roll together to school at 8:30 a.m. It's a great way to get moving and meet fellow Conn families. Contact wellness@connpta.org with questions, suggestions, or to help out.
Gabriel Chidester, Principal
Important Dates to Remember
Monday, September 26- Teacher Workday

Thursday, September 29- General PTA Meeting/Curriculum Night/Open House 4:30 p.m. - 6:00 p.m.

Tuesday, October 4- Classroom Volunteer Training at 9:00 a.m.

Monday, October 10- Teacher Workday

Tuesday, October 11- Classroom Volunteer Training at 4:00 p.m.

Wednesday, October 12- Fall Picture Day

Wednesday, October 19- PTA Sponsored Walk, Roll, & Crunch to School Day

Thursday, October 20- PTA Community Night at Two Roosters