Return to Headlines
Ms. Chidester's Weekly Message: 09/16/22
Dear Conn Magnet Elementary School Families,
Hispanic Heritage Month: Hispanic Heritage Month is celebrated every year from September 15 through October 15. At Conn Magnet Elementary, we recognize our Hispanic heritage families as well as create an overall awareness of the Hispanic culture. To celebrate, we incorporate teaching resources in our morning meetings and reading lessons that foster cultural enrichment for our students.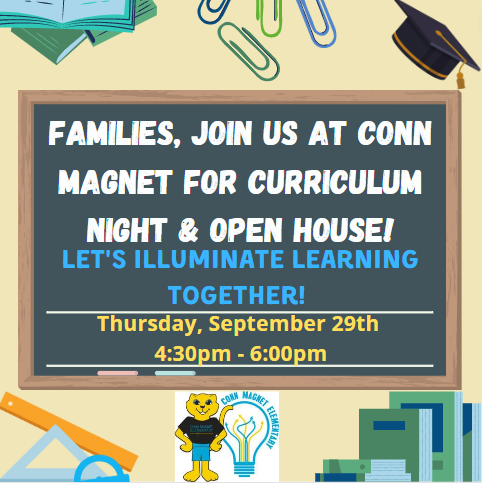 Family Needs Assessment: Student Support Services would like to hear from our families who may be in need of essential services to support the health and well-being of our students. We are utilizing this information to plan for the school year and to address the needs of our school community. Please click here to access the survey.

PTA Updates: Mark your calendar to join us for our first Community Night Out scheduled for September 22 from 4:00 p.m. - 7:00 p.m. at Brookside Bodega! Community Nights Out are fundraisers to bring Conn families together while supporting local businesses. Brookside Bodega will donate a portion of their sales from 4:00 p.m. -7:00 p.m. directly to our school! Visit www.connpta.org for more details. We hope to see you there!

We look forward to partnering with you this upcoming school year! Make sure a PTA membership and Conn spirit wear are part of your back to school shopping! Memberships are only $10/person. Visit https://conn.memberhub.com/store to join and purchase Conn car magnets, tumblers, and t-shirts.
Gabriel Chidester, Principal
Important Dates to Remember
Thursday, September 22- PTA Community Night Out at Brookside Bodega from 4:00 p.m. - 7:00 p.m.

Monday, September 26- Teacher Workday

Thursday, September 29- General PTA Meeting/Curriculum Night/Open House 4:30 p.m. - 6:00 p.m.

Monday, October 10- Teacher Workday

Wednesday, October 12- Fall Picture Day

Wednesday, October 19- PTA Sponsored Walk, Roll, Crunch to School Day

Thursday, October 20- PTA Community Night at Two Roosters