Return to Headlines
Ms. Chidester's Weekly Message: 08/05/22 
Dear Conn Magnet Elementary School Families,
2022-2023 Campus Guide: We are very excited to begin the 2022-2023 school year! As you prepare for the new school year, we encourage you to familiarize yourself with the important information contained in our new 2022-2023 Campus Guide. The information found in this guide will assist all of us in making a smooth transition back to school and creates a seamless school year.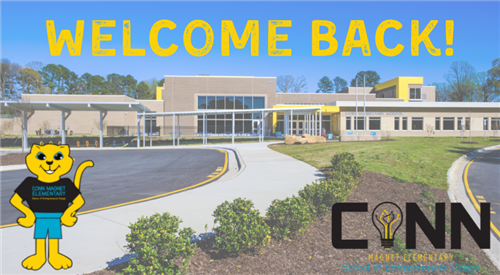 Meet the Teacher: Mark your calendar for our Meet the Teacher event which will be held on Thursday, August 25 from 4:30 p.m. - 6:00 p.m. This event will be for all Conn Magnet Elementary students grades 1 - 5. Meet the Teacher for Kindergarten will be held on Friday, September 2 from 11:30 a.m. - 1:00 p.m. Meet the Teacher for PreK will be held on Tuesday, August 30 from 10:00 a.m. to 11:00 a.m. Class lists will be posted outside when parents/guardians arrive so they can easily find their child's assigned teacher.
Both parking lots will be open for these events. We will have staff members from various departments stationed around the building to help you navigate the new school year and answer any questions you may have.
School Supply Lists: Our school supply lists are posted on our website. Please click here to find out what supplies are recommended at each grade level.
Free Breakfast and Lunch for Students Eligible for Free and Reduced Meals: In 2022-2023, breakfast and lunch will now be free to students who are eligible for reduced-price meals. We will credit the accounts of reduced-price eligible students who purchased meals since the start of the 2022-2023 school year. Families can still apply for free and reduced-price meal benefits online at MySchoolApps.com or pick up a paper application at school.
2022-2023 Traditional Calendar: As your family prepares for the new school year, please utilize the most updated WCPSS 2022-2023 Traditional Calendar.
YMCA Before and After School: Are you interested in having your child(ren) participate in the YMCA program for the 2022 – 2023 school year? The YMCA Before and After School program is for families who need a structured childcare setting between the hours of 7:00 a.m. - 8:45 a.m. (before school) and 3:45 p.m. - 6:00 p.m. (after school). For more information regarding pricing and other details, please check out their website.
WCPSS Student/Family Handbook: WCPSS has created this handbook to help you and your child understand the rules and expectations in school, on the way to and from school, and at school-sponsored activities. We encourage you to discuss those rules and this document with your child.
WCPSS has included an acknowledgement form in the WCPSS Student/Family Handbook. Please fill out the form and return it to school.
Weekly Principal's Message: A weekly school message will be sent every Friday at 5:00 p.m. Please continue to read our weekly messages as they share important up-to-date information.
If you have any questions or concerns, please don't hesitate to email me at gchidester@wcpss.net or call our main office at 919-856-7637. Enjoy the last few weeks of summer. We can't wait to see you soon!
Gabriel Chidester, Principal
Important Dates to Remember
Thursday, August 11- PTA KinderCONN at Halifax Park and Community Center from 5:00 p.m. - 7:00 p.m.

Wednesday, August 17 - Friday, August 26- Teacher Workdays

Friday, August 19- Transportation information sent to families

Thursday, August 25- Meet the Teacher for grades 1-5 from 4:30 p.m. - 6:00 p.m.

Saturday, August 27- PTA KinderCONN at Conn Magnet Elementary's playground from 9:30 a.m. - 11:30 a.m.

Monday, August 29- First Day of School

Tuesday, August 30- Meet the Teacher for PreK from 10:00 a.m. - 11:00 a.m.

Thursday, September 1- First Day of School for PreK students

Friday, September 2- Meet the Teacher for Kindergarten from 11:30 a.m. - 1:00 p.m. and 2-Hour Early Release

Monday, September 5- Holiday

Tuesday, September 6- First Day of School for Kindergarten students

Monday, September 26- Teacher Workday