Return to Headlines
Principal's Message (7/29/21)
---
Welcome from Administration

Greetings, Green Level families! We hope that you all are having a great summer and that you have found some time to relax and recharge. On behalf of the entire GLHS faculty and staff, we are so excited to launch the 2021-22 school year with each of you. To our students and families who are new to the GLHS community, we are so excited to have you join our school community! We cannot wait to engage with you in the coming days, weeks, and months ahead.

Given that the start of the school year is right around the corner, we wanted to take a moment to provide you with some updates and other information that will be helpful.


---
2021-22 School Year Information

To assist students and families in preparing for the first day of school, we have posted important information for you. Click HERE to see more information.
---
New Immunization Requirements for Seniors

All seniors need to update their immunization records at GLHS by September 3. NC has a new requirement that any student entering 12th grade need a 2nd dose (booster) of the MCV/Meningococcal vaccine. Students in WCPSS got the first dose in 7th grade. Parents can drop off or email the vaccine record to Ana Carrillo (acarrillo@wcpss.net). Please understand that students will be excluded from attending school on September 24th if we do not have an updated record. For more information, use this link HERE!
---
Student Parking

We have 532 parking spots for 880 Juniors and Seniors. Junior and senior student parking pass directions and applications are posted on the school's website HERE! At this time, we are uncertain if we will have any spaces available for sophomores. Seniors and juniors will have an opportunity to pick up their parking pass on August 10 & August 18.
Payments for off-campus lunch passes can be made via cash, check, or Online School Payment.
---
Off-Campus Lunch Passes

Juniors and Seniors are permitted to leave campus for lunch by completing an off-campus lunch pass application at this link HERE! Starting August 2nd, seniors and juniors may submit their off-campus lunch pass applications in the front office. Parents must sign off-campus lunch pass applications in front of a public notary or school official. Payments for off-campus lunch passes can be made via cash, check, or Online School Payment.

---
Student Schedules

Our goal is to release official student schedules in PowerSchool on August 9 at 7:00 am. In the meantime, as is the case each year, we are aware that some students may see different classes showing up in PowerSchool already. These are 100% not official at this point. We continue to run different schedule simulations each day, so if you see something online, please know that this is not locked in until August 9 at 7:00 am.
If after this time you have concerns with your schedule for the first or second semester, we will have Counselor Conversations, August 25-27 to meet with Student Services. Counselors' calendars will be open on the first day of school to schedule a conversation through YouCanBookMe. All schedules will be finalized by August 31st.


---
School Supplies and Laptops

Unlike younger grades where grade-level teams often have common supply lists, we do not have specific school supply lists. Teachers will let you know on the first day of school if any specific supplies are needed for a course. We also highly encourage each student to use supplies that work best for their learning.
Students are welcome to bring their personal laptops to school. If you are interested in checking out a student device for the year, please be patient until we have more information in August.

---
Student Orientations

Beginning on August 10 through August 12, we will be hosting student orientations and schedule pick-up days in which students will be able to receive their schedules, tour the campus, learn about student clubs/organizations, and much more. Juniors and seniors will also be able to pick up their off-campus lunch and parking passes during their designated orientation date. Click HERE to see more information.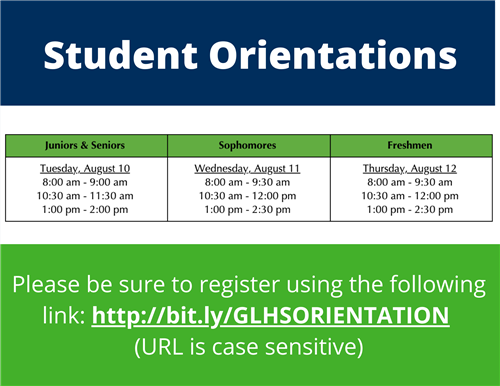 ---
World Language Placement Exams

World Language placement exams will be administered on Wednesday, August 4 at 10:00 am and Friday, August 13 at 10:00 am. Students who are interested in taking a placement exam must register HERE by July 30, 2021. Please be advised that successfully completing the placement exam does not award course credit. It only allows the student to enroll in a higher-level language course. If you have any questions, please contact our World Languages department chair, Mr. Roger Collins at rcollins4@wcpss.net.

---
Gator Night

Join us on Saturday, August 7th from 5:00-9:00 pm for our second annual Gator Night -- an evening of food, fun, and community! We'll also have spirit wear and senior yard signs for sale, yearbook and senior shirt distribution, information about various school organizations and programs (e.g., Athletics, PTSA) available! Not to mention a football scrimmage and performances from our cheerleaders, dance team, and marching band! You can now pre-order your food and find additional information at www.glgatorclub.org.
---
Yearbook Distribution

2020-21 yearbooks will be distributed during Gator Night (8/7) and Student Orientation (8/10-8/11). Students will need to present photo identification (e.g., student ID, driver's license, PowerSchool account) in order to pick up their yearbook. It is also recommended that students bring their order receipts. A limited number of 2021 yearbooks will be available for purchase ($90.00 exact change or check made payable to Jostens). 2020 yearbooks may also be picked up (with proof of purchase) or purchased for $20.00 (exact change or check made payable to GLHS).
---
Jordan Driving School

Driver Education classes will return to in-person instruction once school begins and there will not be any virtual classes taught at Green Hope or Green Level. The first in-person class will begin in November. For more information, refer to www.jordandriving.com.

---
Parent Volunteer for 2021-2022
If you would like to volunteer, at any Wake County School, you will need to complete one of the following registration processes at GLHS (front office) or another WCPSS.

Reactivation for Continuing Volunteers:
Individuals previously approved to volunteer must reactivate by 4 p.m. on October 29, 2021.
Current volunteers, who provided a valid email address, will receive an email 15 days and 30 days prior to the expiration of their volunteer status reminding them to reactivate.
New Volunteers:
Applicants will be notified by email once their application has been approved.
Applicants who are not approved will receive notice from Employee Relations
---
Mark Your Calendars
August 4: World Language Placement Exam (10:00 am), Senior Activities Committee Meeting in the Media Center (6:00 to 7:30 pm)
August 7: Gator Night, Yearbook Distribution, Senior Shirt Distribution (5:00-9:00 pm)
August 9: Schedules are official in PowerSchool (7:00 am)
August 10: Junior/Senior Orientation, Parking Pass/Off-Campus Lunch Pass Distribution, Yearbook Distribution
August 11: Sophomore Orientation, Yearbook Distribution
August 12: Freshman Orientation
August 13: World Language Placement Exam (10:00 am)
August 18: Parking Pass/Off-Campus Lunch Pass Distribution
August 19: Meet your Case Manager for Students with IEPs and 504 Plans in the Media Center (3:00 to 5:00 pm)
August 20: First Home Football Game (7:00 pm)
August 22: Families Decorate Student Parking Spaces
August 23: First Day of School, Senior Shirt Day, Senior Car Parade
August 25-27: Counselor Conversations to discuss schedule concerns
August 31: All Schedules are Finalized
September 3: Seniors MCV/Meningococcal vaccine immunization records due
September 8: Meet the Teacher Night
September 14: Senior Parent Night (6:00 pm)