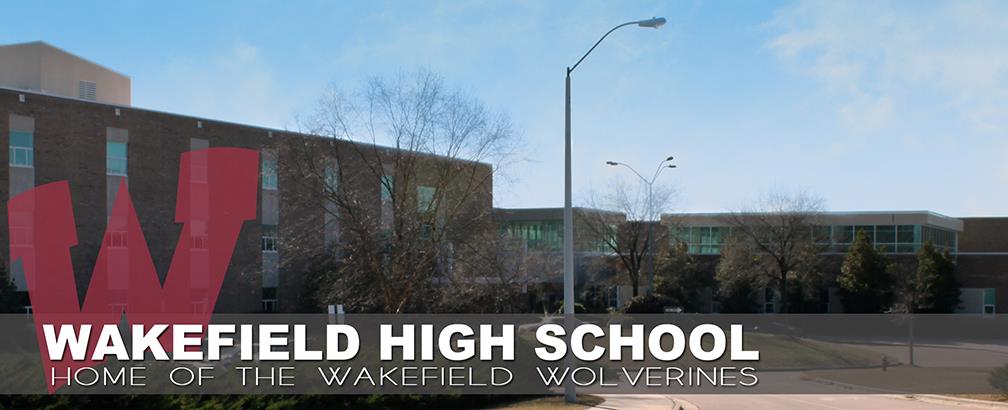 SCHOOL PROFILE

Click here to Download our Full School Profile

School Highlights Wakefield High School is situated on a 110-acre tract in Northern Wake County. Just north of Raleigh, the main campus is centrally located in the Wakefield Community. The high school is adjacent to Wakefield Elementary and Middle Schools and a YMCA close to campus enhances its reputation as a community-based school. Wakefield is a comprehensive public secondary school that offers a traditional curriculum based on the North Carolina Essential Standards. Wakefield offers an extensive program of vocational, technical, and career development courses. An award-winning arts program provides instruction in instrumental and vocal music, theater, visual art, and dance. Wakefield is a 4-AA school governed by the NC Athletic Association.

SCHOOL FACTS

Enrollment: 2097
Senior Class: 480
Calendar: 4x4
CEEB Code: 343244
Accreditation: AdvancED

AP Courses Offered

Art 2-D, Art 3-D, Art Drawing, Art History, Biology, Calculus AB, Calculus BC, Computer Science A, Computer Science Principles, English Language, English Literature, Environmental Science, European History, Human Geography, Macroeconomics, Physics I, Pre-Calculus, Psychology, Spanish Language, Statistics, US Government, US History, World History Modern

AP Courses Offered: 22
Honors Courses Offered: 90
Career & College Promise offered through Wake Tech Community College

Grading System

FF- Violation of Attendance,
WP-Withdraw w/o Penalty,
WF-Withdraw w/ Penalty/Failed,
NC-Incomplete Class Rank / Latin Honors
MISSION STATEMENT

Mission Statement Wakefield High school maintains a high standard of learning for all students that effectively prepares all students for graduation and for becoming productive citizens

VISION STATEMENT

The Wakefield High School learning community supports students in developing 21st Century skills that allow them to contribute responsibly in an ever-changing environment.

VALUE STATEMENTS

We believe in the education of the whole person and learning is a continuous, lifelong process. Interactive learning experiences, specific assessment of talents and abilities, and exposure to future opportunities prepares students for the pursuit of life goals.
Within the learning community, education extends beyond the classroom and requires the active participation of students, teachers, parents, staff, and business partners. Individual mastery of challenging academic standards requires high expectations, support systems, highly qualified staff, optimal physical facilities and differentiated instruction.
We respect and appreciate diversity as we foster unity in our students, faculty, staff, and community.
The Wakefield High School learning community has the right to a safe, healthy and orderly environment and an atmosphere that supports individual worth, dignity, and mutual respect.

WAKEFIELD HONOR CODE


The students of Wakefield High School are committed to being honest and responsible in the completion of academic materials and interactions with the school administration and community. Cheating, stealing, plagiarism (passing off another's work, words, or ideas as one's own), and lying (including willful distortion or misrepresentation) are considered violations of the Honor Code. Through a joint fulfillment of this code, students and faculty will achieve their fullest potential in academic excellence and character.