Return to Headlines
Principal's Weekly Message, 9-22-23
Greetings LRMS Families,
It was great to see many of you at Open House last night! If you weren't able to make it, please continue to use Talking Points or email to communicate with the teachers of your students.
Believe it or not, we are at the halfway point of the first quarter. Progress reports will be sent home next week. Here are the rest of your weekly updates:
1. Next week is a four-day week for students. Monday is a Teacher Workday.
2. Events next week:
Tuesday, 9/26, 6pm - National Junior Honor Society Induction (in the gym, by invitation only)
Wednesday, 9/27, 3:15pm - Art Portfolio Club
Wednesday, 9/27, 4pm - Girls' Soccer and Volleyball HOME, vs. Carroll
Thursday, 9/28, 4pm - Football HOME, vs. Carroll
Friday, 9/29, 8:30am - LIONS Awards Breakfast #1 (in the media center, by invitation only)
Friday, 9/29 - LRMS Student Council Elections (during LIONS Time, 9:30am)
3. The WCPSS Office of Student Enrollment recently released its proposal for school assignment for next school year, 2024-25. All three Leesville schools are impacted by this plan. The proposal impacts two of our current LRMS bus routes (Routes 7 and 9). I was able to speak to the students on these routes earlier this week and send home a flyer with each of them. If you have questions, feel free to reach out to me directly.
Here is the site with all the details on the Draft of the 2024-25 Enrollment Plan.
The virtual information session for our area of the County is Tuesday evening if you would like to learn more. (Sep. 26, 6 - 7:30pm: Northwestern area proposed changes, Attend virtually)
4. AIG Updates from Mrs. Maley:
Thank you to all of the parents that attended last night's AIG Info Meeting!
If you would like to nominate your child for AIG, please complete this form before October 6th for fall nominations, and before December 1st for Spring nominations: https://forms.gle/257SC6XRmTDXNvsE9
Mrs. Maley will host a Single Subject Acceleration (SSA) Info Meeting in the Spring as well, but please feel free to email her with any questions related to LRMS' SSA or AIG programming before then: jmaley@wcpss.net.
5. On Friday, October 6, the PTSA will be hosting a Sixth Grade Social during students' elective periods (1:30-3pm). Volunteers are needed! Here is the Sign-up Genius.
All sixth graders are encouraged to wear a specific color on October 6. Here's the flyer: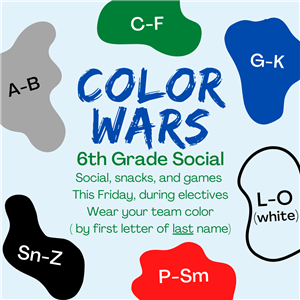 6. PTSA Updates:
Week of September 25th: First Quarter Interim Reports
September 27th: First girls volleyball home game against Carroll Middle - 4pm in our gym
September 27th: First girls soccer home game against Carroll Middle - 4pm in our field
September 28th: First football home game against Carroll Middle - 4pm in our field
October 6th: 6th Grade Social
LRMS PTSA No-Fuss Fundraiser Starts Now!
The LRMS PTSA NO FUSS Fall Fundraiser kicks off today and runs through Oct. 9.

Money raised from the 2023 fundraiser will fund dozens of programs and events throughout the school year including the Winter Dance (all grades), the 6th Grade Social, Lion Awards, Honor Roll Breakfasts, the 8th Grade Dance/Carnival/Awards, Staff Appreciation Week, Monthly staff treats, NEW school clubs, intra-murals, teacher supplies, Lion Locker, and other outreach for students in need, school improvement projects, and so much more.

Our campaign goal is $20,000.
We are asking each family to consider making a minimum $35 donation per child attending LRMS. Families donating $250 or more will receive a thank you gift (coffee mug or koozie) and be recognized on a banner in the school cafeteria. Donations made on behalf of your student(s) by family and friends will be eligible for the family giving incentives.


For paperless donations , use the QR code below or visit the LRMS School store: https://lrmsptsa.memberhub.com/store.


To donate by cash or check, complete the form sent home on Sept 22 and turn the envelope provided into your homeroom teacher.
All donations are 100% tax deductible (LRMS PTSA Tax ID # is 56-1747149).

Double your donation! Check with your employer about company matching. It's an easy way to bring more money to all that we want to do to make our school great this year.
YUMMY INCENTIVES
There will be Duck Donuts for all students and staff when we reach our $20,000 goal.

The Homeroom with the highest donation total in each grade wins a pizza party lunch!
About the 6th Grade Social
Every year, the 6th graders get time to socialize, play games, and have snacks together during their elective periods. This year, the social will be held on Friday October 6th.
We need parents to help make the social the best experience for the kids.
Sign up here to donate snacks, water, and socks or to volunteer at the event or help with collecting donations.
Thank you!
Be an LRMS Business Sponsor
If you have your own business, consider being an LRMS PTSA corporate sponsor. Your donation not only gets your business in front of hundreds of families, but you also get the great feeling of knowing that you are contributing to making LRMS the best school possible for all our kids and teachers.
Click here to find out more about what your 100% tax deductible contribution does for our school and the various levels of sponsorship available.
Contact LRMS PTSA Fundraising VP Kellie Macdonald
to secure your sponsorship today!
There will be lots of volunteer opportunities throughout the school year. But, if you're new to the school, you first need to become an approved volunteer in order to help out.
Take care of that before the school year starts
by registering to be a volunteer here.
Make Money for the PTSA By Shopping for Groceries!
Link your grocery rewards cards to support our school activities every time you shop for groceries!

It only takes a few minutes. See the instructions below for each store.


Note that rewards cards must be re-linked every August for the school to continue benefiting from your shopping.
Lowes Foods: Visit carttoclass.lowesfoods.com or the touch screen computer at the customer service desk to link your Fresh Rewards card. You may choose up to 3 schools to link per Fresh Rewards card.
Publix: Link LRMS to your Publix account by following these easy steps:
1. Set up a Publix account if you don't already have one. https://www.publix.com/myaccount/register
2. Under the "My Account" menu, scroll right and select "My Publix Partner." Search for and select Leesville Road Middle School.
A big thank you to our sponsors for financially supporting our
Leesville Road Middle School PTSA!
Have a great (3-day) weekend!
Chris Cox, Principal