Cosmetology / Cosmetología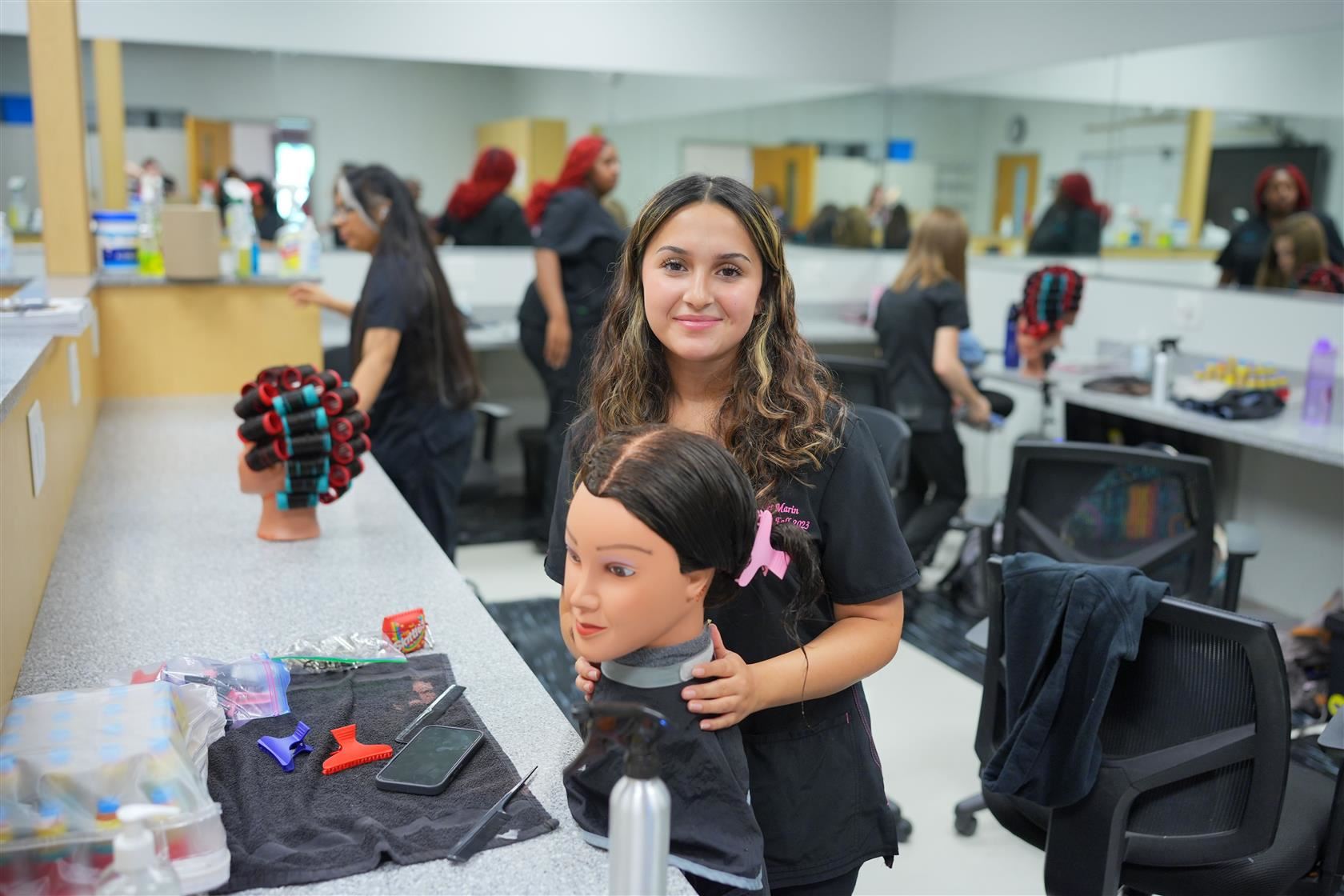 The Cosmetology curriculum is designed to provide competency-based knowledge, scientific/artistic principles, and hands-on fundamentals associated with the cosmetology industry. The curriculum provides a simulated salon environment which enables students to develop manipulative skills. Course work includes instruction in all phases of professional imaging, hair design, chemical processes, skin care, nail care, multi-cultural practices, business/computer principles, product knowledge, and other selected topics. Upon successful completion of two years of VMCCA cosmetology courses, students enrolled in this program will have earned 24 community college credits and up to 896 hours towards a cosmetology degree. Students who enter the Wake Tech cosmetology program after high school graduation can apply these credits seamlessly towards a Cosmetology diploma program or an Associates of Applied Science program at Wake Tech, which will provide the necessary depth and breadth of the knowledge, skills, and aptitudes required to find gainful employment in the discipline. Students must have the ability to obtain a social security card and NC State ID at the start of their Junior year.

---

El currículo de Cosmetología está diseñado para proporcionar el conocimiento basado en la capacidad, los principios científicos/artísticos y los fundamentos prácticos asociados con la industria de cosmetología. El currículo proporciona un entorno simulado de salón de belleza que permite a los estudiantes desarrollar habilidades de manipulación. Los cursos incluyen la enseñanza en todas las fases del cuidado profesional, diseño de peinados, procesos químicos, cuidado de la piel, cuidado de las uñas, prácticas multiculturales, principios del negocio/computadora, conocimiento del producto y otros temas seleccionados. A completar con éxito dos años de cursos de cosmetología en VMCCA, los estudiantes inscritos en este programa habrán ganado 24 créditos de la universidad popular y hasta 896 horas hacia un grado de cosmetología. Los estudiantes que entran en el programa de cosmetología de Wake Tech después de la graduación de la escuela secundaria pueden aplicar esos créditos hacia un título técnico de cosmetología lo cual proveerá el conocimiento, las destrezas y aptitudes necesarios y requeridos para encontrar empleo en este disciplina. Los estudiantes deben tener la capacidad de obtener una tarjeta de seguro social y una identificación estatal de Carolina del Norte al comienzo de su tercer año.