ABB STEM Day, October 24, 2019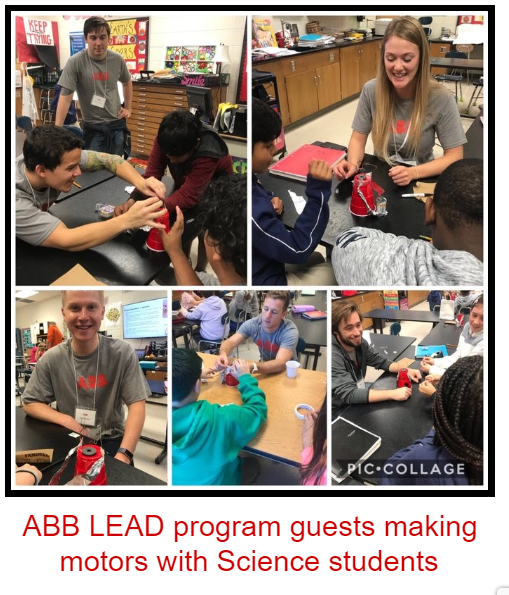 On October 24th, 2019 Reedy Creek welcomed more than 80 engineers from tech company ABB into our building to work on STEM projects with students in science and some elective classes.This STEM Day event allowed students numerous opportunities to interact with and learn from our ABB guests, who were comprised of ABB employees participating in LEAD, the company's rotational program for early career talent. The LEAD employees traveled from communities across the U.S. to engage in this outreach, and they represented a variety of disciplines including engineering, business, finance, supply chain and marketing.
In Science classes, ABB visitors led students through the small-group, hands-on activity of building a working motor using aluminum foil, batteries, copper wire, magnets and plastic cups. This task was both challenging and rewarding, and it gave our students a chance to work closely with the ABB engineers. Each classroom erupted in cheers when the motors started spinning!
In our Magnet and Engineering and Design electives, students had an opportunity to take on a Design Thinking challenge, practice problem solving, and see a real-world application of robotics by learning about ABB's pancake sorting and stacking robot, the FlexPicker.
A presentation in our auditorium by ABB Senior Civil Project Lead Engineer, Ryan Briggs, showed students how important engineering is in our daily lives. "I love giving kids an expanded vision of how the education they are getting now will benefit them for their entire life," says Briggs, "or teaching about how such essential things, like power, work."


The STEM Day event was capped off by lunch cafe groups which allowed students to eat their lunches in rooms throughout the building with ABB engineers.
In their cafe groups, students discussed ideas and asked questions while learning more about specific areas of engineering. It was a great way for students to interact with each other and with the ABB visitors. Topics ranged from hobbies and interests to advanced robotics and biomechanics.
ABB is a multinational technology corporation for robotics, power, heavy electrical equipment, and automation technology areas. Reedy Creek is proud to be connected with ABB through a WakEd Link partnership.