Dude Solutions Biomechanics Project, Fall 2019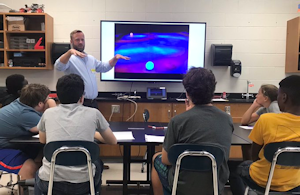 Thanks to Reedy Creek's partnership with software company Dude Solutions, students in our Robotics and Mechatronics 3 class were able to measure heartbeats and muscle movements using a biomechanical device that they engineered themselves. With the help and guidance of Brooks Adcock, Director of Innovation at Dude Solutions, students engineered small sensor devices similar to EKG machines using materials provided by Dude Solutions.
Throughout this nearly two-week project, Mr. Adcock taught students about all the types of engineering involved in creating such a device. Students learned about Biomedical Engineering, Computer Engineering, Embedded Software Engineering, Frontend and Backend Software Engineering, and Electrical Engineering. They worked through challenging concepts including how electricity operates in people and circuits, binary code, conversion math, and analog to digital conversion. Using the computational thinking skill of decomposition, they divided their tasks into steps and learned about each component of the device separately before putting it all together. Once the machines were assembled, Mr. Adcock tested each one, and the class watched as the EKG devices measured his heart rate and reflected changes in muscle movements.

Robert Ingham, an 8th grader in the Robotics and Mechatronics 3 class, felt that the complicated project was easy to understand, because Mr. Adcock took the time to explain things in great detail. The project opened up doors for Robert. "I was initially interested in robotics as a career, but now I'm leaning toward biomechanical engineering," he says.
Reedy Creek is grateful to WakEd LINK for initiating our partnership with Dude Solutions.