Return to Headlines
Two Exciting Opportunities for Students Interested in GIS and Mapmaking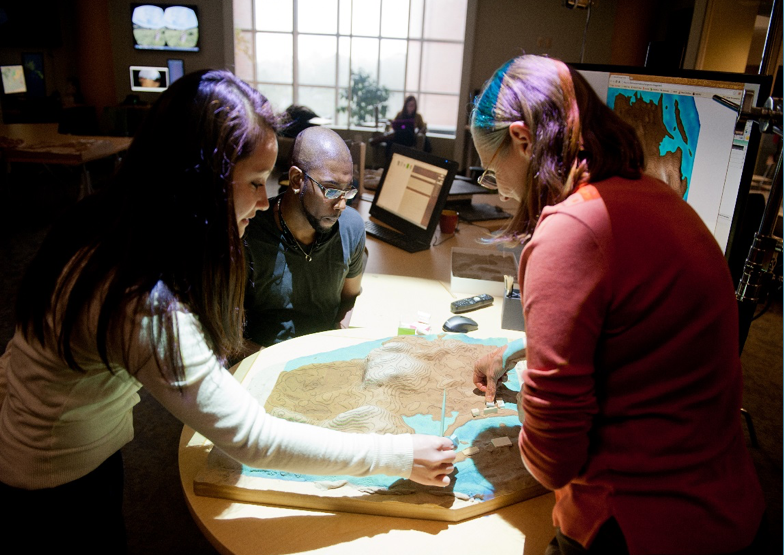 There are two exciting opportunities coming up for students interested in "The Science of Where" with Geographic Information Systems (GIS) and mapmaking.
The first is the GAPS (Geospatial Application for Problem Solving) program, which is offering a free 8-week Saturday morning course for students in grades 8-12 starting Feb. 29. The second is an online GIS mapmaking competition for students in grades 4-12, with submissions due April 25.
GAPS, a collaboration with the Wade Edwards Learning Lab, RTI International, and the N.C. State College of Education, is focused on "scientific discovery, mapmaking and real-world problem solving."
The program is aimed at Wake County students in grades 8-10, though 11th and 12th graders are welcome to apply. Priority is given to students from under-represented groups. Students who attend all eight weeks and complete the program will receive a $100 participation award.
At the conclusion of the program, students will present their mapping projects at a science fair and compete for awards up to $250 in cash and prizes.
There are 20 available slots for the spring session. Students must submit their application form by Feb. 19.
______________________
The North Carolina GIS Competition is sponsored by North Carolina 4-H Youth Development and Esri.
The challenge is to create an original North Carolina-based map on a topic of interest or concern to you and connected to your school curriculum in some way. The area mapped can range from the entire state to a smaller area, like a county or city.
Entries must be from an ArcGIS Organization account, not a "public" account. Any school or club can request for free an ArcGIS School/Club Bundle. Maps can be submitted individually or as a team of two students. Limit of one entry per student or team.
The five maps judged the best in each division will be awarded a $100 prize and will move to national level judging. The divisions are Middle School (grades 4-8) and Senior High (grades 9-12).
The deadline to submit projects is April 25. Learn more.