Return to Headlines
Weekly Update--March 3, 2020 (English & Spanish)
Information about Internships and Grade 13: We will host an informational session on Thursday, March 12 from 6 PM-7:30 PM. Come hear about opportunities for internships (including paid internships!) that can occur in the summer after junior year or during 1st or 2nd semester of senior year. Mr. Baldwin, who is one of our Career Development Coordinators, will explain the value of completing an internship and how the school will support students through the process. After that presentation, our Wake Tech Liaison, Ms. Beaudry, will explain the Grade 13 process and provide information to assist you in deciding if completing the 13th year is the right decision for your student. These sessions are most appropriate for current juniors but we welcome freshmen and sophomores that are trying to plan ahead. Here is the agenda for the evening:
6:00-6:45 PM: Internship Session

6:45-7:30 PM: Grade 13 Session
Celebrating Student Competitors at SkillsUSA: VMCCA students performed exceptionally well at the regional SkillsUSA competition last week. See list of the medalists below. Congratulations to these students!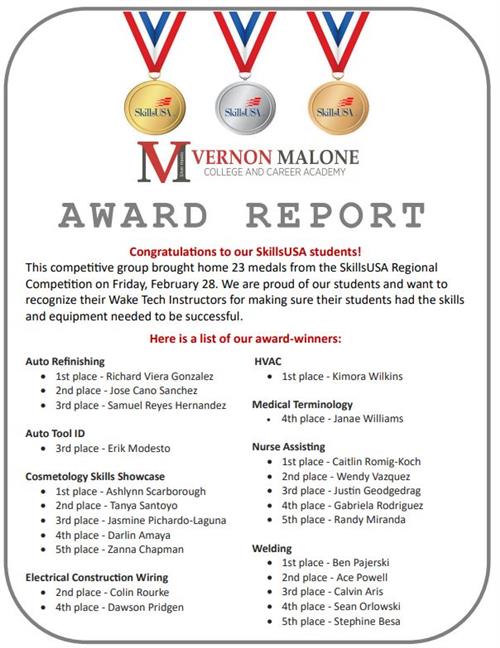 March 9 is a Regular School Day: Please be aware that, although March 9 is a teacher workday for most of Wake County Schools, it is a regular school day for VMCCA.
Spring Break is Coming Soon! VMCCA will be on spring break during the week of March 16-20.
Información sobre Prácticas Profesionales (Internship) y Grado 13: Organizaremos una sesión informativa el jueves 12 de marzo de 6 p.m. a 7:30 p.m. Venga a conocer las oportunidades de prácticas (¡incluso prácticas pagadas!) que pueden ocurrir en el verano después del tercer año y/o durante el primer or segundo semestre del último año. El Sr. Baldwin, uno de nuestros coordinadores de desarrollo profesional, explicará el valor de completar una práctica y cómo la escuela apoyará a los estudiantes durante el proceso. Después de esa presentación, nuestra Enlace de Wake Tech, la Sra. Beaudry, le explicará el proceso de Grado 13 y le proporcionará información para ayudarles a decidir si completar el año 13 es la decisión correcta para su estudiante. Estas sesiones son las más apropiadas para los estudiantes de tercer año actuales, pero damos la bienvenida a estudiantes de primer año y segundo año que intentan planificar con anticipación. Aquí está la agenda para la noche:
6: 00-6: 45 PM: Sesión de Prácticas
6: 45-7: 30 PM: Sesión de Grado 13
Celebrando a los competidores estudiantiles en SkillsUSA: los estudiantes de VMCCA se desempeñaron excepcionalmente bien en la competencia regional SkillsUSA la semana pasada. Vea la lista de los medallistas a continuación.
El 9 de marzo es un día escolar regular: Tenga en cuenta que, aunque el 9 de marzo es un día de trabajo para maestros para la mayoría de las escuelas del condado de Wake, es un día escolar regular para VMCCA.
¡Las vacaciones de primavera están llegando pronto! VMCCA estará en vacaciones de primavera durante la semana del 16 al 20 de marzo.