Return to Headlines
Principal's Message to Families, 3/27/23
Good Afternoon Sanford Creek Families,
Welcome Back Track 1 families - we hope you had a great break! A special congratulations to our Odyssey of the Mind team. They placed 3rd in the State Tournament this past weekend and have been invited to compete in the World Tournament at Michigan State! "Talent wins games, but teamwork wins championships!" Many thanks to our parent volunteer coaches and our AIG teacher, Ms. Garland for leading this great group of kids who exemplify teamwork. Have a great week, everyone!
Tiffany Rich, Principal
Important Dates
Mar 25-Apr 21 Track 4 Tracked Out
Mar 27 Welcome Back Track 1!
April 6 Early Release: Students dismiss at 1:45pm
April 7 Holiday: No School
April 17 Virtual PTA Board Meeting, 6pm
April 20 3rd grade Spring Music Performance
April 21 Teacher Workday (all tracks)
April 24 Teacher Workday for Trks 1,2,3 only
April 24 Welcome Back Track 4!
April 29 PTA Spring Carnival (11-3pm)
May 1-5 Teacher Appreciation Week for Tr 1 & 2
May 5 Field Day - Tracks 1 & 2
May 11 Field Day - Tracks 3 & 4
May 15-19 Teacher Appreciation Week for Tr 3 & 4
New Guidelines for Volunteer Registration
Volunteer Registration is now permitted off site. The modified WCPSS process allows for all volunteers to sign up from any location, instead of being required to sign up at a school or WCPSS facility. Please visit www.wcpss.net, click on community, volunteer, new volunteer register here. The time of the volunteer process takes about 2 weeks: from the time of submission of the volunteer Google form and the required criminal background check.
Please note: If you do not complete both the volunteer Google form and the criminal background check, your application will not be complete. Once you complete your Google volunteer application, you will receive a registration confirmation email. Scroll to the bottom of the email and click on the blue link to complete a background check. Once you complete your background check, you will receive a copy of your background check report - but that does not mean that you are automatically approved to volunteer. SCES will receive new updated approved volunteers on Mondays. Please reach out to the school to see if you are approved to volunteer.
If you have any questions, please reach out to Ms. Alicia Matthews (school secretary) at armatthews@wcpss.net or 919-570-2100.
It's that Time of Year - Field Day is Here!
Parent volunteers are needed to make the day a success, full of fun and memories for all the students! You don't have to do anything especially athletic, just help the kids stay focused on the event station, stay safe and have fun!
Sign Up links for each field day are below. Prior to signing up, please make sure you are on the approved WCPSS volunteer list. If you are uncertain whether you have been approved or not, please contact our volunteer coordinator, Ms. Alicia Matthews at armatthews@wcpss.net or (919) 570-2100 x 20252. If you would like to volunteer and still need to complete the WCPSS volunteer form, please see the directions above and complete it as soon as possible (approval can take up to two weeks). Please note Field Day is a volunteer-only event this year.
Volunteer Sign Up
Tracks 1 & 2 (May 5th)- https://www.signupgenius.com/go/409044EADAF2CA0F94-field
Tracks 3 & 4 (May 11th)- https://www.signupgenius.com/go/409044EADAF2CA0F94-tracks
Thank you in advance for all your help!
Ms. Sandy
Rolesville Main Street Construction Project
Road Closure: The intersection at Main Street and Young St. will NOT be closed for approx. 2 months this summer. Road closure is scheduled for June 2024.
Wake Pre-Kindergarten Application

The Wake Pre-Kindergarten application is open for the 2023-24 school year. Paper applications are available in our front office, or you may apply online here. These programs are for children who will be 4 years old by Aug. 31, 2023. Please submit your application by Friday, June 16 if you are interested.
SPECIAL EVENT for EASTERN WAKE COUNTY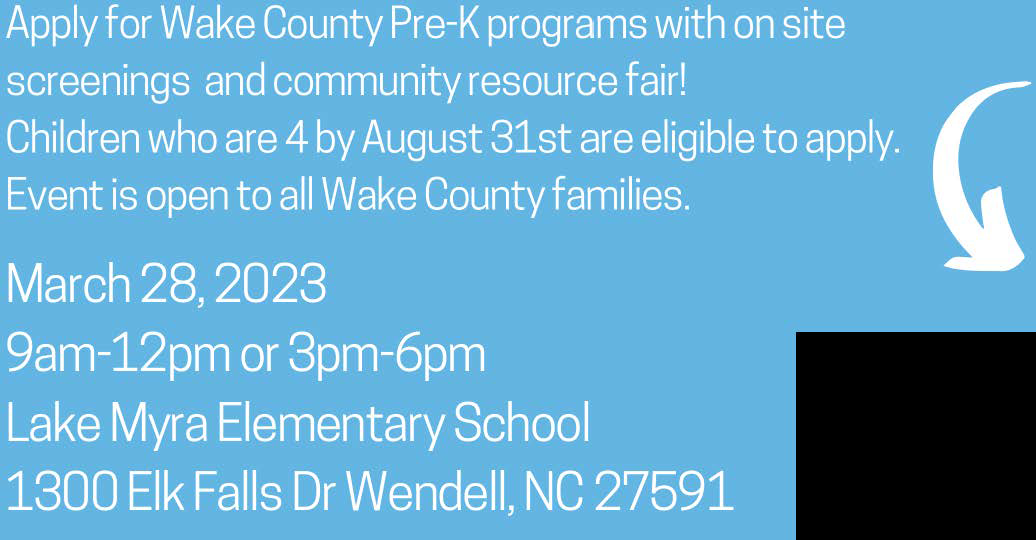 PTA News
Blue Jay Notes Newsletter: Click here to read the PTA newsletter for March 2023.
PTA Virtual Board Meeting April 17 @ 6pm
Family Support
We are here to serve you and your family. Please check out our website and give us a call, stop by the school, email or send in a note if you are in need of food, clothing support, or community resources at any time throughout the school year.
Website: https://sanfordcreekcounselors.weebly.com/
Kelly Taylor (ketaylor@wcpss.net) (919-570-2100 x 20235)
Cristina Mahoney (cmahoney@wcpss.net) (919-570-2100 x 22079)