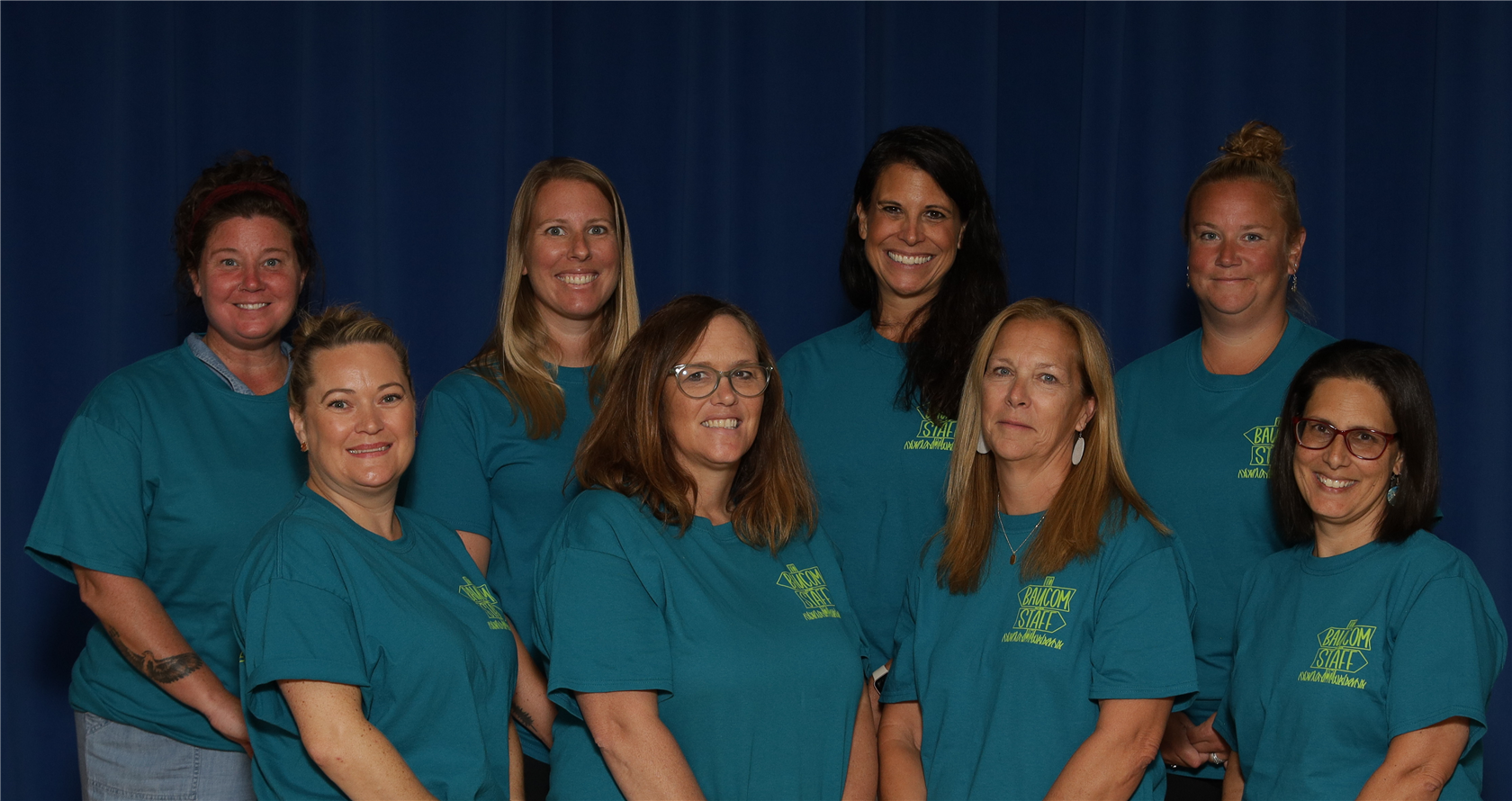 Phone:
Email:
Degrees and Certifications:
Kindergarten Teachers

Ms. Heather Hunkele (1st row 1st)

My name is Heather Hunkele and I have been an IA at Baucom since 2017. I moved from Ohio 22 years ago and have enjoyed living in the south ever since. I spend most weekends boating on Jordan Lake with my family and friends. When I'm not boating, I enjoy baking, crocheting, and watching football. My husband and I have 2 sons who attend AFHS and a daughter who attends AFMS - all are Baucom Alumni! We also have a Chesapeake Bay Retriever, 2 orange tabbies and 25 cichlids. Our house is busy! I look forward to meeting new students as we SOAR to new heights as Baucom Aviators.

Email: hhunkele@wcpss.net

Ms. Whitney Deal (1st row 2nd over)

Hi. My name is Whitney Deal ! This is my fourth year at Baucom. I am excited to be part of such a wonderful community. I am beginning my 26th year of teaching. I have taught Kindergarten, 1st and 2nd grades. I went to Meredith College and my husband went to NC State. After college, we lived in Atlanta for 22 years before moving to Apex. I am married and have two children. Our daughter is a NICU nurse in St. Petersburg, Florida. Our son is a freshman at the University of Alabama. I look forward to working with you and your child!

Email: wdeal@wcpss.net

Ms. Carol Lalicker(1st row 3rd over)

My name is Carol Lalicker, I am an IA for Mrs. Devarnne in kindergarten.

I have been working at Baucom for the past 13 years. I have worked in 1st grade, 2nd grade, as a literacy coach, and for the past 7 years I have been in Kindergarten. I am married and have 3 sons, all who have attended Baucom. My eldest son (27)is in the US Army, my middle son (24) works in Fairfax VA, and my youngest son (22) will be attending VMI for his senior year and will be entering the US Army upon completion.

Email: clalicker@wcpss.net

Ms. Jennifer DeVarnne(1st row 4th over)

My name is Mrs. DeVarnne, I have been teaching for 21 years at Baucom Elementary. I am originally from upstate NY. I have been married for 18 years and I have one son who is 16 and a daughter who is 13. My family and I like to travel to the beach and the mountains. When I am not working or traveling with my family, I like to spend time working on crafts.

Email: jdevarnne@wcpss.net

Ms. Joanna Watson (2nd row 1st)

Ms. Christie Walker(2nd row 2nd over)

Hi, My name is Ms. Walker! I am excited to meet you and your child! I have been teaching kindergarten for 12 years in Wake County and this will be my fourth year at Baucom Elementary. I love working with young children and getting to experience their first year of school with them! I grew up in Massachusetts where I received my master's degree in early childhood education from Salem State University. I moved to North Carolina 12 years ago in search of the nice, warm weather. I love animals and have rescue pups named Emma and Felix and a kitty named Sadie. In my free time I love volunteering with Freedom Ride Rescue, traveling, and hiking. I'm excited for a new year and a new adventure with your child!

Email: cwalker2@wcpss.net

Ms. Jennifer Beck (2nd row 3rd over)

Hi! My name is Jen Beck. This is my first year as an IA at Baucom, but I have worked with children for many years. I worked for a long time as a Preschool Assistant and most recently at Carpenter Elementary as a Pre-K IA. I have four children, three girls and a boy. My oldest is a Senior at East Carolina University, my middle is a freshman who will be attending UNCW, and my youngest are boy/girl twins who will be freshman at Green Hope High School. I also have two dogs, Brownie and Finley and a cat, Kiki. When I'm not at school, you will find me watching soccer, cross country or track for my twins, but I also love to be at the beach whenever I can be!

Ms. Jennifer Whitby (2nd row 4th over)

Howdy! My name is Jenn Whitby and my family and I just moved here from Vermont! I went to college at Champlain College for my undergrad degree and then moved a town over, for my master's in education from Saint Michael's College, both schools in Vermont. I have been teaching for over 15 years, mostly with younger grades. I love to have new experiences with them and foster their love for learning. I live with my husband (of 16 years!), my two daughters, Avery (13) & Riley (10), along with my puppy Oakley. In my spare time, I love to be outside in the sunshine, swimming, playing games and baking. I also love to travel and spend time with my family! I am so excited to be a part of the Baucom family and can't wait for a fantastic school year!