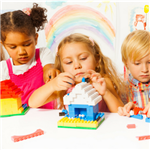 Ready to Learn for Families with Children 18 Months-5 Years
Weekly parent-child groups to promote children's healthy development and educational success
through fun, engaging, hands-on activities. Parent (or another caregiver) and child(ren) attend together.
For registration information, contact Elizabeth Grannis, egrannis@wcpss.net, 919-250-4750, Ext. 26047,
EL for Grades 3-5
To learn more about EL for your child you can access this
parent letter
and
Spanish
version as well as watch this
video
to learn more. Please reach out to your child's teacher with additional questions or support if needed.