Mission

The Panther Creek High School community will engage students in opportunities and experiences that will prepare them for future challenges.

Leadership and Contact Information

Dr. Greg Decker, Principal - gdecker@wcpss.net
Jonathan Chang, Assistant Principal - schang@wcpss.net
Crystal Locus, Assistant Principal - clocus@wcpss.net
Drew Mabe, Assistant Principal - tmabe@wcpss.net
Tineta McMillan, Assistant Principal - tmcmillan2@wcpss.net
Eric Rosen, Assistant Principal - erosen@wcpss.net

Academic Highlights


Panther Creek High School, established in 2006, is located in western Wake County and currently serves a population of approximately 2600 students in grades 9-12.

Panther Creek offers core and elective courses for all ability levels, including Advanced Placement opportunities for college credit. In addition, students may pursue courses not available at Panther Creek by applying for virtual courses as well as dual-enrollment offerings at local colleges and universities. Consistently, Panther Creek achieves academic growth with students from all of the school's subgroups through a school-wide focus on student engagement in the total school program. Explore the school's web site and learn more about student opportunities. For specific on academic offerings, go to the Panther Creek web site, use the "Departments" tab on the home page, and scroll down to link to "Student Services." Information on courses is available there.

Panther Creek values high expectations, collaboration, and intervention and promotes student responsibility for learning.

Extra-Curricular Highlights


Member of NC High School Athletic Association/4A Classification and the Tri-8 Athletic Conference; 38 athletic teams (26 varsity, 12 junior varsity); award-winning arts programs; wide range of co-curricular and extra-curricular activities, clubs, and organizations; club meetings during SMART Lunch; intramurals during SMART Lunch.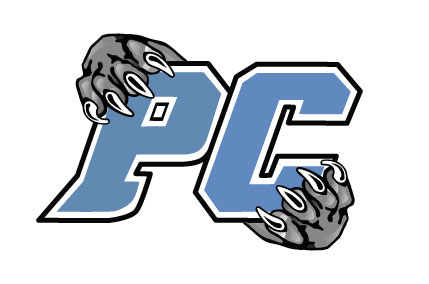 The Basics
Instructional Calendar: Traditional calendar
Mascot: Catamounts
School colors: Columbia blue, black, and silver
Bell schedule: 7:25 a.m. – 2:18 p.m.
Facility: Three-story design of 274,658 square feet; 5 modular classroom buildings; 93 acres