Mason Dancausse's Summer in Scrubs: HSCA Internship at WakeMed
Posted by Terrill Hartenstein on 8/9/2022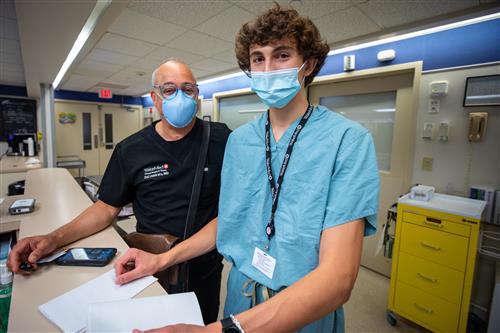 August, 2022 Article from the WCPSS Academics page
Career academy internships bring studies to life
Athens Drive Magnet High School rising senior Mason Dancausse fell in love with the idea of medicine in the classroom. This summer, he got an up-close look at medical professionals in action. Through an internship with Athens Drive's Health Sciences Career Academy, a requirement of the program, Mason shadowed a surgeon in trauma, general and cardiothoracic surgeries at WakeMed Raleigh. His experience confirmed his suspicion that he is bound for a medical career.
Mason shared his impressions and lessons learned from his summer in scrubs.
Q: Why did you choose this internship?
A: When I heard about this specific shadowing opportunity at WakeMed, I knew this was the one for me. My favorite class in high school has been biology and it grew my love for medicine. Slowly I became more interested in how the body works, and fixing it, thus, surgery became a serious interest of mine.
Q: What are some of your day-to-day activities?
A: My day-to-day activities are vast but begin with changing into scrubs. Next I meet my doctor in the lounge and we begin our shift. On a normal day we will do some basic charting and notes, look at patient imaging, give consults, attend post-op follow up appointments, respond to trauma alerts, and of course perform surgeries. Three of the four weeks of this internship were spent with trauma/general surgery and one week was spent with cardiothoracics (CT). While on my CT rotation my day looked a little different. We would begin with rounds on patients first thing in the morning, then have one or two surgeries and be done by the early-mid afternoon.
Q: What skills did you learn?
A: While I wasn't able to do much actual patient care, being that I'm still a high school student, I was able to sit in on some trainings and learn some basic skills. I learned intubations, chest tube placement, cricothyrotomies, intraosseous line placement, bone stabilization, ultrasound use, and some basic necessary tasks like scrubbing in. Additionally, while I wasn't given in-depth training, I did pick up on some other daily tasks like note taking, patient/family etiquette, physical examination, how to keep a sterile field, and patient monitoring.
Q: What have you learned during this internship about yourself?
A: I have learned a lot about myself both in terms of my attitude toward medicine and how it is a very feasible career option. Even after spending only a few days with the doctors I felt a connection to the work we were doing. I love being in the hospital, surrounded by doctors and nurses and physician assistants (PAs) and knowing that we all have one goal: make people better. I have felt a true passion for saving lives and promoting healthier living come alive inside of me, and I can't wait for the day that I get to do that full time.
Q: Describe why someone considering the Health Science Career Academy (HCSA) should apply to that program.
A: I would recommend this program to anyone. Being able to take classes each year that cater to my true interests makes me excited about learning. Being in the HSCA program surrounds me with like-minded individuals who are interested in what we are learning and cultivates profound discussion that sparks interests and learning even beyond the classroom. Additionally, the opportunities that the HSCA provides, like certifications and internships, facilitate success for all participating students by giving them unique experiences that very few pre-college programs can provide.
Q: What are your plans after high school?
A: After high school I plan to attend college in the state, likely UNC or ECU. Both programs are so well renowned and will provide me with the resources to further excel in my pursuit of working in medicine. Once finished with undergrad I will have quite a decision to make, but both UNC and ECU schools have their own medical schools and PA schools. Ultimately though, the end goal is to work in health care, hopefully a hospital, and help people every day!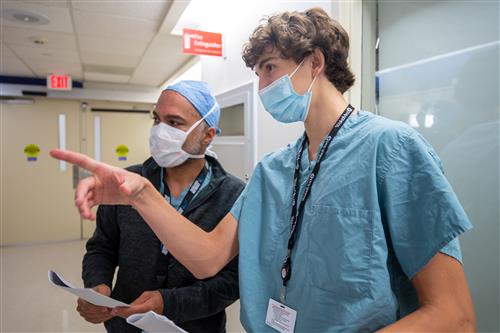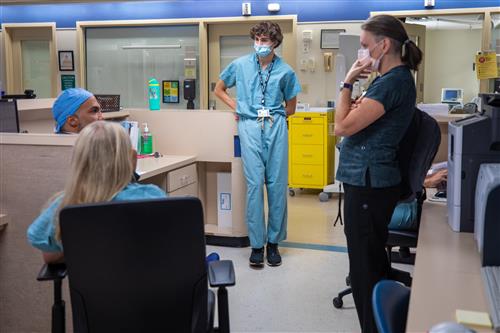 Mason Dancausse is one of around 60 Athens Drive High students to complete an internship this summer in the health sciences. His classmates have participated in health science internships as far away as Australia, and in areas from veterinary medicine to optometry. Learn more about the Health Science Career Academy at Athens Drive or the more than 20 other career academies within the Wake County Public School System.