Return to Headlines
Five Vernon Malone College and Career Academy Students Receive Lucrative Job Offers
Dec. 5, 2019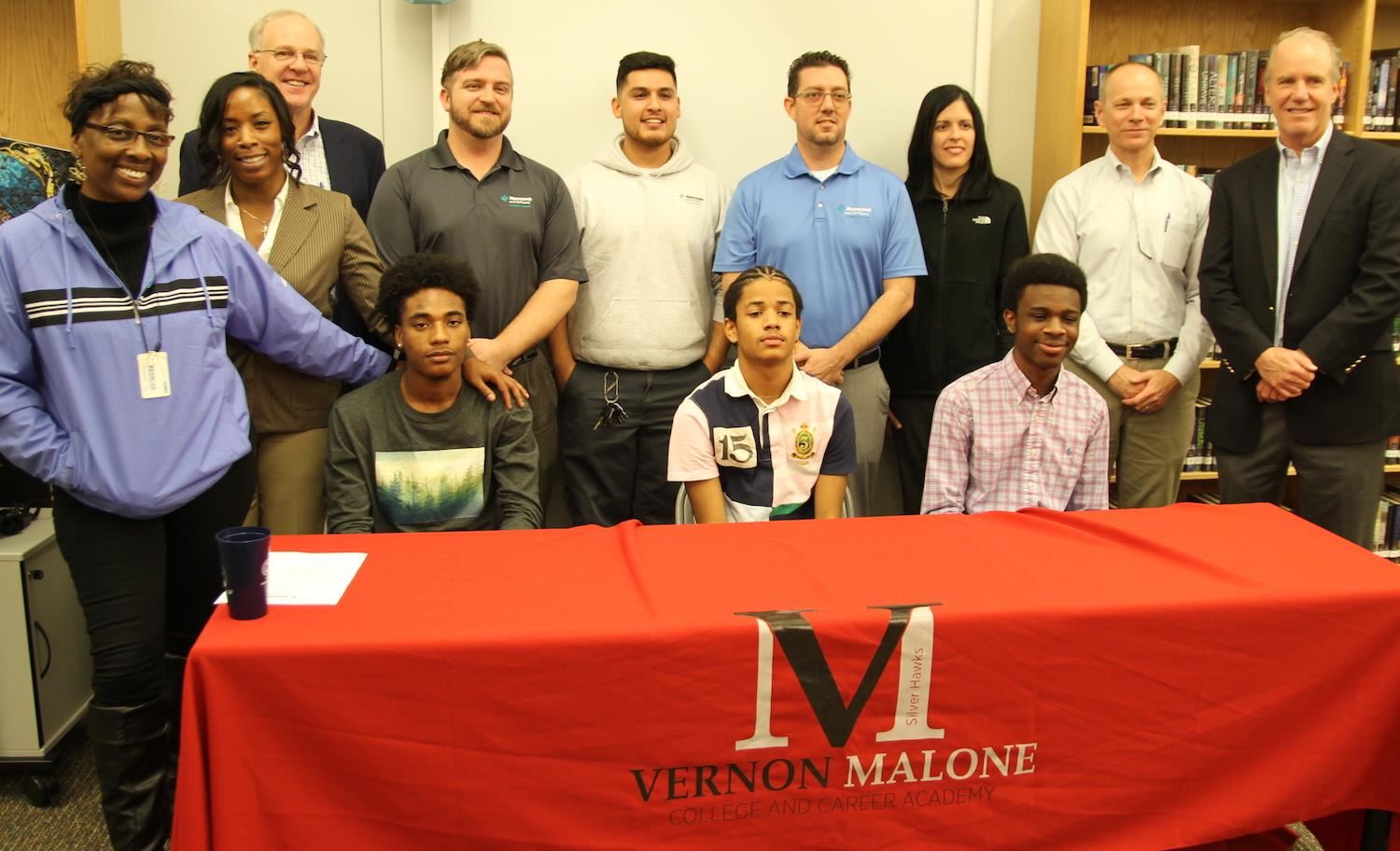 Jaylen Browder has "always been a hard-working young man, very independent and willing to learn," says his mother, Eunice Torres-Browder. Those qualities were part of the reason Jaylen decided to attend the Vernon Malone College and Career Academy, a unique school that allows students to complete studies in one of seven Career & Technical Education programs as part of their high school graduation credits.
The school also has developed relationships with many companies in the area that provide not only internship opportunities but also secure employment after graduation.
Jaylen was among five current Vernon Malone students to sign Wednesday with two local businesses - HVAC repair specialists Newcomb and Company and Piedmont Service Group - that have offered them permanent jobs after graduation and will fund their studies at Wake Technical Community College. One recent graduate also signed on Wednesday, joining two others who already have begun work.
The event, by design, had the same celebratory atmosphere as when high school athletes commit to play for a university.
'A Huge Opportunity'
"I think it's important to put today into context," Vernon Malone Principal Abby Stotsenberg told the staff members, business leaders and family members that had gathered for the occasion. "One of the main sources of stress for high school students today are the unknowns about what comes next. How will I pay for college? Will I be able to get a job that will enable me to support myself and my future family?
"Today, Newcomb and Piedmont are eliminating these sources of stress for numerous students. By providing a guarantee of employment and funds for further education, these businesses have provided a huge opportunity for three of our graduates and five current students ... to get a running start into adulthood with supportive system that will enable their success. We could not be prouder of these young men and cannot wait to see what the future holds for them."
Justin Benjamin and Jadin Dasher received job offers from Piedmont Service Group. Jaylen Browder, Hugh Hines and Zamien Williams received job offers from Newcomb & Company.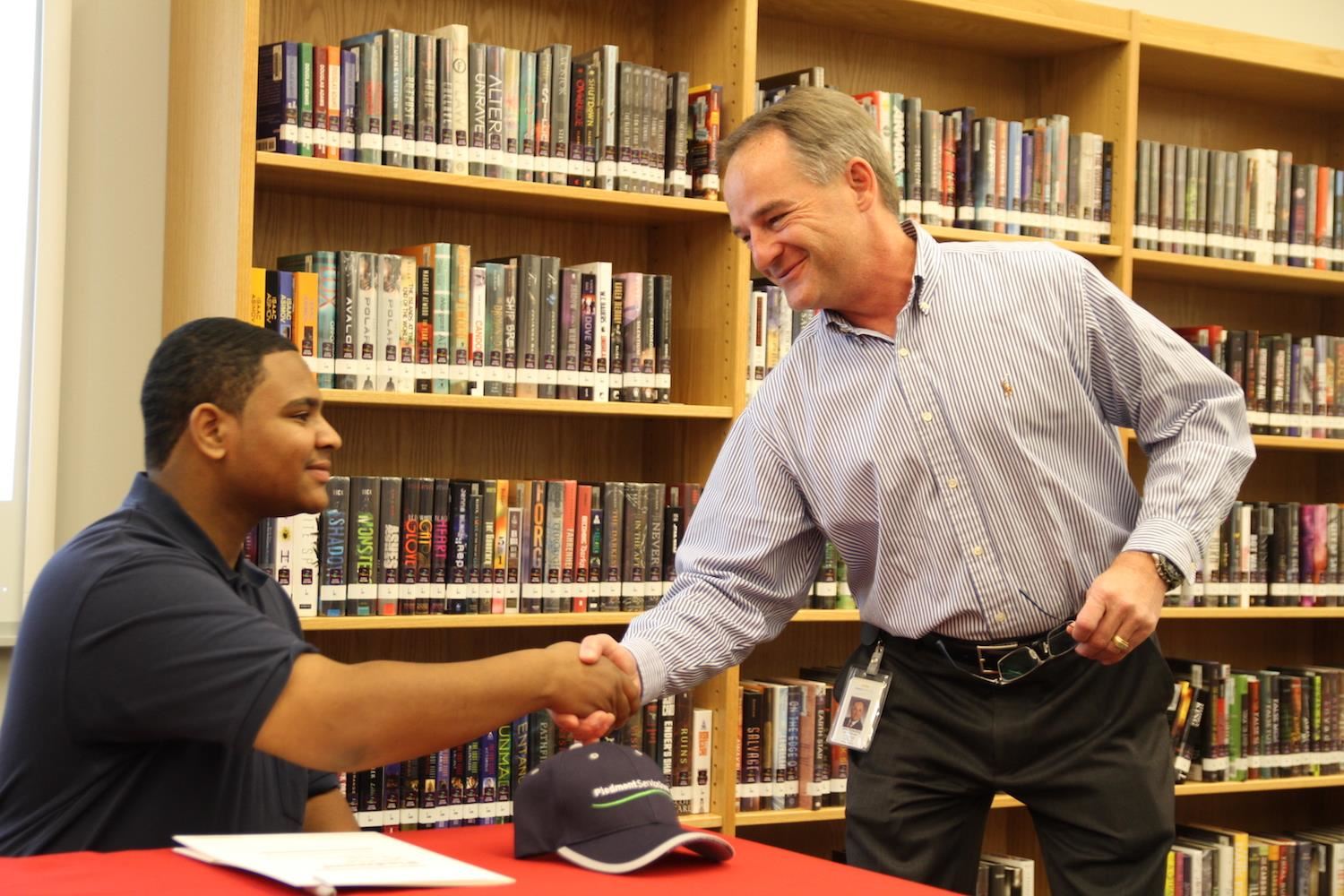 Clarity of purpose
All the students drew praise from employers for their work ethic, inquisitiveness and determination to excel.
"On Day 1, we ask the following of our interns: work safe, be reliable and on time, be respectful, and earn the respect of others through your actions/interactions," said Mark Webster, operations manager for Piedmont Service Group, noting that all the interns had lived up to those expectations. "It's interesting to note that the students attending Vernon Malone tend to have a clearer view of what they want to do in life – and some have real clarity in terms of their purpose and professional plans."
Justin Benjamin's parents, Russell Benjamin and LaKecia Benjamin, said their son's maturity and career-focus was on display both in deciding to attend Vernon Malone and in pursuing the internship opportunity. "We were ecstatic that Justin was chosen for the internship," they said. "It felt like him attending Vernon Malone was one of the best decisions we made as a family."
Application Deadline: Dec. 16
Vernon Malone offers programs taught by Wake Tech instructors in the following fields:
Biopharmaceutical Technology
Collision Repair (rising 10th and 11th graders only)
Cosmetology
Facility Maintenance Technology
Nurse Aide
Simulation & Game Development
Welding
Students can earn upwards of 30 college credit hours at Vernon Malone while also gaining invaluable real-world experience both on campus and through internships. The school boasts a 100% graduation rate, and its graduates have earned hundreds of thousands of dollars in scholarships.
You can take a virtual tour and schedule an in-person visit online.
But don't delay! The application deadline for Early College programs such as Vernon Malone College and Career Academy is Dec. 16. Learn more and apply at wcpss.net/earlycollege.