Return to Headlines
Dear White Oak Families,

Happy Mother's Day to all the Explorer Moms!
Our newsletter has important information each week for the remainder of the school year. Thank you for taking the time to read it!
Quick Notes/Reminders:
Our last School Spirit Night is Tuesday - details in the PTA section below. Thank you to all families that have attended these spirit nights to support White Oak.
Media Center book checkout ends on Friday, May 19.

All library books are due by Friday, May 26

to allow time for inventory and collection of outstanding books.
---
EOG Testing Dates Reminders
On testing dates, PLEASE plan accordingly so your child arrives at school by 9:15. Early check-outs will NOT be allowed before 1:00pm to ensure students have ample time to complete the test.
Wednesday, May 31 - Reading - 3rd, 4th & 5th grades
Thursday, June 1 - Math - 3rd, 4th & 5th grades
Friday, June 2 - Science - 5th grade
---
5th Grade News
Promotion Ceremony - Wednesday, June 7 - 6pm at Green Level HS
Each family will receive 4 tickets that you will have to show at the door to enter. The 4 tickets per family does NOT include your 5th grader - they will be sitting on stage with their class.
If you would like to volunteer to help with decorations, set up or clean up, please fill out THIS Google Form!
Details are available on the 5th grade website.
---
Stories from the Specialists
Arts in Motion with Ms. Burise
Spring has sprung in Arts in Motion, and we are studying The Tiny Seed by Eric Carle in Kindergarten and learning sequencing techniques. First and second graders are learning about concrete and shape poems. They are creating butterfly poems in the shape of a beautiful butterfly. They are choosing to use either lune or cinquain poem form inside of their butterfly shapes. Third graders are reading the book The Water Protectors. Since they explore water conservation in language arts, we are reinforcing these skills in Arts in Motion as well. The students are designing bookmarks that will always remind them to be a steward of the water. Fourth and fifth graders are designing 3-D cityscapes using concentric circle designs and an arrow 3-D building design. Fifth grade also continues to practice their song for promotion called "Agents of Change". These students really are the changemakers that are going to positively influence our world for years to come!
---
PTA News & Updates
Spirit Night: Handel's Ice Cream - Tuesday, May 16 - 5:00-9:00pm!
Join the WOES PTA for the final Spirit Night of the year! Please show this flyer when ordering (printed or on phone) and help support our school!
5th Grade Explorer Signs
Celebrate your fifth grade student with a WOES Explorer sign!
Order before Monday, May 15th & delivery will take place approximately June 5th.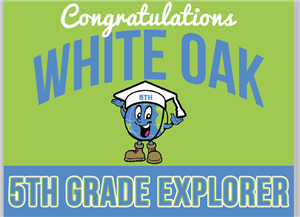 Reflections Participants Celebrated!
The participants of the annual PTA Reflections arts contest gathered in the media center to be recognized and rewarded with certificates and treats recently! The students displayed their artwork so the other participating students and their families could see their amazing entries.
Ms. Swaim and Mr. Boynton joined the PTA Reflections Chair, Shilpy Saggi, along with this year's Reflections judges, Ms. Yates, Qian Chen, and Maura Lever, to acknowledge the accomplishments of these talented students. Ms. Saggi spoke about the pride we have in the students from this year and encouraged them to continue to participate in the years ahead. She hopes that other students will join in so they can attend our celebration event next year!
For more information about the Reflections program, please visit Reflections Arts Program | National PTA
---
Classroom Updates
Please make sure you check your child's class newsletter sent each week on Friday:
---
Upcoming Dates
Tuesday, May 16

Spirit Night - Handel's Homemade Ice Cream

Thursday, May 25

Kindergarten Orientation 6-7pm

Monday, May 29

NO SCHOOL - Memorial Day

Wednesday, May 31

EOG Reading (3rd-5th)

Thursday, June 1

EOG Math (3rd-5th)

Friday, June 2

EOG Science (5th grade)

Wednesday, June 7

Field Day - K-2

5th Grade Promotion Ceremony at Green Level HS - 6pm

Thursday, June 8

Field Day - 3-5

Friday, June 9

Last Day of School
THANK YOU for all of your support!
Robin Swaim, Principal
Kevin Boynton, Assistant Principal
& all of the Explorer Staff
Follow Us!
919-694-0202
Facebook: @WhiteOakES
Twitter: @WhiteOakElem