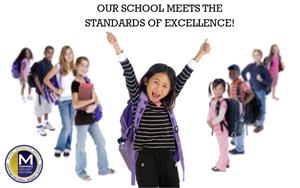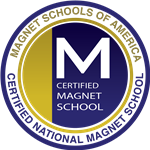 Certified in the Magnet Schools of America Standards of Excellence!
Farmington Woods IB/PYP Magnet Elementary School was among the first 55 schools located in 12 states (AL, CA, CT, FL, LA, MD, NC, NV, SC, TN, TX, and WI) to successfully complete an approximately nine month evaluation process and demonstrate through evidence, reflection, and strategic action that it has established the best practices entailed in the Magnet School Standards of Excellence.
"In an increasingly complex school choice environment, parents, families, students, and local communities can be confident that each nationally certified magnet school is held to the same high standards," said MSA Executive Director Todd Mann. "The certification process is groundbreaking and the first of its kind. It was created to recognize our most exemplary magnet programs."
The national certification process is based on the Magnet School Standards of Excellence and the five pillars of magnet schools (diversity; innovative curriculum and professional development; academic excellence; high quality instructional systems; and, family and community partnerships). These pillars and standards define the essential elements and characteristics of high-quality magnet programs.