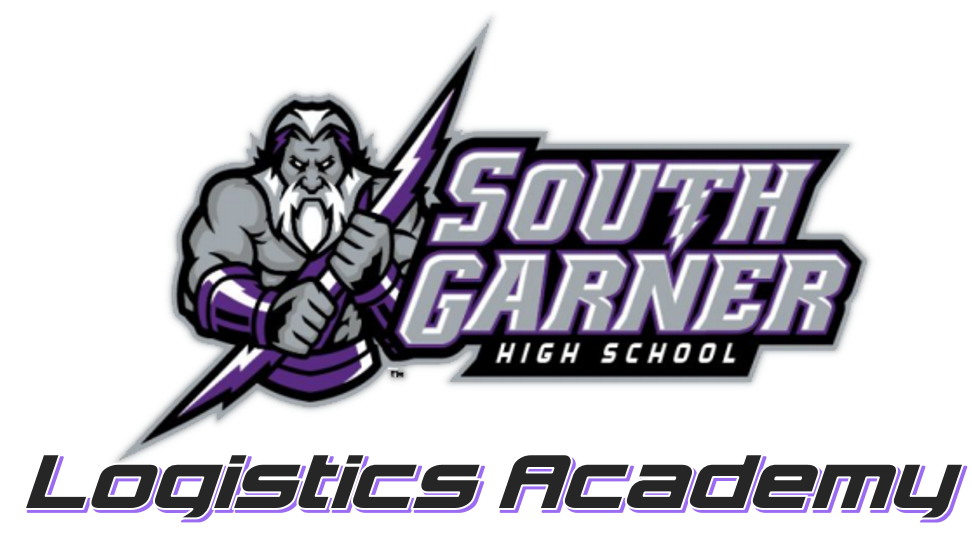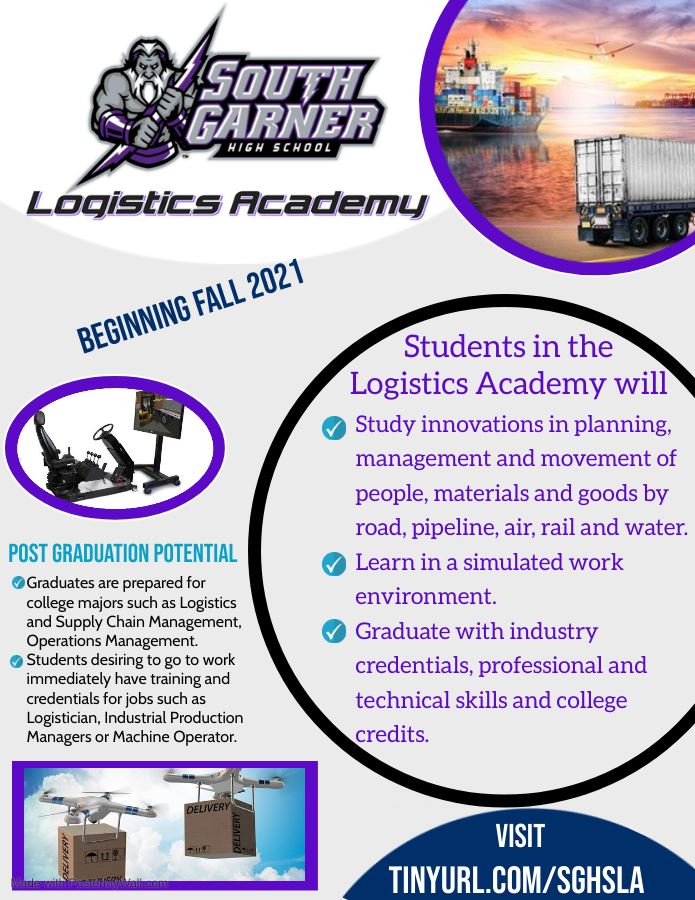 Wake County Public Schools Career Academies

Career academies are smaller learning communities that focuses on a career theme and is integrated into students' studies including their core curriculum courses. Each year the same group (cohort) of academy students takes a Career and Technical Education course aligned with the career theme, as well as one or more core classes together. This school-within-a-school model may be either a three- or four-year academy.

Each academy student participates in several work-based learning activities such as job shadowing, career fairs, career themed industry tours and an internship. Academy students are prepared to participate in these experiences through their cohort academy courses. Each academy student is required to do an internship between the junior and senior year that relates to the academy theme. The internship will be for 135 hours.

What are the Benefits of a Career Academy?

The South Garner High School Logistics Career Academy will allow students to learn in a collaborative manner while enhancing and enriching the existing curriculum through integrated projects and a rich technology environment.

Our academy students have the potential to move on to careers that involve analyzing and coordinating an organization's system that moves a product from supplier to consumer. Managing the entire life cycle of a product, which includes how a product is acquired, distributed, allocated, and delivered.

The South Garner High School Logistics Career Academy provides students access to:

Integrated learning environments
A wide variety of technology resources
Business and industry expertise through:

Presentations, demonstrations, and seminars
Field trips
Job shadowing
Mentoring
Internships


The business involvement and work experience in the logistics and supply chain management industry will set students apart from other job or college applicants.

Students in the South Garner High School Logistics Career Academy program will:

o Study innovations in planning, management and movement of people, materials and goods by road, pipeline, air, rail and water.

o Learn in a simulated work environment

o Graduate with industry credentials, professional and technical skills and college credits

Post-graduation potential:

o Graduates are prepared for college majors such as logistics and supply chain management, and operations management.

o Students desiring to go to work immediately have training and credentials for jobs such as a logistician, industrial production managers or machine operator.

o Salary potential ranges from $40,000 per year for traffic technicians to $90,000 for distribution managers.

Future Occupations Include

Business & Financial Operations

Logisticians
Logistics Analysts
Logistics Engineers

Management

Logistics Managers
Storage & Distribution Managers
Transportation Managers
Transportation, Storage, & Distribution Managers

Office & Administrative Support

Dispatchers, Except Police, Fire, & Ambulance

Who should apply:

o Rising ninth grade students.

o Students interested in transportation, distribution, logistics, and industrial management


South Garner High School Logistics Career Academy students will:

Follow a 4-year cohort model while in high school.
Be able to complete the Logistics Planning & Management Services Pathway.
Have the opportunity to obtain the Logistics Core Certificate from Wake Technical Community College before they graduate high school.
Be eligible to take the National Career Readiness Assessment during their senior year.
Obtain work-based learning experience via their Internship.

This academy allows students to choose one of South Garner High School's E's!

Enrollment – Students can continue in a Logistics/Supply Chain Management degree program at a community college or 4-year university.
Enlistment – The military has a variety of jobs available in the Logistics/Supply Chain Management field.
Employment – Students will gain work-based learning experience and skills needed for entry level positions in the warehousing/distribution/logistics/supply chain industries.
Entrepreneurship - If a student decides to own their own business after graduation, having experience and knowledge in logistics/supply chain management will help them in managing and operating their own business.

Click here to view the 4 Years At A Glance (Course Sequence) for Logistics Career Academy Students.

Click here to apply for the South Garner High School Logistics Career Academy.

Please contact Mr. Walker, Career Development Coordinator, for more information.